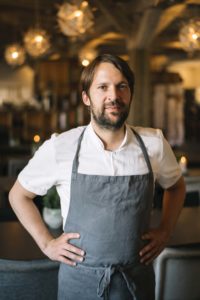 ARTISAN AND RENÉ REDZEPI ANNOUNCE NEW PARTNERSHIP:
THREE NEW NOMA BOOKS, BEGINNING OCT 2018;
BIANNUAL SERIES FROM MAD, BEGINNING SEPT 2018
NEW YORK, NY – October 11, 2017 René Redzepi, founder and head chef of noma, and Lia Ronnen, publisher and editorial director of Artisan, today announced a new publishing partnership that will build upon the pioneering work of the acclaimed Copenhagen restaurant.
In October 2018, Artisan will publish the first of three new books with Redzepi, launching the Foundations of Flavour series that the chef and his team have conceived specifically to share their knowledge and techniques with home cooks. In addition, Artisan and Redzepi will launch Dispatches, a biannual series designed to further the ideas and conversations of MAD, the nonprofit established by Redzepi to galvanize the creative potential of the global cooking community.
The first book by Redzepi, Foundations of Flavour: The Noma Guide to Fermentation, a major new work to be published in October 2018, will introduce fermentation as a powerful tool that can transform the way we approach cooking. This will be one of the first fermentation books written from a chef's point of view, and will give home cooks and readers access to the craft and innovation of one of the world's most respected restaurants.
The book will illuminate the world of fermentation through the lens of noma's renowned fermentation lab, introducing readers to the different ferments they use, explaining the techniques they practice, and demonstrating how they have influenced the restaurant's philosophy and menu. It will draw on over a decade of research and practice developed by past and present members of the lab team, including Torsten Vildgaard, Arielle Johnson, Lars Williams, Thomas Frebel, and the lab's current director, David Zilber. Beyond the history and science of fermentation, Redzepi and Zilber will also provide detailed instructions to create ferments at home, as well as original recipes that will inspire readers to get creative and experiment with fermentation in their home cooking.
Future works are in the early stages of development and will be announced closer to their release and after the publishing of the first title.
In September 2018, Artisan will publish the first volume of Dispatches, a new biannual series from MAD. Edited by Chris Ying, cofounder and former editor in chief of Lucky Peach, and with contributions from Redzepi and other respected writers and thought leaders, Dispatches will encourage readers to think about food in new ways and to take action as part of a global food and cooking community.
In February, noma closed at the harborside warehouse that it has called home for the past fourteen years. In early 2018, it will reopen in a new Copenhagen location and turn its focus to the region's three distinct seasons and the myriad microseasons within each.
Redzepi is the author of two James Beard Award–winning books, Noma: Time and Place in Nordic Cuisine and René Redzepi: A Work in Progress.
Redzepi says, "With the first book in our Foundations of Flavour series, we want to teach the principles of fermentation that have made us successful at noma. I am so excited to be writing a book with David Zilber, and to have the opportunity to pass this knowledge on to a wider audience. We know that our approach to cooking can benefit any kitchen, and we want to inspire people to explore the possibilities of fermentation at home. With Dispatches, we hope to share some of the conversations that have started at MAD. By making them accessible, we hope to nurture ideas and inspire action that will push forward our trade, our communities, and the world at large."
"The work that René and his team are doing to create new flavors—beginning with fermentation—is singular," says Ronnen. "Simply put, making noma's ideas and techniques available through these new books will change the world's approach to cooking. The MAD symposium has become a breeding ground for cutting-edge conversation around food. Now with Dispatches, that conversation will be available to everyone. From Thomas Keller's The French Laundry Cookbook to Sean Brock's Heritage, Artisan has a tradition of working with boundary-breaking chefs to create the books that shape the way our culture thinks about food and cooking. René and his team are breaking the mold anew, and we're excited to publish their ideas to an ever-widening global audience."
Artisan has world rights to both the Foundations of Flavour and Dispatches series.
# # #
Artisan, a division of Workman Publishing Co. founded in 1994 and based in New York City, publishes illustrated books that inspire and instruct, produced with intention and quality. Specializing in cooking, lifestyle, and popular culture, the house counts Thomas Keller, Sean Brock, Francis Mallmann, Eric Werner, Frank Castronovo and Frank Falcinelli, Edward Lee, David Tanis, Naomi Duguid, Alice Medrich, and Ignacio Mattos among its authors. Recent New York Times bestsellers include In the Company of Women, John Derian Picture Book, and The Kinfolk Home.
International Rights Contact:
Kristina Peterson, 212-614-5617, kristina@workman.com
Press Contacts:
United States: Allison McGeehon, 212-614-7705; allisonm@artisanbooks.com
United Kingdom: Claire Bowles, 01858 565800; claire@clairebowlespr.co.uk
Canada: Bonita Mok, 905-475-9126 x342; bonita.mok@t-allen.com
Australia: Kasi Collins, (03) 8520 6444; kasicollins@hardiegrant.com.au
New Zealand: Jennie Brockie, (09) 419 2635; jennie@bookreps.co.nz.
Europe and Asia: Sara High, 212-614-7757; sara@workman.com