1000 PLACES TO SEE BEFORE YOU DIE CALENDAR
Tuesday 13 September 2016
On This Day
Bardstown, Kentucky, U.S.A.
Today begins the Kentucky Bourbon Festival, a five-day event with live music, historic tours, bourbon tastings, and great food. Bardstown is the de facto capital of Bourbon Country, with seven distilleries open for tours, including Maker's Mark, where you can watch the crafting of what many believe is the world's nest bourbon.
Founded in 1780, Bardstown offers a number of nonalcoholic diversions as well. My Old Kentucky Home State Park includes a golf course and Federal Hill, the 1812 plantation that inspired Stephen Foster's folk tune "My Old Kentucky Home." Guests who travel aboard the My Old Kentucky Dinner Train are served gourmet fare in 1940s-era railcars while crossing the state's beautiful countryside. More nostalgia can be found across the street from Federal Hill at Kurtz Restaurant, which has been dishing out comfort food since 1937. Three generations of the Kurtz family keep loyal guests happy; many folks come just for the biscuit pudding with bourbon sauce. Or stop in the atmospheric Old Talbott Tavern, the oldest stagecoach stop in Kentucky, dating back to 1779. It's the perfect spot to savor a shot of the local elixir.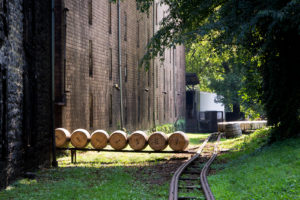 Where: Bardstown is 40 miles southeast of Louisville. Visitor info: www.visitbardstown.com. Heaven Hill: Tel 502-337-1000; www.bourbonheritagecenter.com. Kentucky Bourbon Festival: Tel 800-638-4877 or 502-348-2999; www.kybourbonfestival.com. When: 6 days in mid-Sep. Oscar Getz Museum: Tel 502-348-2999; www.whiskeymuseum.com. My Old Kentucky Home: Tel 800-323-7803 or 502-348-3502; www.parks .ky.gov. My Old Kentucky Dinner Train: Tel 866-801-3463 or 502-348-7300; www.kydinnertrain.com. Cost: dinner $75. Kurtz Restaurant: Tel 502-348-8964; www.bardstownparkview.com. Cost: dinner $15. Old Talbott Tavern: Tel 800-482-8376 or 502-348-3494; www.talbotts.com. Cost: dinner $25. Best times: Apr–May and Sep–Oct, especially during the Bourbon Festival.