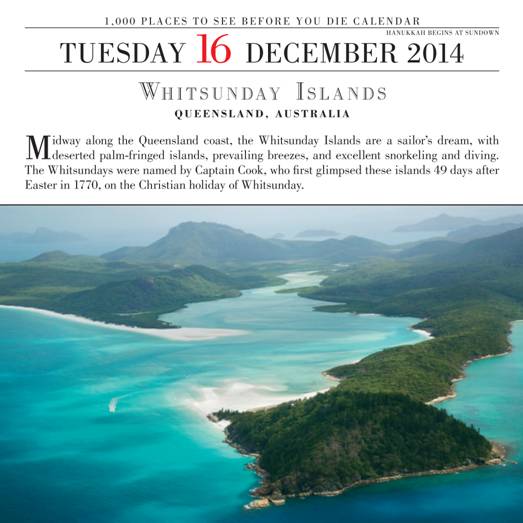 Today's Travel Tuesday destination is Queensland, Australia, courtesy of the 1,000 Places to See Before You Die Page-A-Day Calendar.
Top Attractions:
1. Cape Tribulation: Queensland's Wet Tropics rain forest and the Great Barrier Reef come together on Australia's northeast coast at Cape Tribulation. Protected within the Cape Tribulation and Daintree national parks and believed to have been the evolutionary cradle for much of Australia's unique wildlife, the rain forest here contains trees that are 3,000 years old, including 85 of the 120 rarest species on earth.
Where: 70 miles.113 km north of Cairns.
Best Times: May-September for the "dry" season.
2. Fraser Island: Here on the world's largest sand island you can swim in freshwater lakes, walk through the ancient Valley of the Giants rain forest, join rangers to track down some of the island's 350 species of birds, or just enjoy the uninterrupted 75 miles of broad coastal beach—the world's most unusual "highway."
Where: 230 miles/370 km northeast of Brisbane.
Best Times: Weather is warm year-round; August-November for whale-watching.
3. The Great Barrier Reef and the Coral Sea: It's often called the Eighth Wonder of the World, and that might be selling it short. The Great Barrier Reef is the only living organism on the planet that's visible from outer space. Located between 10 and 50 miles off the continent's northeast Queensland coast and stretching for more than 1,400 miles, actually it's not one coral reef but an association of approximately 2,900 separate fringing reefs, with about 600 tropical islands and 300 coral crays sprinkled among them. The largest marine preserve in the world, it's home to a stupefying profusion of sea creatures, including 360 species of brilliantly colored hard corals, one-third of the world's soft corals, 1,500 varieties of fish, and over 5,000 kinds of mollusks.
Where: Cairns is 1,219 miles/1,961 km north of Sydney.
Best Times: May-November for ideal sea conditions and weather.
4. Heron Island: Unlike many of the other islands near the Great Barrier Reef, Heron Island, situated on the Tropic of Capricorn, is a coral cay—literally part of the reef itself.  There are 20 dive sites within 15 minutes of shore; snorkelers and those opting for a semi-submersible ride can catch their own glimpse of fish, turtles, mantas, reef sharks, and endless varieties of invertebrates.
Where: 40 miles/64 km northeast of Gladstone, which is 691 miles/1,113 km north of Sydney.
Best Times: June and July for clearest water; coral spawns typically occur sometime  between the 2nd and 6th nights following the full moon in November.
5. Sailing the Whitsundays (pictured above): It would be hard to conjure a more splendid destination for setting sail than these idyllic islands in the Coral Sea. Cradled by the Great Barrier Reef midway along Australia's Queensland Coast, these 74 islands (of which only eight are inhabited) are a sailor's dream and also offer glorious, deserted palm-fringed beaches, scenic bushwalks, and superb snorkeling and diving amid teeming coral reefs.
Where: Hamilton Island is 560 miles/900 km north of Brisbane.
Best Times: July-September for whale-watching; October-November for favorable sea conditions.
Read more on 1,000 Places to See Before You Die and the calendar line here.