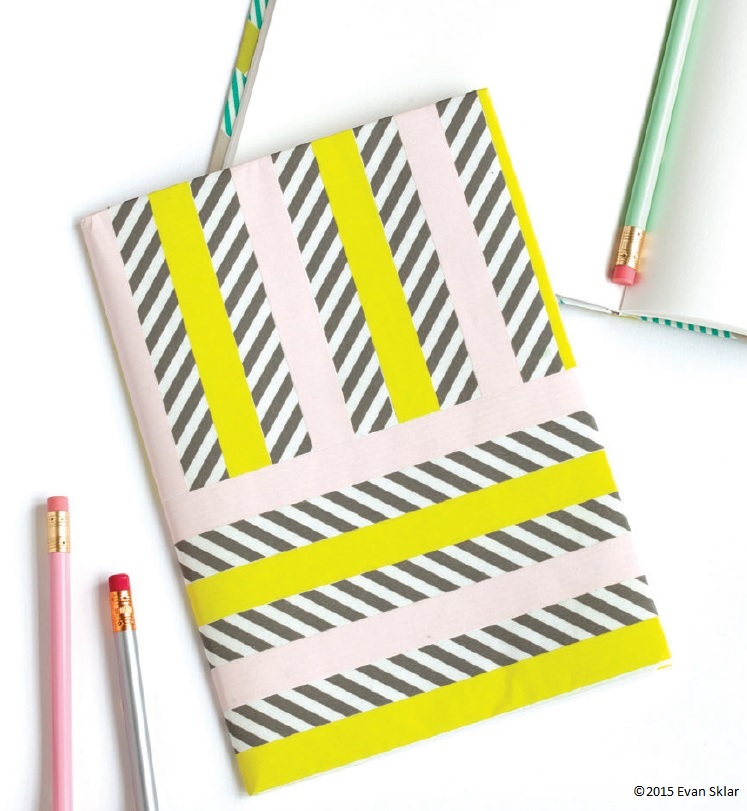 If you're going to take notes, why not have a fashionable spot to write them? Rather than spend too much on designer notebooks, buy the plain-Jane budget versions and decorate them yourself—with exactly the patterns and colors you want. Note: This totally works on sketchbooks, too!
Dressed Up Notebook
SUPPLIES:
A plain notebook
Spray adhesive
White label paper the same size as
(or larger than) the notebook
Craft knife and self-healing cutting mat
Ruler
Pencil
Washi tape
Note: If the notebook is already white,
proceed directly to Step 4.
INSTRUCTIONS:
1. Coat the front cover of the notebook with spray adhesive, then smooth down the white label paper over it.
2. Flip the notebook, then fold the paper around the binding. Add more spray adhesive, avoiding the binding so that the notebook can bend freely. Smooth down the paper.
3. Place the notebook open on the cutting mat. With the craft knife, trim the label paper all the way around the edges of the cover.
4. Close the notebook, then measure and mark a horizontal line halfway up from the bottom edge. Press a strip of washi tape along the mark, wrapping it around to the back side, and leaving a little tape hanging over each edge of the notebook.
5. Repeat, adding horizontal strips evenly spaced below the first until the bottom half of the cover (front and back) is covered.
6. Wrap the tape ends around the edges of the cover and secure them to the inside of the notebook. Trim as necessary. (You can leave a little bit of the washi tape edges for interest or trim them away completely.)
7. With the same or different color washi tape, press a strip that extends vertically from and perpendicular to the top horizontal stripe, letting the end extend off the top edge of the cover.
8. Repeat, adding evenly spaced vertical strips parallel to the first strip along the front and back cover.
9. Wrap the tape ends around the edges of the cover and secure them to the inside of the notebook. Trim as necessary.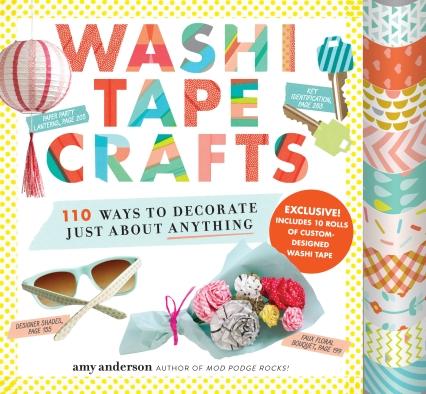 Washi Tape Crafts:  110 Ways to Decorate Just About Anything
by Amy Anderson
It's the definitive washi tape craft book for adults. Washi tape—the Japanese decorative paper tape that's easy to tear, peel, stick and re-stick—is transformative, fun, and remarkably easy to use. It's also never been hotter. Now comes the only adult washi tape craft book packaged with the tape itself—ten rolls, with 18 feet in each roll—making it a complete kit and outstanding value.
GET THE BOOK: Amazon | B&N | IndieBound | Powell's | Workman