A Raichlen Family Favorite Holiday Brisket Recipe
This delicious brisket recipe was excerpted from The Brisket Chronicles by grill master Steven Raichlen. It features sweet wine and dried fruits, as well as a secret technique passed down from Raichlen's family to yours!
Adapted from The Brisket Chronicles by Steven Raichlen. Copyright © 2021 by Workman Publishing.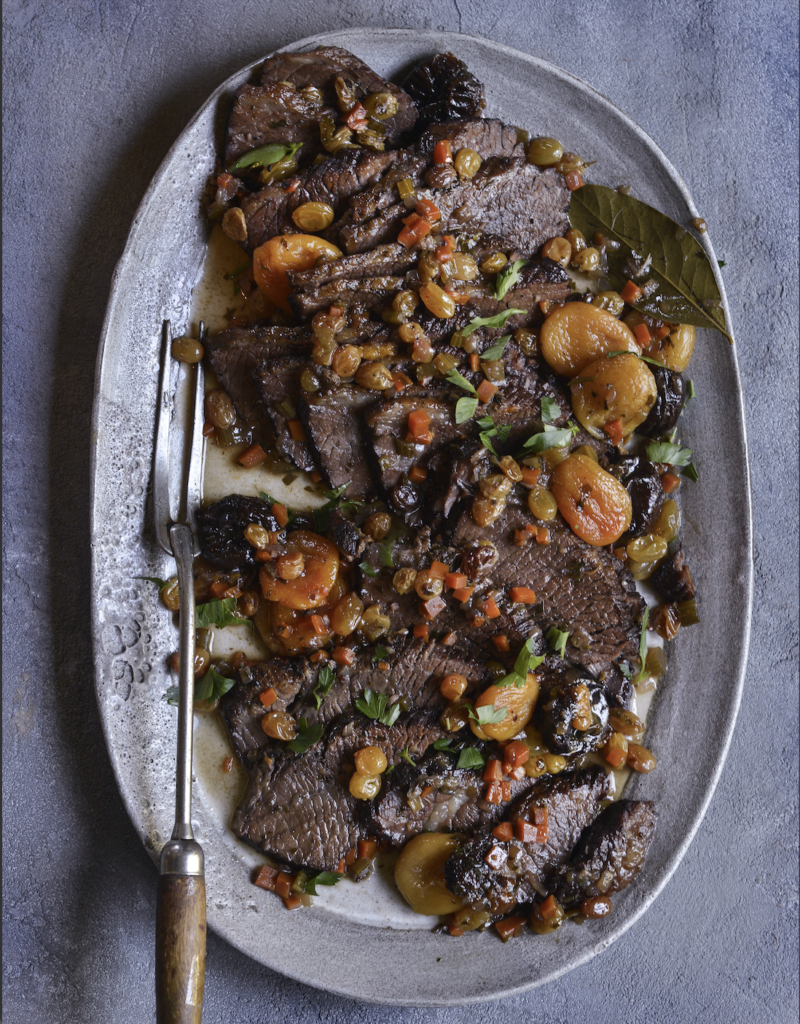 AUNT ANNETTE'S HOLIDAY BRISKET WITH SWEET WINE AND DRIED FRUITS
YIELD: Serves 6 to 8
METHOD: Braising
PREP TIME: 15 minutes
COOKING TIME: Depending on the brisket and other factors, 2½ to 3 hours, or as needed
HEAT SOURCE: Stove, oven
YOU'LL ALSO NEED:
A Dutch oven with a tight-fitting lid or a roasting pan with aluminum foil (it should be just large enough to hold the brisket); a gravy boat with a fat separator (the sort that allows you to pour the broth off from the bottom, leaving the fat on top; optional); a welled cutting board
WHAT ELSE: This recipe calls for a technique that may surprise all you barbecue buffs out there. You carve the brisket midway through the cooking process when it's still firm enough to slice neatly. The slices finish cooking in the braising liquid. This ensures even slices and exceptionally tender brisket.
Long before my indoctrination into barbecue, I ate brisket. So did every other Jewish kid in the neighborhood. Brisket was the ultimate holiday dish, and nobody made it better than my aunt, Annette Farber. Working in a kitchen that would be deemed hopelessly primitive today, Aunt Annette grated mountains of potatoes on a hand grater to produce latkes that defied physics. (They were simultaneously featherlight and rib-stickingly leaden.) She hand-cranked a meat grinder to turn out gefilte fish I still dream about. But the star of her repertory was brisket—braised for hours with onions and carrots and sweet red kosher wine (was there any other kind?). Lavished with apricots, prunes, and other dried fruits, it was the sort of sweet-salty, meaty-fruity mash-up typical of so much Ashkenazi cuisine. Aunt Annette served it at Rosh Hashanah (the dried fruits presaged a sweet New Year). She served it at Hanukkah and Passover, too. I imagine she serves it still to hungry multitudes in heaven. These days, my family is more likely to eat our brisket slow-smoked like they do in Texas, but at least once a year we dust off Aunt Annette's
recipe for a braised brisket that transcends wood smoke.
INGREDIENTS
1 brisket flat (3 to 4 pounds)
Sea salt and freshly ground black pepper
2 tablespoons canola oil
1 large onion, peeled and finely chopped
4 carrots, trimmed and peeled (1 diced and 3 cut crosswise into 3-inch chunks)
2 ribs celery, finely chopped
2 cloves garlic, peeled and finely chopped
1/4 cup chopped fresh flat-leaf parsley
1 ½ cups sweet kosher Concord grape wine (such as Manischewitz), or 1 ½ cups dry red wine plus ¼ cup granulated or brown sugar
2 dried bay leaves
2 to 3 cups beef or chicken broth or stock (preferably homemade or low-sodium) or water
1 ½ cups dried apricots
1 ½ cups pitted prunes
1 cup golden raisins
1. Preheat the oven to 300°F.
2. Using a sharp knife, trim the brisket, leaving a layer of fat at least 1/4 inch thick. Be careful not to over-trim. It's better to err on the side of too much fat than too little. Generously season the brisket on all sides with salt and pepper.
3. Heat the oil in a Dutch oven (or roasting pan—though a Dutch oven is preferred) over medium-high heat. Add the brisket and cook, turning once, until browned on both sides, 4 to 6 minutes per side. Transfer the meat to a platter and pour out and discard all but 3 tablespoons of fat from the pot.
4. Add the onion, chopped carrot, celery, garlic, and 3 tablespoons of the parsley to the pot and cook over medium-high heat until softened and lightly browned, 5 minutes.
5. Return the brisket to the pot and spoon half the vegetables in the pot on top. Add the wine, bay leaves, and enough stock to barely cover the brisket. Cover the pot (if using a roasting pan, cover it tightly with aluminum foil), place it in the oven, and braise until semi-tender, 1½ hours.
6. Remove the pot from the oven and transfer the brisket to a welled cutting board; set the pot aside. Using a sharp knife or electric knife, thinly slice the brisket across the grain. Stir half of the carrot chunks, apricots, prunes, and raisins into the juices in the pot. Using a spatula, neatly lay the sliced brisket on top. Pour in any juices from the cutting board and arrange the remaining carrot chunks and dried fruits on top. Season with salt and pepper. Add additional stock as needed just to cover the meat and fruit.
7. Put the lid on the pot and return it to the oven. Continue braising the brisket until the meat is tender enough to cut with a fork, another 1 to 1½ hours, or as needed. If there's too much cooking liquid (the brisket should be moist, not soupy), uncover the pot for the last half hour to allow some of the juices to evaporate.
8. Transfer the brisket slices to a platter. Using a slotted spoon, transfer the fruits and vegetables to the platter and arrange them around the meat. Pour the pan juices into a gravy boat with a fat separator. (If you don't have one of these, pour the gravy into a bowl or measuring cup and skim the fat off the top with a soup spoon.) Spoon some of the gravy over the meat and fruit, serving the rest on the side. Sprinkle the remaining 1 tablespoon of parsley over the meat and get ready for Jewish holiday awesomeness.
Note: Sometimes, Aunt Annette would add a peeled, seeded, sliced lemon to her brisket to offset the sweetness of the dried fruit. It's a nice touch.
More About The Brisket Chronicles

Grill master Steven Raichlen shares more than 60 foolproof, mouthwatering recipes for preparing the tastiest, most versatile, and most beloved cut of meat in the world—outside on the grill, as well as in the kitchen.
Take brisket to the next level: 'Cue it, grill it, smoke it, braise it, cure it, boil it—even bake it into chocolate chip cookies. Texas barbecued brisket is just the beginning: There's also Jamaican Jerk Brisket and Korean Grilled Brisket to savor. Old School Pastrami and Kung Pao Pastrami, a perfect Passover Brisket with Dried Fruits and Sweet Wine, even ground brisket—Jakes Double Brisket Cheeseburgers.
In dozens of unbeatable tips, Raichlen shows you just how to handle, prep, and store your meat for maximum tenderness and flavor. Plus plenty more recipes that are pure comfort food, perfect for using up leftovers: Brisket Hash, Brisket Baked Beans, Bacon-Grilled Brisket Bites—or for real mind-blowing pleasure, Kettle Corn with Burnt Ends. And side dishes that are the perfect brisket accents, including slaws, salads, and sauces.