Bourbon concoctions are all the rage—but Steven Raichlen was brining his chicken in whiskey long before the mustachoied mixologists got their hands on this quintessentially American booze. From his book BBQ USA, here's a foolproof recipe for moist, liquor-brined chicken.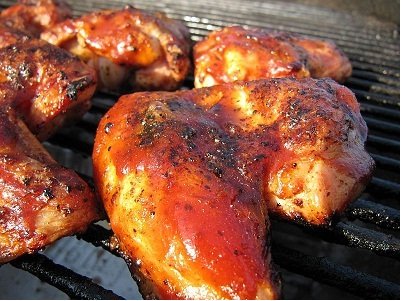 Desperate times call for desperate measures. In the past thirty years, all meat in the United States has gotten leaner, and the boneless, skinless chicken breast is no exception. This popular cut is about as low in fat as meat can be. So what's the problem? Well, fat is what carries flavor and it's what keeps meat from drying out during grilling. That's where brining comes in—this traditional American technique puts moisture back in meat. And the bourbon? Well, this distinctly American whiskey adds a smoky sweetness that's perfect for grilled chicken.   A note on brining:
"Too much whiskey is just enough," Mark Twain is alleged to have quipped. The same cannot be said for brine. Overbrining will make your chicken rubbery and unpalatably salty. Keep the chicken in the brine for just two to three hours. If space is tight in your refrigerator you can brine the breasts in a resealable plastic bag.   A note on grilling:
Traditionally, brined foods are smoked or grilled using the indirect method, but because chicken breasts are so small, they're best grilled using the direct method. To give them a smoke flavor, add wood chips to the fire.  
METHOD:
Direct grilling
ADVANCE PREPARATION:
2 to 3 hours for brining the chicken
YIELD:
Serves 4  
FOR THE BRINE:
1/4 cup bourbon 1/4 cup coarse salt (kosher or sea) 1/4 cup firmly packed brown sugar 4 slices (each 1/4 inch thick) lemon 2 cloves garlic, peeled and gently crushed with the side of a cleaver 1 tablespoon black peppercorns 1 tablespoon mustard seeds 1 tablespoon coriander seeds
FOR THE CHICKEN:
2 whole skinless, boneless chicken breasts (each 12 to 16 ounces), or 4 half breasts (each half 6 to 8 ounces) 2 tablespoons melted butter or olive oil Your favorite barbecue sauce, for serving
YOU'LL ALSO NEED:
2
cups wood chips or chunks (optional; preferably hickory or oak), soaked for 1 hour in water to cover, then drained
1. MAKE THE BRINE: Combine the bourbon, salt, brown sugar, lemon slices, garlic, peppercorns, and mustard and coriander seeds in a large nonreactive bowl with 4 cups of water and whisk until the salt and brown sugar dissolve.
2. If using whole chicken breasts, cut each breast in half. Trim any sinews or excess fat off the breasts and discard. Rinse the breasts under cold running water, then drain. Place the chicken breasts in a large resealable plastic bag and add the brine. Let the breasts brine in the refrigerator for 2 to 3 hours, turning the breasts twice so that they brine evenly.
3. Set up the grill for direct grilling and preheat to high. If using a gas grill, place all of the wood chips or chunks, if desired, in the smoker box or in a smoker pouch and run the grill on high until you see smoke. If using a charcoal grill, preheat it to high, then toss all of the wood chips or chunks, if desired, on the coals.
4. When ready to cook, drain the brine off the chicken and blot the breasts dry with paper towels. Discard the brine. Lightly brush both sides of the breasts with the melted butter. Brush and oil the grill grate, then arrange the chicken breasts on the hot grate, placing them on a diagonal to the bars. Grill the breasts for 2 minutes, then rotate them a quarter turn to create an attractive Crosshatch of grill marks. Continue grilling the breasts on that side for 2 minutes longer. Turn the breasts over and grill until cooked through, 4 to 6 minutes longer, again rotating them after 2 minutes to create a Crosshatch of grill marks. The total cooking time will be 8 to 10 minutes, depending on the thickness of the chicken breasts. To test for doneness, poke a breast in the thickest part with your finger; it should feel firm to the touch. Transfer the grilled chicken breasts to a platter or plates and serve at once with your favorite barbecue sauce.
———————————————————————————————————————————————————————–
This month only, three of Steven Raichlen's eBooks are featured as part of Workman's Blue Plate Special! Get them for just $2.99, through 6/30 at http://www.workman.com/ecookbook-club/.