Excerpted from Tal Ronnen, Scot Jones, and Serafina Magnussen's Crossroads.
Raw kale can be tough, so it has to be treated right. Yet all of the talk about "massaging" kale to make the leaves tender and palatable is nonsense. The key to achieving a melt-in-your-mouth texture is to cut the robust green leaves into a fine chiffonade, resembling strands of confetti. Once the kale is shredded, you don't have to chew it endlessly to break down the tough leaves. But be sure to dress the salad with the vinaigrette about 10 minutes before serving, so it has a chance to soak into the kale and soften it a bit.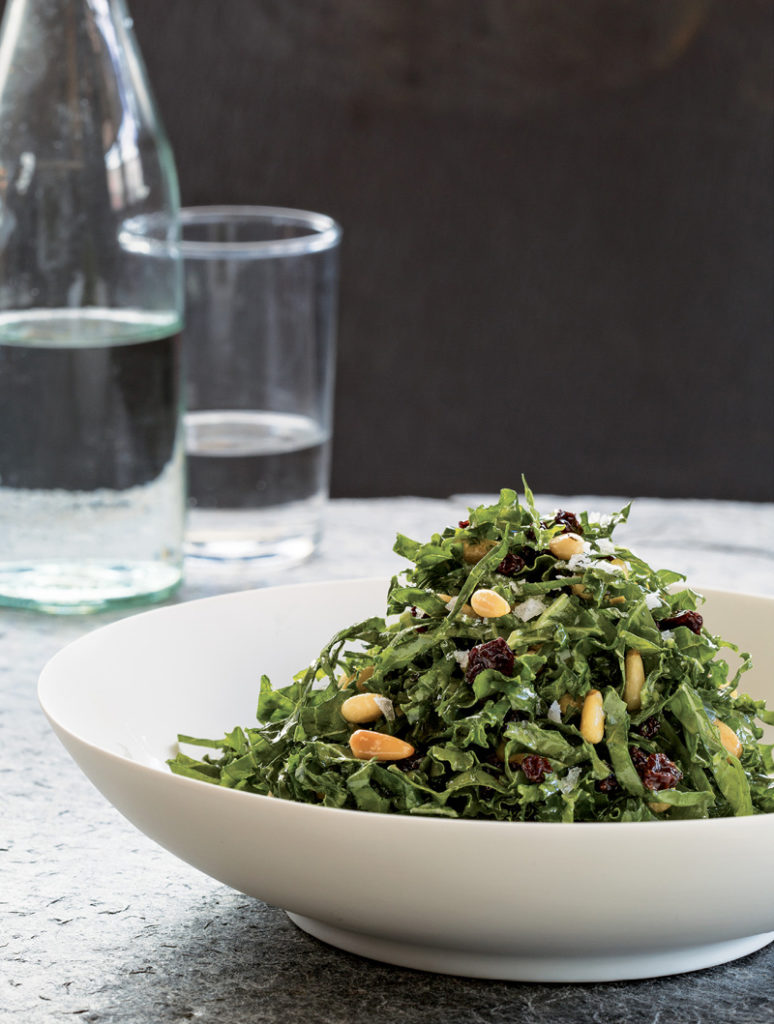 Kale Salad with Currants, Pine Nuts, and Lemon-Thyme Vinaigrette
For the Lemon-Thyme Vinaigrette
½ small shallot, minced
1 garlic clove, minced
2 fresh thyme sprigs, leaves stripped from the stems
¼ cup white balsamic vinegar
Finely grated zest and juice of 1 lemon
1 tablespoon agave nectar
½ cup extra-virgin olive oil
Kosher salt and freshly ground black pepper
For the Salad
2 bunches (about 1½ pounds) black kale (aka Tuscan or lacinato kale or cavolo nero)
½ cup dried currants
½ cup pine nuts, toasted
Kosher salt and freshly ground black pepper
Instructions
Make the vinaigrette: Combine the shallot, garlic, thyme, balsamic, lemon zest and juice, agave, and oil in a small mixing bowl or a Mason jar and season with salt and pepper. Whisk or shake vigorously to blend. (Leftovers can be refrigerated for up to a week).
One at a time, lay each kale leaf upside down on a cutting board and use a paring knife to cut down both sides of the center rib to remove it. Stack a few leaves at a time, roll them into a tight cigar shape, and cut crosswise into thin ribbons (no more than ⅛ inch). You should have about 6 cups shredded kale.
Put the shredded kale in a colander or salad spinner and rinse well with cold water. Drain and dry well.
Combine the kale, currants, and pine nuts in a salad or mixing bowl. Drizzle the salad with the vinaigrette and season with salt and pepper. Gently toss with your hands to dress the salad evenly, and let stand for about 10 minutes.
Serve the salad in the salad bowl or divide among four individual plates.
About the Book:
"A new kind of flavor-first vegan cooking. . . . Stunning."
—Food & Wine
"Best Food Books of 2015"
—USA Today
Reinventing plant-based eating is what Tal Ronnen is all about. At his Los Angeles restaurant, Crossroads, the menu is vegan, but there are no soybeans or bland seitan to be found. He and his executive chef, Scot Jones, turn seasonal vegetables, beans, nuts, and grains into sophisticated Mediterranean fare—think warm bowls of tomato-sauced pappardelle, plates of spicy carrot salad, and crunchy flatbreads piled high with roasted vegetables. In Crossroads, an IACP Cookbook Award finalist, Ronnen teaches readers to make his recipes and proves that the flavors we crave are easily replicated in dishes made without animal products. With accessible, unfussy recipes, Crossroads takes plant-based eating firmly out of the realm of hippie health food and into a cuisine that fits perfectly with today's modern palate. The recipes are photographed in sumptuous detail, and with more than 100 of them for weeknight dinners, snacks and appetizers, special occasion meals, desserts, and more, this book is an indispensable resource for healthy, mindful eaters everywhere.
Buy the Book
Amazon | B&N | Indiebound | Workman