Brand new from the creators of BrainQuest, the BIG FAT NOTEBOOK™ series is like borrowing the notes from the smartest kid in every middle school subject. The books feature critical ideas highlighted in neon colors, definitions explained, doodles to illuminate tricky concepts, mnemonics for memorable shortcuts, and quizzes to recap it all.
We'll be excerpting examples from each of the subject areas—Math, Science, English/Language Arts, World History, US History—for five weeks. (See our other excerpts for #BigFatMath and #BigFatAmericanHistory.) This week, we crack open English Language Arts.
Want to study up all summer like a smarty pants? Click each image to download a printable PDF!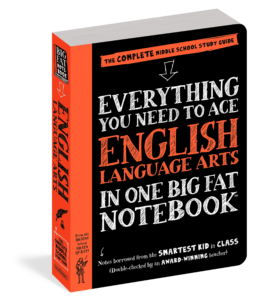 About the Book
Everything You Need to Ace English Language Arts . . . takes students from grammar to reading comprehension to writing with ease, including parts of speech, active and passive verbs, Greek and Latin roots and affixes; nuances in word meanings; textual analysis, authorship, structure, and other skills for reading fiction and nonfiction; and writing arguments, informative texts, and narratives.
The BIG FAT NOTEBOOKS meet Common Core State Standards, Next Generation Science Standards, and state history standards, and are vetted by National and State Teacher of the Year Award–winning teachers. They make learning fun and are the perfect next step for every kid who grew up on Brain Quest.

Follow #BigFatNotebooks all summer long for early excerpts, printable PDFs, and more!