Maybe you're the type who bought your new calendar back in October or maybe you're a bit of a procrastinator and still can't decide on one. (Don't worry; we love all of you equally!) Whichever category you fall into, if you are visiting our blog, you know Workman HQ loves imaginative and artsy people, so today we're sharing a chat with Brooke Barker and Boaz Frankel. This hilarious duo is behind the It's Different Every Day calendar (spoiler: the pages are different every day), and Brooke is also the author of Sad Animal Facts (which was published in the fall by Flatiron Books). We're talking the exciting world of calendars, how to utilize Kickstarter, and tips to get into new projects!
Warning: it's going to get silly.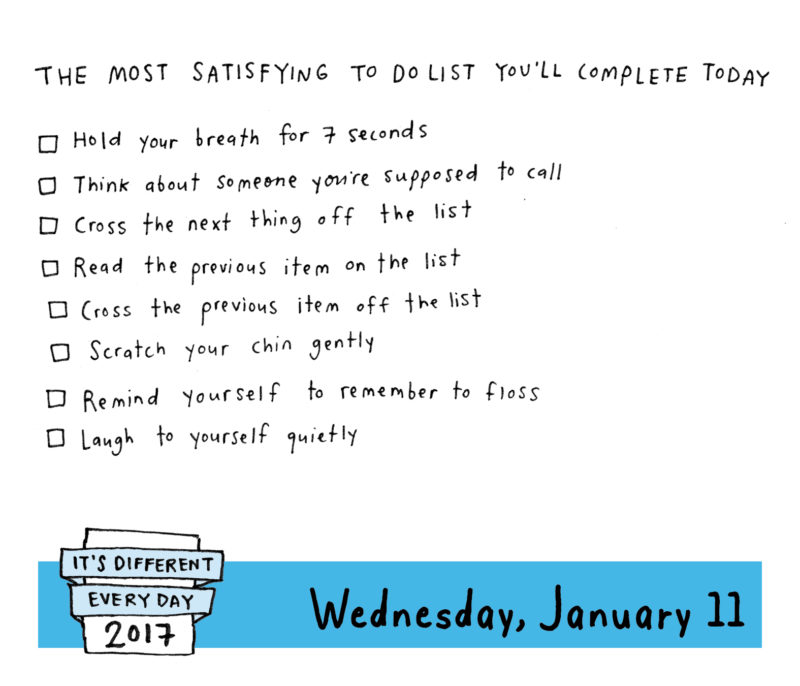 Happy New Year, creative friends! With everyone in a frenzy to stick to their New Year's resolutions, we'd all love to know if this is part of your routine, too. What's the best way to kick off a brand new year (other than flipping a page of your adorably fun calendar)?
BROOKE: This is probably not particularly interesting to calendar fans, but my goal this year is to do a chin up.
BOAZ: Eat more fruits and vegetables and get more sleep. This is something I try to remember to do all year long.
As calendar creators, what would surprise us the most about putting one together?
BOAZ: Starting the calendar is always terrifying! We'll start and have a few pretty good calendar days created, and then we'll realize that we still have hundreds of calendar days to go! But somehow it gets easier the more we do. I think the calendar-making muscle gets stronger the more you use it.
BROOKE: About a fifth of the pages in the 2017 calendar were thought up and illustrated by a short-haired Abyssinian cat, whose name we don't know. Both of us are a little allergic to cats so we had him email us his ideas and illustrations and we added them to the calendar. They're mostly on Tuesdays.
Who are some artists you look up to?
BROOKE: Tuesday Bassen, Hallie Bateman, David Sedaris.
BOAZ: Brooke Barker is an artist that I look up to. She's probably my favorite artist in the world. And I'm not just saying that because I'm married to her.
Let's talk a little bit about balance. Sometimes you work together and sometimes you have solo projects, how do you make that work?
BOAZ: For better or worse, we've got LOTS of diverse interests and hobbies, and we love to pursue as many of them as we can. Sometimes those interests and projects overlap and sometimes they don't. But even when we're not fully collaborating on a project, I always show Brooke the things I'm working on and ask for her feedback.
BROOKE: Thanks for running that answer by me, Boaz. I agree.
For those looking to embrace their creative side, what's your best advice for starting a new project or picking one up that's been ignored?
BROOKE: If you have an idea you should try to make it happen right away. There are so many people in the world that if you don't make it, you're going to see someone else make it in a few years and then hate that you never did it.
I'm not terribly good at being self-motivated, so I tried to build incredibly scary deadlines and fears for myself to force myself to work harder.
One productivity tip I learned in college is to leave your laptop charger at home and force yourself to finish your project before your battery runs out. I'm not sure what other people were learning in college, but that's the main thing I got out of it.
BOAZ: Sometimes it's hard to find time to do creative projects, and starting a new one may seem daunting, but I'm a big proponent of putting in just a few minutes a day. If you just write a page or two every day or take time every morning to draw a kitten, you'll have tons of pages of writing and dozens of kitten illustrations in no time.
In 2016, you two got married. You traveled a ton! Brooke released her first book, Sad Animal Facts, and you two published the It's Different Every Day calendar with us. Any big plans for 2017?
BROOKE: We're moving to Amsterdam! I'll be working at an ad agency there.
BOAZ: I'm moving to Amsterdam, too, but I'm not sure what I'll be doing there yet. Send in your ideas!
Which day of your calendar best represents you?
BOAZ: I really identify with "Maude the Ferret Who Loves Science!" I appreciate her enthusiasm and love all the days where she makes an appearance.
BROOKE: October 12th, but I won't tell you what's on that day. You'll have to get the calendar.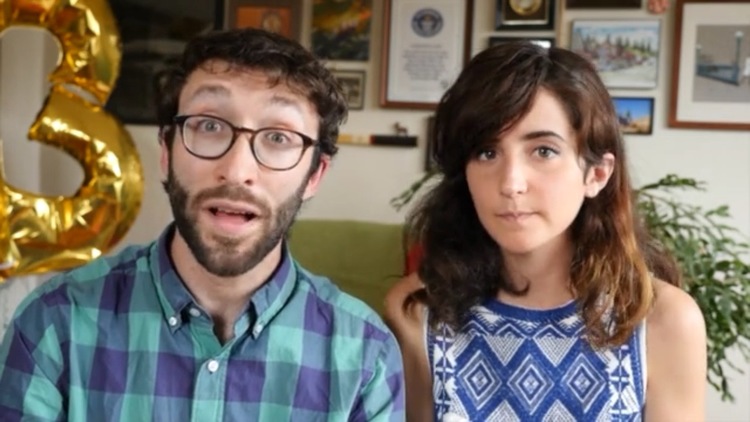 Want to laugh along with Boaz and Brooke more? Visit them on Twitter @brooke_rene and @boazf, itsdifferenteveryday.com, and if you are curious about their Kickstarter journey, check out this fun feature! (Oh, and don't forget to follow the #itsdifferenteveryday hashtag on Instagram and Twitter!)
About the Calendar:
Every day is different—so why not have a calendar that's different every day, too? Make 2017 a year of adventure with this new one-of-a-kind calendar full of random oddments to make you wonder, laugh, reflect, and engage the world around you—every day!
Buy the Book
Amazon | B&N | Indiebound | Workman