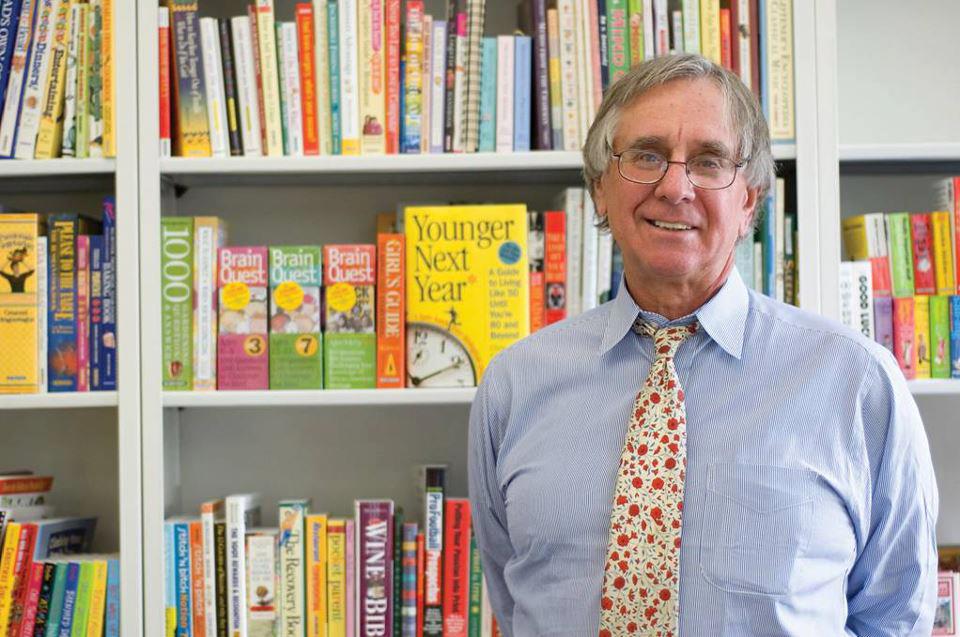 It is with great sadness that Workman Publishing Company announces the death of its founder, Peter Workman, at the age of 74 from cancer. He died on April 7, 2013, at home in New York.
He leaves his wife of fifty-one years, Carolan Raskin Workman; their two daughters, Katie and Elizabeth; their sons-in-law, Gary Freilich and Mark Williams; and four grandchildren: Jack, Charlie, Madeline, and Charlotte.
He was, in so many ways, an extraordinary man.
He was the founder, president and CEO of Workman Publishing Company, one of the largest independent publishers of nonfiction trade books and calendars. In addition to the Workman imprint, the company consists of Algonquin Books of Chapel Hill, Artisan, Storey Books, and Timber Press. He served on the board of the Goddard-Riverside Community Center and the board of Prep-for-Prep; he was a member of the Publishing Committee of UJA-Federation of New York and chairman of the Board of Governors of Yale University Press. Peter was a generous supporter of the Human Rights Watch, the ACLU, and the Anti-Defamation League, among many organizations. In honor of his late brother he developed the David Workman Grant Program at Deerfield Academy, a charity to help students fund and implement their own humanitarian projects. His love of music and art prompted his support of the New York Philharmonic, the Metropolitan Opera, and the Metropolitan Museum of Art.
He was a passionate golfer and skier and a keen poker player, and he took great pleasure in the company of friends, colleagues, and family.
Born in Great Neck, Long Island, on October 19, 1938, to Jeanette and Bernard Workman, Peter graduated from Deerfield Academy and Yale University. After a stint in the sales department of Dell Publishing, he founded Workman Publishing Company as a book packager in 1967, and within two years published its inaugural list leading with Richard Hittleman's Yoga 28-Day Exercise Plan, a title that is still in print.
His vision and drive grew Workman into a wholly unique and fiercely independent book publisher. Among its iconic bestsellers are B. Kliban's Cat, The Official Preppy Handbook, The Silver Palate Cookbook, What to Expect® When You're Expecting, Brain Quest®, Sandra Boynton's children's books, and 1,000 Places To See Before You Die®. Also a trendsetter in the calendar business, Workman invented the groundbreaking boxed Page-A-Day® Calendar.
In 1989, Workman Publishing acquired the southern literary publisher Algonquin Books of Chapel Hill, known for discovering new writers such as Julia Alvarez and Jill McCorkle, who have been with Algonquin from the beginning of their careers. Its recent bestsellers include Water for Elephants, A Reliable Wife, and the Bellwether Prize-winners Mudbound and The Girl Who Fell from the Sky.
And in 1994, Workman launched Artisan, a publisher known for finely produced, illustrated books, including The French Laundry Cookbook and other cookbooks by Thomas Keller, David Tanis, Frank Stitt, and Lucinda Scala Quinn; The Medal of Honor; and Design*Sponge.
Other Workman companies include Storey Publishing, based in North Adams, MA, which was acquired in 2001 and has been publishing books for the "backyard homesteader" before that was a phrase or trend; and Timber Press, a leader in the gardening field. Workman also handles distribution for Greenwich Workshop Press, and The Experiment.
Peter was moved by the beauty and expanse of nature—Yosemite, Zermatt, Patagonia, the heaths of Scotland. He was a man driven by big, innovative thoughts. And yet, when it came to bookmaking, he paid attention to the smallest detail: the size of a folio, the use of an ampersand, the quality of paper. A visionary, an inspirational leader, and true friend, Peter will be deeply missed.