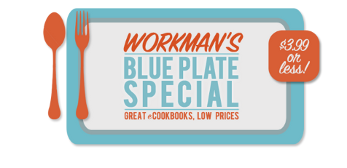 Hello, July! Workman's Blue Plate Special greets your arrival with a new collection of eCookbook super-steals. Plus, a random side of Southern affectation, which just felt right!
This month, it's all about bringing your friends and family together for the backyard hangs you look forward to the rest of the year. On the menu: a newly digitized classic filled with effortlessly graceful recipes, THE potluck bible, a delicious slew of veggie burgers, a mini-encyclopedia of hot sauce, aaaaaand … HOMEMADE. BEN. AND. JERRY'S. That's right, we're screaming.
Each title is yours to eat up for only $2.99. With the exception of: one mystery ecookbook, free upon joining of said super-exclusive club.
We're taking applications at www.WorkmanEcookbookClub.com.