We know three New Year's resolutions everyone can get behind:
Save money.
Get healthier.
Eat out less.
Luckily for us, Caroline Wright's Twenty-Dollar, Twenty-Minute Meals is full of recipes that easily fulfill all three. For winter, we love her Puréed Vegetable Soups, which are full of flavor to boot.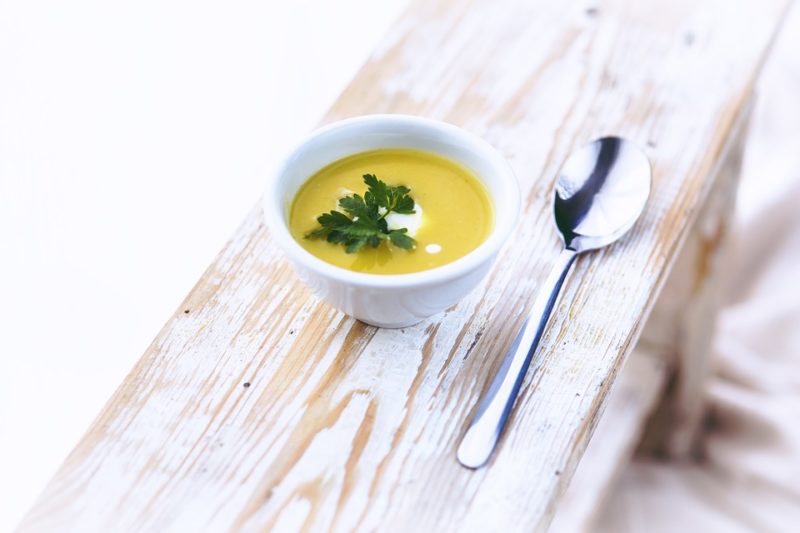 Puréed Vegetable Soups 3 Ways
Basic Technique
Bring the vegetables and 6 cups water to a boil in a medium saucepan over high heat; season with salt and pepper. Cook until the vegetables are tender, 5 to 10 minutes (depending on the type of vegetables). Stir in 2 tablespoons salted butter. Use a blender to purée soup in batches (keep the top cracked to prevent spattering), adding more water if necessary until the soup has the consistency of heavy cream. Stir in 1 tablespoon fresh lemon juice and adjust the salt and pepper to taste before serving. Serve with salad and crusty bread, if desired.
Asparagus Soup with Dill Oil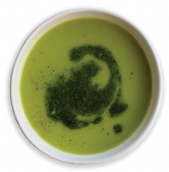 1 large potato, peeled and coarsely grated
1 medium onion, peeled and coarsely grated
2 strips lemon zest 2 bunches asparagus, trimmed and cut into 2-inch pieces
Just before serving, place 1/3 cup olive oil and 1/2 cup fresh dill fronds in a blender and blend until smooth. Spoon the dill oil over the soup.
---
Carrot-Ginger Soup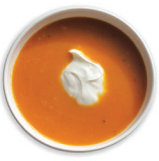 1 medium onion, peeled and coarsely grated
2 pounds carrots, peeled and coarsely grated
½ cup peeled and chopped fresh ginger
Just before serving, spoon a dollop of Greek yogurt into each bowl of soup.
---
Cauliflower Soup with Capers + Parsley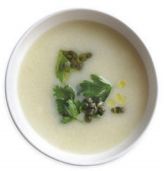 1 medium head cauliflower (2 pounds), coarsely chopped into florets
1 medium onion, peeled and coarsely grated
1 small floury potato, such as Russet, peeled and coarsely grated
1 tablespoon Dijon mustard
Just before serving, combine 1 tablespoon capers, 1/4 cup chopped fresh parsley, and 2 tablespoons olive oil in a small bowl and spoon over the soup.
---
About the Book:
Twenty-Dollar, Twenty-Minute Meals has it all: A bold and irresistible promise—make fresh, delicious meals for four for $20 or less, and that take twenty minutes or less to prepare. A dynamic young author with serious fans. And the singular point of view that pulls it all together, from the narrative recipe style to the author's unerring sense of the ingredient-forward way people want to cook and eat today.
Twenty-Dollar, Twenty- Minute Meals is for millennials on a budget and young moms and dads who want to make the kind of food they eat in restaurants or read about on blogs—for anyone who likes to cook and entertain but doesn't always have a lot of time (or money). It's quick and easy with a modern twist: Steak with Herb Sauce and Buttered Radishes. Seared Salmon with Orange Rosemary Lentils. Merguez Burger with Cucumber Dressing. Sage Pork Chops with Grilled Peaches and Onion. Orzo Risotto with Pancetta and Radicchio. And, of course, there's dessert.
It's the Wright way to cook: 20 minutes + $20 = a fabulous meal for 4.
Buy the Book
Amazon | B&N | Indiebound | Workman