If you're positively alit with anticipation of Downton Abbey Season 5, you'll want to read the book that inspired Julian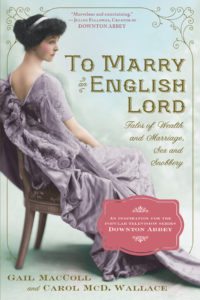 Fellowes to create the character, Cora Crawley, Countess of Grantham: To Marry an English Lord, by Carol McD. Wallace and Gail MacColl. After the New York Times published a piece about books Downton Abbey fans would enjoy, the creator of the hit PBS series responded with a letter to the editor. Julian Fellowes wrote, "In your very flattering article about books that might please fans of "Downton Abbey," I was sorry that one title was missing: To Marry an English Lord." The letter went on to read, "It occurred to me that while many people knew about the arrival of the heiresses, not much was known about what their lives then became, trapped as they were in a way of life that many of them would outlive." To Marry an English Lord tells the stories of the American heiresses who invaded Brittania and swapped dollars for titles. For those who clamor for more when each episode of Downton Abbey ends, this book may be just what the doctor ordered.
In our continued support of the #ReadWomen2014 social media movement, we interviewed author Carol McD. Wallace about this book, Downton Abbey, and more!
Q: What discovery surprised you most while researching this book?
A: I've had a lifelong obsession with weddings (comes from growing up across the street from a church, I think) and I was astonished to find out how closely the most of the weddings of the American heiresses in To Marry an English Lord resembled the way we still get married in the U.S., with the religious ceremony followed by a reception, the bride in a white dress, the bridesmaids in similar dresses, the wedding gifts, the bouquets, etc. etc. I actually got so wrapped up in this that I wrote a book about it, called All Dressed in White, which came out in 2005.
Q: Who is your favorite Downton Abbey character and why?
A: Violet, Countess of Grantham, of course, same as everybody else! I think we all love her because she says the things we all wish we could say, and gets away with it! Also, who wouldn't want all the punch lines?
Q: What sparked your interest in English aristocracy?
A: I actually don't know, but I can tell you that when I was still in grade school I researched and wrote a massive report on British heraldry, so that interest has been there for a very, very long time.
Q: If you weren't writing about dukes and heiresses, what would you be writing about?
A: Remember that To Marry an English Lord was first published in 1989 so I've had lots of time since then to cover other subjects. The most profitable was a series of baby name books (back before baby names were all on the Internet) so I was immersed in that for several years.   I also studied art history at Columbia University  from 2003 to 2006. The research for my M.A. thesis  became a novel (published in 2011) called  Leaving Van Gogh. It's about the last two months of Van Gogh's life, narrated by the doctor who tried to help him before he committed suicide. What it has in common with To Marry an English Lord is the nineteenth century, which I don't seem to want to leave. Ever.
Q: Who are your favorite female authors?
A: Well, that would be a long list! Just off the top of my head, I'd say Hilary Mantel, Edith Wharton, Colette, Elizabeth Jane Howard, Jane Gardam. And of course Jane Austen.
Q: What are you reading now?
A: Beside my bed is Middlemarch which is fun because each time you reread a big novel like this, you are also revisiting yourself, the last time you read it. And on my Kindle, the new Tana French novel, The Secret Place. Very hard to put that one down.
For more information on Carol, visit her site here and here! And don't forget to spend the year at Downtown Abbey with the 2015 Page-A-Day Calendar and 2015 Engagement Calendar, available now here.