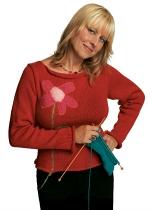 Those who volunteered or attended the World Maker Faire in NYC last weekend are still recovering from the awesomeness of the experience — it was a mixture of energy, enthusiasm, and whimsy — plus a touch of zany. Giant vats of Gerard's paella, various grub trucks, and other fair food options kept us well fed. The Bust Craftacular maker tables made sure we have everyone on our holiday gift list covered. And the m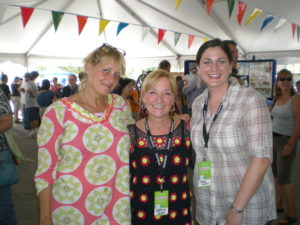 ix of rides (Jet Ponies, anyone?) at the alternative midway kept our hearts pumping and our ears ringing!
Workman's Camp Make booth, nestled among all those attractions was a bustling hit! One of our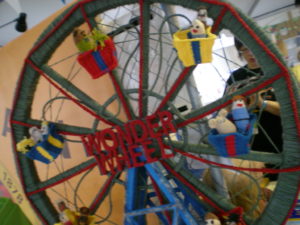 highlights was hosting Debbie Stoller, author of the bestselling Stitch 'N Bitch series. She stopped by both Saturday and Sunday, clicked her sticks a bit (of course!), chatted with fans, and signed books! And she met up with our friendly neighbors right next door from Red Heart yarns, who just happen to be the kind folks who produce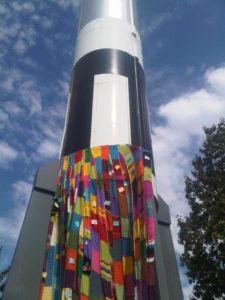 the Stitch Nation line of gorgeous colorful skeins.
The Faire was decidedly and inspiringly stitch-friendly: Beyond Red Heart's knitting and crochet center, Bust Magazine hosted a stitch lounge, National Needle Arts Association taught people how to knit, and Lion Brand was there, too, with knit sculptures celebrating iconic New York: the Coney Island Cyclone, the Wonder Wheel, and the Empire State Building, complete with King Kong, of course. Panels of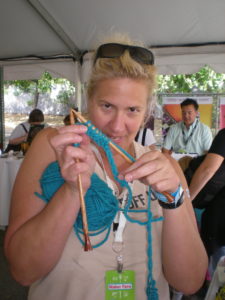 knitwork hung from the base of the Rocket next to the NY Hall of Science.
And back at the ranch (the Workman booth), we kept pace by quietly drawing two names to win the Stitch 'N Bitch gift baskets of yarn, project cards, and a Stitch 'N Bitch book of the winners' choice. Congratulations, Alison and Yasmeen, and thanks to everyone who entered!
PS: Did I mention that Beth learned to knit at Maker Faire?
PPS: For all you star pupils,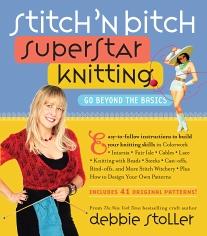 stay tuned for Stitch 'N Bitch Superstar Knitting, out this November!