Hopefully you've got a good chunk of your holiday shopping done, but everyone always seems to forget about stocking stuffers until the last minute. This year, we suggest you forgo the usual trinkets and socks and stock some books instead. Here are 8 pint-sized titles that pack a big punch.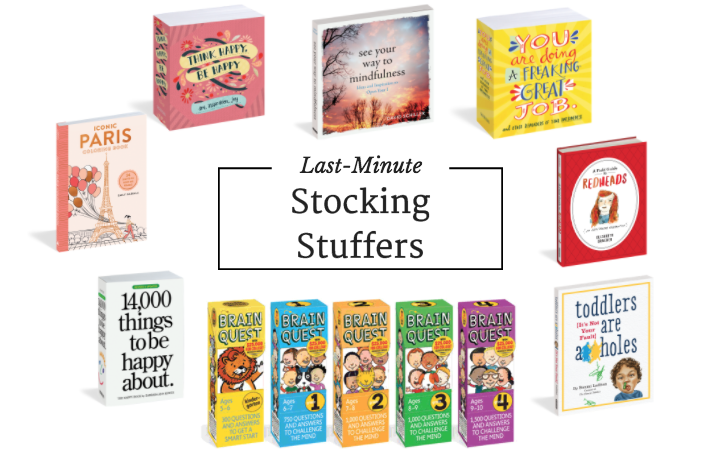 Think Happy, Be Happy: This dynamic illustrated book is brimming over with encouragement and wisdom and delivered with a fresh, modern twist. Pairing quotes with original graphic art that brings the words to life, Think Happy, Be Happy is a gallery of beauty and cheer. Bonus material throughout includes themed play-lists, top-ten lists, and simple recipes.
14,000 Things to Be Happy About by Barbara Ann Kipfer: Rabbit tracks in the snow. Summer storms. White cupcakes with multicolored sprinkles. 20 minutes all to yourself. No opinions, no explanations, no asides, no footnotes, editorializing, or proselytizing. Just the simple premise of a list of things that make us smile.
Toddlers are A**holes by Bunmi Laditan: This hilarious, satirical guide to toddlerhood offers parents instant (and very welcome) comic relief—along with the very good news that "It's Not Your Fault."
BRAIN QUEST Decks: Sized to pop right into a stocking, and personalized by grade, when Santa brings BRAIN QUEST, kids find out that it's fun to be smart. They can play with friends or parents, or quiz themselves—the grommeted decks are favorites for travel and other quiet-time activity. And they're teacher-vetted, so they help kids feel confident about what they know, exactly when they need to know it.
A Field Guide to Redheads by Elizabeth Graeber: Illustrated by Graeber, a redhead herself, this pretty little hardcover gift book presents a pantheon of 100 famous redheads, both real and fictional, from David Bowie to Anne of Green Gables. Redheads will celebrate their place among such distinguished company.
You Are Doing a Freaking Great Job: Created by more than 20 artists and designers—from the well-known Etsy favorites Emily McDowell and Mary Kate McDevitt, to emerging talents Lindsay Whitehead and J. Zachary Keenan—this powerful little book is filled with nearly 200 uplifting and inspiring quotes, lyrics, and words of advice rendered in the original hand-lettered style of art that is pinned and repinned on Pinterest and sold on Etsy.
See Your Way to Mindfulness by David Schiller: In a world filled with distraction, seeing mindfully is a way to pay attention, to hit pause and find calm by focusing on what's directly in front of us. It's a collection of quotes, prompts, exercises, meditations—married with photographs and drawings that bring the words to life.
Iconic Paris Coloring Book by Emily Isabella: The Eiffel Tower. Notre-Dame. The Champs-Elysées. The Arc de Triomphe. Accomplished illustrator Emily Isabella has captured them all—and so much more!—in this one-of-a-kind coloring book celebrating the very best of France's capital.