It wouldn't be an exaggeration to say that it has been the year of poke. This raw fish salad, traditionally served as an appetizer in Hawaiian cuisine, has been on the minds, and tongues, of seemingly every food journalist. It's been featured as a trending dish in Bon Appétit, Food Republic, Business Insider, and Eater. What gives? Seasoned journalist and seafood connoisseur Kat Odell explains.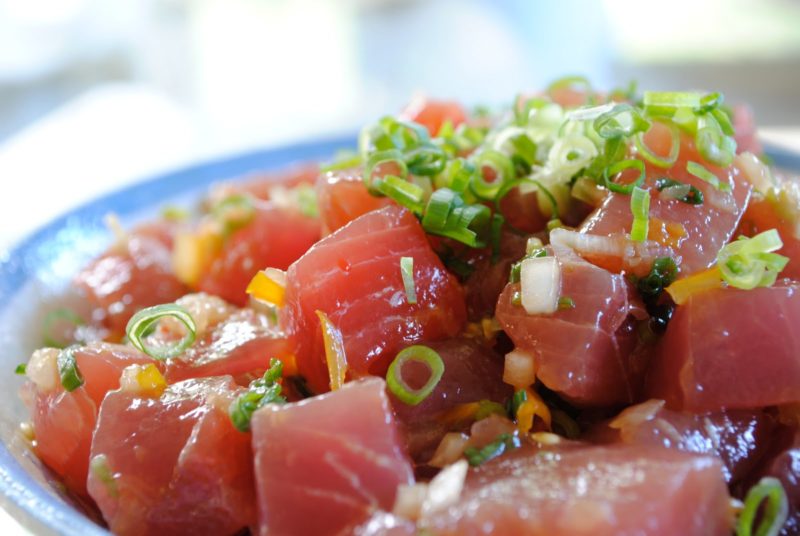 So, what is poke? 
Poke, a salad of raw cubed seafood over rice, has a long history in Hawaiian cuisine, and it can be found pretty much anywhere in the state, from restaurants to grocery stores. The chunks of seafood, often tuna, are frequently tossed in a soy-sesame dressing, with other Japanese ingredients, like sesame seeds and green onion. But, in rest of the country's new wave of modern poke eateries, chefs are getting creative, using myriad types of fish and other embellishments like avocado, sweet potato, and jalapeño.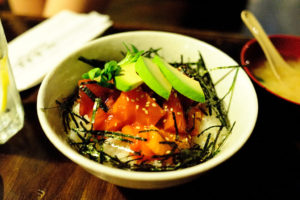 Why do you think it's been receiving so much hype lately?
I think a confluence of factors are helping poke go mainstream. First, right now the U.S. is more health-conscious than it has been in the past, whether that means sourcing fresh produce from farmers' markets, avoiding gluten, or choosing a plant-based diet. Poke is a dish that is essentially just protein, plus whatever add-ins and sauces one chooses. So, right off that bat it's a healthy yet filling lunch or snack option. Second, I am noticing more high-quality Japanese restaurants and sushi bars opening across the country, which is just bringing more attention to Japanese cuisine in general. Third, bowls are huge. From açaí to Sweetgreen salads, serving meals in bowls is IN! Fourth, although I lived in LA for close to a decade and really watched the city blossom and mature in terms of food, I'd say right now more than ever it's a city with a respected dining scene, and people are looking west for inspiration. Poke has taken off in LA, so it's no surprise to see it now growing in New York and beyond.
Is it really as delicious as everyone's been saying?
It really depends on who makes it. Just like any raw fish dish, poke can be great or it can taste rancid, depending on the quality of the fish and how old it is. I'm not going to name any names, but there's a midtown New York poke spot that's always jam-packed with a line snaking out the door, and the one meal I tried there was so terrible, meaning the fish simply wasn't fresh, that I had to throw it away. Meanwhile, not too far away, I am a huge fan of Sons of Thunder. In LA, my favorite is Sweetfin, one of the first in the city to roll out poke.
Does it have any health benefits?
In general, fish is a great source of omega-3 fatty acids (the good fats). Fish is also pure protein and low in calories. So depending on how you construct your poke bowl (I usually avoid rice and get the fish over greens), it can be super healthy.
Does it have a downside?
For me the only downside to poke is that if the fish isn't fresh, good luck!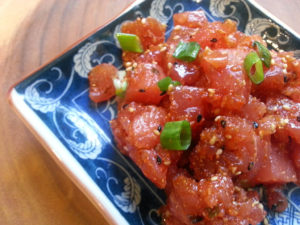 Where can you find it? Is there anything we should keep in mind when purchasing it?
Of course in Hawaii poke is everywhere. Just walk into any—and I mean any—supermarket, and you'll find a poke bar or a refrigerated area with premixed bowls of poke, from tuna to octopus.
The cool thing about poke is that it's actually super simple to make at home. So if you don't live in New York or Los Angeles you can build your own bowl pretty easily. That being said, you do need to make sure that your fish is fresh and can be consumed raw—so please shop at a fish market or buy from someone whose produce you trust.
What's your verdict: Underrated or overrated?
In the middle! When done right, poke is a really excellent (and healthy!) way to refuel. But when it comes to poke, and sushi for that matter, I am a traditionalist—so I prefer simple Asian flavors and not many of the more modern taste constructs you'll find at some new places. So for me, the dish becomes overrated when it's not properly assembled, or at least flavors and add-ins become too modern and lose the dish's essence.
Kat Odell is a contributing editor for Eater.com and the founding editor of their popular Drinks column. She is also Eater's on-camera host and has appeared in food shows including The Chew, Consumed, and Bravo's Eat, Drink, Love. She lives in New York City. Follow Kat @kat_odell.
You can order Kat's first book, Day Drinking, here.