This, my friends, is absolutely delicious. It is wonderfully bitter, earthy, sweet, garlicky, and buttery, with a touch of heat. There are several steps to making it, but please don't let them intimidate you. In the end, the dish actually comes together quickly. Thinly slice sunchokes and roast them to a crisp. Toast breadcrumbs in oil and garlic. Blanch broccoli rabe. Cook pasta. Sauté the broccoli rabe with garlic and red pepper flakes. That's pretty much it. Finally, and simply, toss everything together.
While the earthy and crispy sunchoke chips add something very special to this pasta, they can be (I hate to say this) omitted if absolutely necessary. However, if by some stroke of luck you have more sunchokes than this dish requires, I urge you to make yourself some Sunchoke Chips for snacking.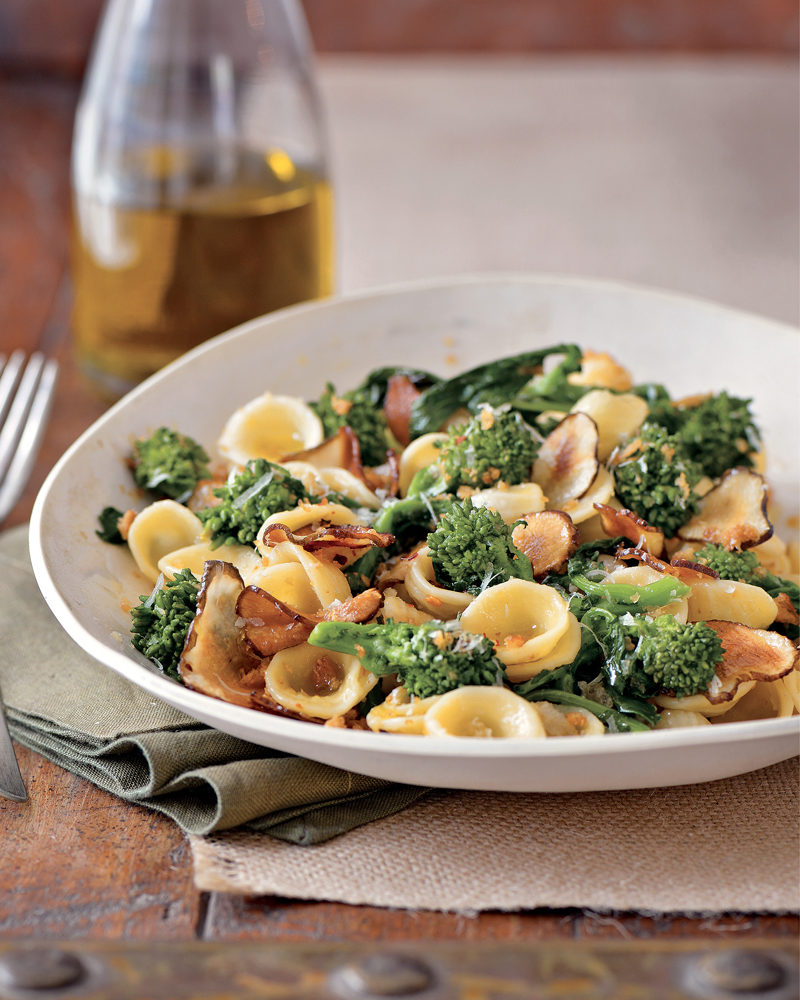 Brocolli Rabe and Sunchoke Chips with Orecchiette and Garlic Breadcrumbs
Print Recipe
Ingredients
Fine sea salt

½ pound sunchokes, scrubbed, sliced into ⅛-inch-thick rounds on a mandoline

5 tablespoons extra-virgin olive oil

1 cup coarse fresh breadcrumbs (see here)

4 large garlic cloves, minced

1 pound broccoli rabe, thick stems removed, remaining stems and leaves cut into 1½- to 2-inch lengths

12 ounces orecchiette

3 tablespoons unsalted butter

½ teaspoon crushed red pepper flakes

Freshly ground black pepper

Flaked or coarse sea salt, for finishing

¾ cup freshly grated parmesan or ricotta salata cheese

Your best extra-virgin olive oil, for finishing
Instructions
1
Preheat the oven to 425°F. Bring a large pot of salted water to a boil. Line a plate with paper towels.
2
Place the sunchokes in a medium-size bowl, add 1 tablespoon of the olive oil, and toss well, making sure to separate and evenly coat the slices (they "tend to stick together). Spread the sunchokes out in a single layer on two unlined rimmed baking sheets, leaving room between the slices so they do not overlap. Sprinkle them lightly with salt. Roast, rotating the pans halfway through cooking, until the sunchokes become golden all over and crispy, 12 to 15 minutes (keep an eye on them and pull them from the oven as soon as they reach this point). Set aside to cool completely.
3
While the sunchokes cool, heat 1 tablespoon of the oil in a medium-size nonstick skillet over medium-low heat. Add the breadcrumbs and cook, stirring almost constantly, just until they begin to turn golden, about 3 minutes. (Turn the heat down at any time if they start to burn.) Stir in a generous pinch of minced garlic and cook until the breadcrumbs are golden all over and toasted, and the garlic becomes fragrant, another 2 minutes. Season them lightly with salt and transfer them to the towel-lined plate. Let them cool completely.
4
Prepare an ice-water bath. Drop the broccoli rabe into the boiling water and cook, stirring occasionally, until it is nearly tender, about 2 minutes. Use a "spider or tongs to transfer the broccoli rabe to the ice bath, and drain in a colander when cool.(Keep the water boiling.) Gently press out any excess water and let stand.
5
Add the pasta to the boiling water and cook, stirring occasionally, according to package directions until al dente, about 10 minutes.
6
While the pasta cooks, heat the remaining 3 tablespoons of olive oil and 1 tablespoon of the butter in a large, deep sauté pan or heavy pot over medium heat. Add the remaining minced garlic and the red pepper flakes and cook, stirring constantly and watching carefully to make sure the garlic doesn't burn, until fragrant, 30 to 60 seconds. Add the broccoli rabe and use tongs to stir and to coat the pieces evenly. Season with salt and black pepper. Add ½ cup of the pasta water and simmer, stir"ring often, until the broccoli rabe is more tender and well combined with all of the ingredients, 2 minutes.
7
Use a spider to lift, drain, and transfer the pasta to the broccoli rabe mixture. Add 1 cup of the pasta water and stir to incorporate. Add the remaining 2 tablespoons of butter and cook, stirring to coat, until the pasta water reduces by half and thickens, about 2 minutes.
8
Turn off the heat, and add half of the reserved sunchokes, half of the breadcrumbs, and half of the parmesan, stirring to combine well. Transfer the pasta to individual bowls or a large serving bowl. Top with the remaining breadcrumbs, the remaining sunchokes, a pinch of flaked or coarse sea salt, the remaining parmesan, and a drizzle of your best extra-virgin olive oil. Serve immediately.
Notes
Feel free to swap out the broccoli rabe for 1 large bunch Tuscan or lacinato kale, mustard greens, or turnip greens cut into thin ribbons, or chopped.
Excerpted from Cara Mangini's The Vegetable Butcher (Workman, 2016).