Make this special bouquet for Mother's Day from Washi Tape Crafts: 110 Ways to Decorate Just About Anything.
Add a whimsical touch to a wedding or other event by creating a washi tape bouquet that is memorable and lasting. Choose the number and size of the blooms depending on the event: for a centerpiece, go with more and larger blooms; for a smaller party, make mini bouquets to display in small glass vases.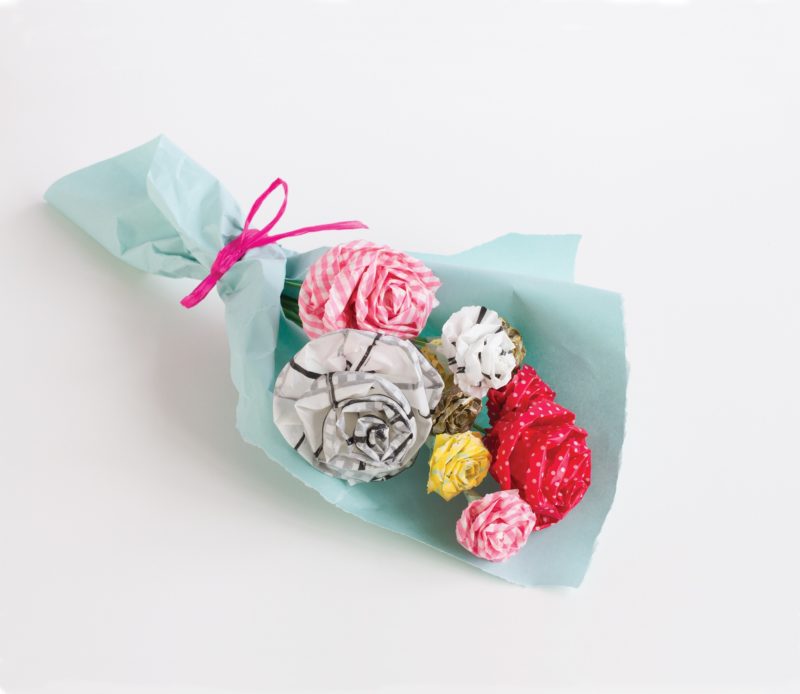 Faux Floral Bouquet
Supplies
Washi tape, in various widths and in 8 or 9 colors (1 for each flower)
Ruler
Pencil
Decorative scissors
Floral wire
Hot glue gun
Floral tape
Scissors
Instructions
Cut two 12″-long strips of washi tape in the same color, then sandwich them together, sticky side in.
Use the decorative scissors to cut along the edge of one of the long sides.
Roll the tape strip around one end of a piece of floral wire (the stem) to form a bloom. Use hot glue to secure the "petals" as needed.
Wrap the floral tape down the length of the floral wire, stretching as you go to activate the tape.
Repeats Steps 1 through 4 for the desired number of flowers.
Arrange the flowers into a bouquet, and secure it with the floral tape.
Trim the stems as desired.
Don't forget to check out the book!
About the Book:
It's the definitive washi tape craft book for adults. Washi tape—the Japanese decorative paper tape that's easy to tear, peel, stick and re-stick—is transformative, fun, and remarkably easy to use. It's also never been hotter. Now comes the only adult washi tape craft book packaged with the tape itself—ten rolls, with 18 feet in each roll—making it a complete kit and outstanding value. Packed full of amazing projects and ideas, it's the book and tape kit that shows all the ways to be creative with washi tape. The book includes techniques: precision tearing, wrapping, and weaving. How to make bows, rosettes, and other shapes. How to seal and weatherproof designs to make them permanent. And 110 projects, with color photographs and step-by-step instructions, from custom photo frames to one-of-a-kind gifts. The possibilities are endless.
Buy the Book:
Indiebound | B&N | Amazon | Workman