***UPDATE: THANKS TO AN OVERWHELMING RESPONSE, THIS EVENT HAS REACHED CAPACITY. WE ARE NO LONGER ACCEPTING RSVPS, BUT PLEASE ENTER YOUR NAME AND EMAIL ADDRESS HERE TO BE NOTIFIED OF FUTURE WORKMAN COMMUNITY EVENTS, INCLUDING PITCHAPALOOZAS.****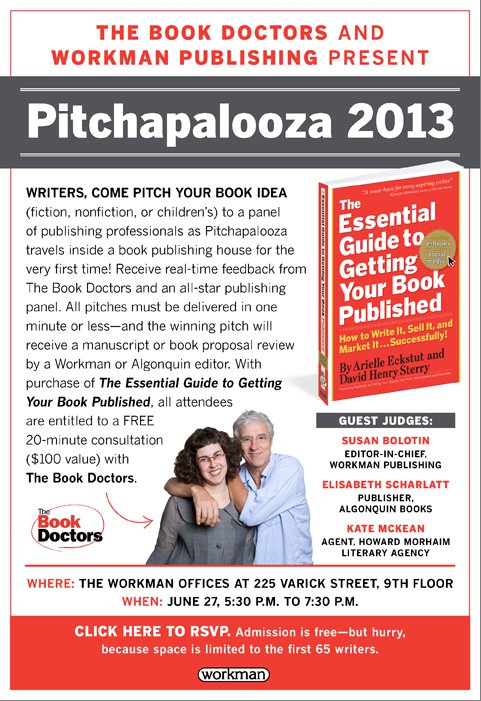 JUNE 27, 2013•5:30PM
225 Varick Street, New York, NY
GUEST JUDGES:  Susan Bolotin, Editor-in-Chief, Workman Publishing; Elisabeth Scharlatt, Publisher, Algonquin Books; Kate McKean, Agent, Howard Morhaim Literary Agency
ABOUT PITCHAPALOOZA: Pitchapalooza is an American Idol for books (only kinder and gentler) in which twenty writers are selected at random to pitch their book before a panel of judges. Each writer gets one minute—and only one minute! A panel of seasoned book industry professionals responds to the pitches with constructive advice that will help you improve your pitch, critiquing everything from idea to style to potential in the marketplace.
Authors come away with concrete advice, as well as a greater understanding of the ins and outs of the publishing industry. Many writers who've come through Pitchapalooza have made the transition from talented amateur to professionally published author—take Genn Albin, the Kansas City winner who got a three-book, high six-figure deal. Whether potential authors choose to pitch, or simply listen to trained professionals critique the presentations of fellow authors, Pitchapalooza is educational and entertaining for one and all.
At the end of Pitchapalooza, the judges will pick a winner. The winner receives an introduction to an editor at Workman who will review his or her manuscript or book proposal.
ADMISSION: An RSVP is required, but admission is free. Plus, anyone who purchases a copy of The Essential Guide to Getting Your Book Published at the event receives a FREE 20-minute consultation with The Book Doctors ($100 value). CLICK HERE TO RSVP.
WHEN: June 27, 5:30PM
WHERE: Workman Publishing, 225 Varick Street, 9th Floor, New York, NY.
ABOUT THE BOOK DOCTORS: Arielle Eckstut and David Henry Sterry are co-founders of The Book Doctors, a company dedicated to helping authors get their books published. They are also the authors of The Essential Guide to Getting Your Book Published: How to Write It, Sell It, and Market It… Successfully! (Workman, 2010). Arielle Eckstut has spent 18 years as a literary agent at The Levine Greenberg Literary Agency. She is the author of eight books and the co-founder of the iconic brand LittleMissMatched. David Henry Sterry is the bestselling author of 13 books spanning a wide variety of genres including memoir, sports, middle grade fiction and reference. They have taught workshops on how to get published everywhere from Stanford University to Smith College, and have appeared in a variety of media outlets including The New York Times, NPR's "Morning Edition," and USA Today.