When you need a break from studying for your O.W.L.s or a liquid respite from Mundania, here we offer real Buttered Beere. This isn't some theme-park confection, it's our adaptation—with the help of noted food historian and author Professor Ken Albala—of Thomas Dawson's recipe from The Good Huswifes Handmaide for the Kitchin (1588).
If five egg yolks and twelve tablespoons of butter don't give you an idea of how this tastes, we'll tell you that it's a rich, spicy time-trip back to the age of the Bard. (Make it with "real ale"—see opposite—for the most traditional expression.) As Will Shakespeare himself said of Buttered Beere, "O! she's warm. If this be magic, let it be an art. Lawful as eating." Or was that Harry Potter?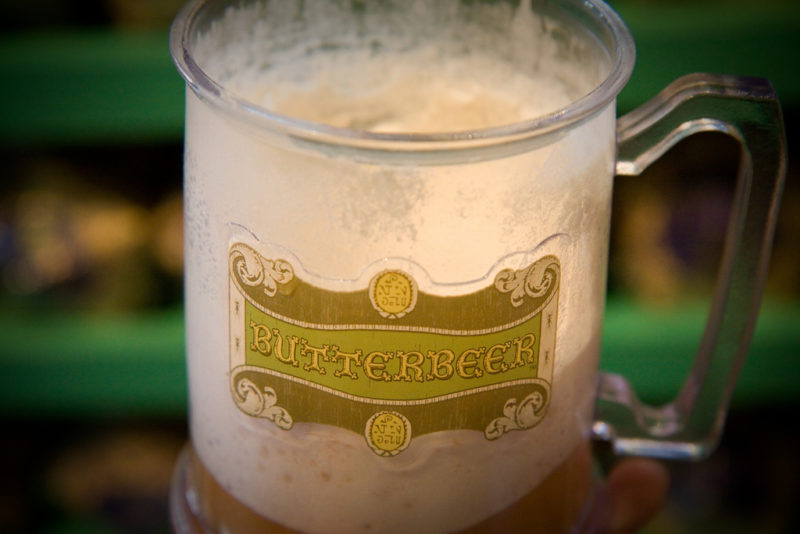 Ingredients
3 bottles (16.9 ounces each) real ale

½ teaspoon ground cloves

½ teaspoon ground cinnamon

¼ teaspoon ground ginger

Yolks from 5 large eggs

1 cup light brown or raw sugar, such as Demerara

¾ cup (1½ sticks) unsalted butter
Instructions
1
Combine the ale and spices in a large saucepan over high heat. Bring to a boil, then immediately reduce the heat to the lowest setting to keep the mixture warm.
2
Combine the egg yolks and sugar in a medium bowl and beat until creamy, about 45 seconds.
3
Remove the saucepan from the heat and whisk in the egg mixture. Return the saucepan to low heat and whisk constantly until the mixture begins to thicken slightly, about 5 minutes.
4
Remove from the heat and quickly whisk in the butter until a nice foam forms. Serve warm in mugs.
Notes
Use heatproof mugs for this one.
Excerpted from David Solmonson and Lesley Jacobs Solmonson's The 12 Bottle Bar (Workman).