Recipe excerpted from Christy Jordan's Sweetness.
Buy the Book
Amazon | B&N | Indiebound | Workman
These extra-special cookies came to me by way of an extra-special friend, Karen Branscum. Karen is one of those people who spends her life loving on others. She volunteers for Meals on Wheels, at her local church, and any other place where she finds a need she can fill. On top of this, she takes care of her family to an extent that the fiercest matriarch would nod to in approval.
Whenever I travel for a book tour, my stops are usually a little hectic. I land at an airport, get a rental car, go straight to a few television stations, then radio stations, find my hotel at some point, and try to grab a quick bite of supper before my book signing that night. This is not the case when I go to a stop within driving distance of Karen, though. She meets me at the airport, usually with a fun sign, whisks me away in her car, and manages to turn the entire day into a fun girls' outing. Karen is just the epitome of sweetness, so you know she had to be included in this book.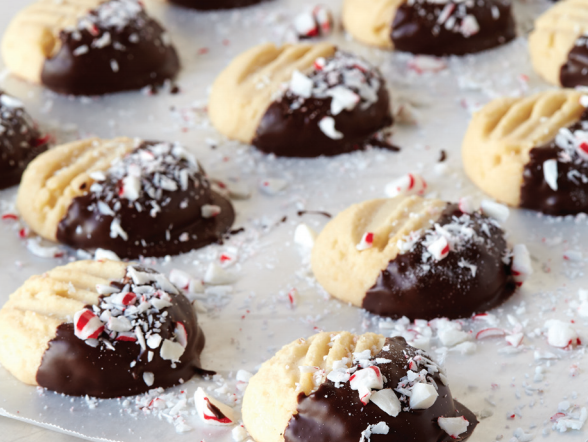 Chocolate-Tipped Butter Cookies
Makes about 2 dozen cookies
Ingredients
Nonstick cooking spray, for coating the baking sheets
1 cup (2 sticks) butter, at room temperature
½ cup confectioners' sugar
1 teaspoon vanilla extract
2 cups all-purpose flour
1 tablespoon vegetable shortening
1 package (6 ounces) semisweet chocolate chips
½ cup pecans, finely chopped, or crushed peppermint or other candies
Instructions
Preheat the oven to 350˚F. Lightly coat 2 baking sheets with cooking spray.
Cream together the butter and confectioners' sugar in a large mixing bowl with an electric mixer at medium speed until light and fluffy, about 2 minutes. Add the vanilla and flour and continue mixing, scraping down the side of the bowl as needed, until well combined and a dough forms, 1 to 2 minutes.
Shape the dough into 2½-inch by ½-inch logs (or into small mounds for round cookies) and place them 2 inches apart on the baking sheets. Flatten three quarters of each log slightly with the tines of a fork, leaving the tip unflattened.
Bake until lightly browned, 12 to 14 minutes. Allow to cool on a wire rack.
Meanwhile, combine the shortening and chocolate chips in a microwave-safe bowl and heat in the microwave at 45-second intervals, stirring between each, until melted and smooth. Dip the unflattened end of each cookie into the melted chocolate and place on a plate. Sprinkle with chopped pecans and let cool.
Chocolate-Tipped Butter Cookies will keep, in an airtight container at room temperature, for up to 1 week.