Recipe excerpted from Alicia C. Simpson's Quick and Easy Vegan Comfort Food. 
Buy the Book
Amazon | B&N | Indiebound | Workman
If I had blue hair, it would be almost impossible to tell the difference between me and Cookie Monster. There are very few recipes that I have memorized, and this is one of them. These cookies don't need any frosting or sprinkled sugar topping, just a cold glass of nondairy milk.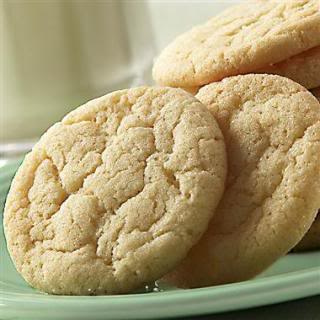 Vegan Sugar Cookies
Ingredients
¼ cup unsweetened applesauce
1 cup sugar
½ cup butter-flavored shortening
1½ teaspoons plain nondairy milk
1 teaspoon vanilla extract
1½ cups unbleached all-purpose flour
1½ teaspoons baking powder
½ teaspoon sea salt
Instructions
Preheat the oven to 350° F.
Beat the applesauce sugar, shortening, and milk with an electric mixer on high. Blend until light and fluffy. Add the vanilla and blend for an additional 30 seconds.
In a separate bowl, stir together the flour, baking powder, and salt.
Sift the flour mixture into the applesauce mixture, ½ cup at a time, and beat with an electric mixer on low speed after each addition until all the flour is incorporated.
There are three different ways to proceed with this dough: make drop cookies, make shaped cookies, or freeze it for later use. These three methods follow.
DROP COOKIES (PREFERRED METHOD):
Scoop 1 tablespoon of dough into your hand, roll the dough into a ball, and place balls 2 inches apart on an ungreased cookie sheet. Flatten the balls until they are about ¼ inch thick and bake for 10 minutes for chewier cookies or 12 minutes for crisp.
SHAPED COOKIES:
Lightly flour a cutting board (or other large, smooth, nonporous surface), and roll the dough out ¼ inch thick. Do not knead dough. Cut out desired shapes, place on an ungreased cookie sheet, and bake for 10 minutes for chewier cookies or 12 minutes for crisp.
FROZEN COOKIES:
Divide the dough in two. Shape each piece into a log about 2 inches across, roll each log in wax or parchment paper, and freeze. When you are ready to bake cookies, slice dough into ¼-inch-thick pieces, and follow the directions for making drop cookies, above.