No question—cold but spicy food is refreshing and delicious on a hot summer day. Here's a recipe for cold and spicy asian noodles that you can really make your own. Use whatever sauce or dressing you like and whatever vegetables you have around, or just a few scallions. If you have some Spice Oil on hand, be sure to add it. It's amazing in this.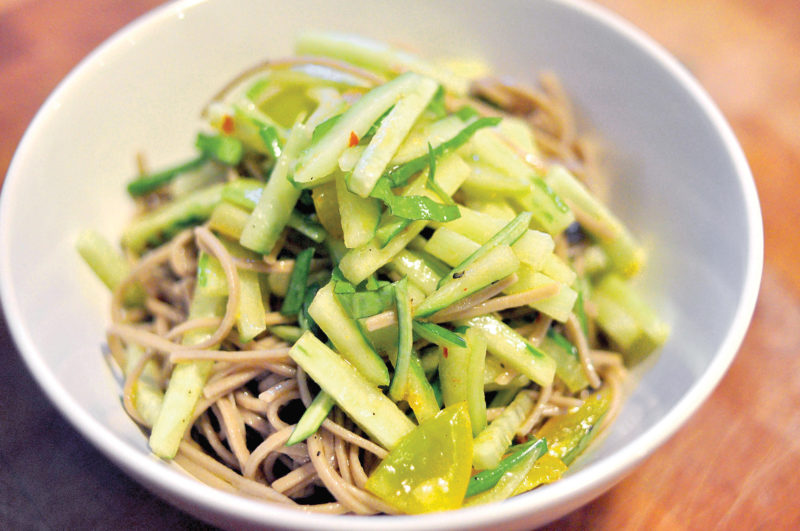 Cold and Spicy Asian Noodles
Ingredients
For the Spice Oil
1 clove garlic 1 cup olive or vegetable oil
2 tablespoons chile flakes or chopped dried red chiles
1 teaspoon Sichuan or regular peppercorns
1 star anise
1/2 teaspoon cumin seeds
1/4 teaspoon salt
For the Peanut Sauce
1 jalapeño pepper or other chile (remove seeds for less heat), or 2 tablespoons chile paste
3 cloves garlic
1 shallot or small onion
1 teaspoon vegetable oil
1/2 to 1 cup coconut milk
1/2 cup sugar-free peanut butter
1 tablespoon soy sauce
(optional) 1 teaspoon ground turmeric
(optional)1 tablespoon brown sugar
(optional)1/2 teaspoon sesame oil
For the Noodles
12 ounces dried spaghetti, soba, or any Asian noodles
2 tablespoons soy sauce
1 bunch scallions, chopped
1 cucumber, finely chopped
salt and pepper, to taste
(optional) grated carrot
(optional) chopped hard-boiled egg
Instructions
For the Spice Oil
Use the side of a knife to crush the garlic clove, and peel it when it cracks open.
Place the crushed garlic in a small pot and add the olive oil, chile flakes, peppercorns, star anise, cumin seeds, and salt. Warm the mixture over low heat, until it starts to bubble gently and you can hear a bit of a sizzle, about 10 minutes. Turn off the heat. You don't want it to be so hot that the spices start to cook or fry.
Put the covered pot in the fridge for 4 to 8 hours.
Taste the oil. If it isn't strongly spicy, let it infuse for a few more hours. Once it's ready, strain the oil through a sieve to remove the spices. Store in a jar in the fridge for up to a week.
For the Peanut Sauce
Finely chop the jalapeño, garlic, and shallot, or use a food processor to make them into a paste. (If you're using chile paste instead of a fresh pepper, add it in the next step)
Add the oil to a saucepan over medium heat. Once it's warm, sauté the pepper and garlic until fragrant, about 2 to 3 minutes. Add the ½ cup of coconut milk, turmeric, and chile paste, if using.
Let everything come to a boil, then turn the heat down to low. Stir in the peanut butter, soy sauce, and brown sugar and sesame oil, if using. If the sauce is too thick, add more coconut milk to thin it out. Once the mixture is well combined, taste it and add whatever you think it needs, concentrating on the salt and spices in particular.
For the Noodles
Prepare the noodles according to the package instructions. Rinse them under cold water and drain in a colander.
Put the noodles in a bowl and add the soy sauce, Spice Oil, scallions, and cucumber (and any other additions), and mix with a fork or tongs. Taste it and add salt and pepper or more Spice Oil as needed.
Let the noodles sit in the fridge for about an hour if you can. The flavors will mingle and become more intense. The finished dish should keep for up to 3 days, covered, in the fridge. A great make-ahead lunch.
Serves 2, or 4 as a side
Excerpted from Good and Cheap by Leanne Brown (Workman Publishing). Copyright © 2015.