On the rare, indulgent occasion we find ourselves in the situation where we are ordering a bunch of good-crappy bar snacks in a group, and people are throwing out ideas ("Nachos? Spinach dip?"), I watch my husband casually waiting to see if someone is going to say "buffalo chicken wings." And if no one does, he'll offer it up, but in this simulated, nonchalant voice, "Hey, how 'bout wings?" Like, "Hey!—it just occurred to me, and I don't really care one way or the other, but I'm just thinking of the good of the group."
Frank's RedHot Original hot sauce bills itself as the perfect blend of flavor and heat, and while you are welcome to experiment with all kinds of different hot sauces, you will probably find that it's Frank's RedHot that makes you feel like you are eating authentic, traditional Buffalo wings. It is, as they say on their website, the "secret ingredient used in the original Buffalo wings created in Buffalo, N.Y. in 1964." A fine year for wings. I'm a believer.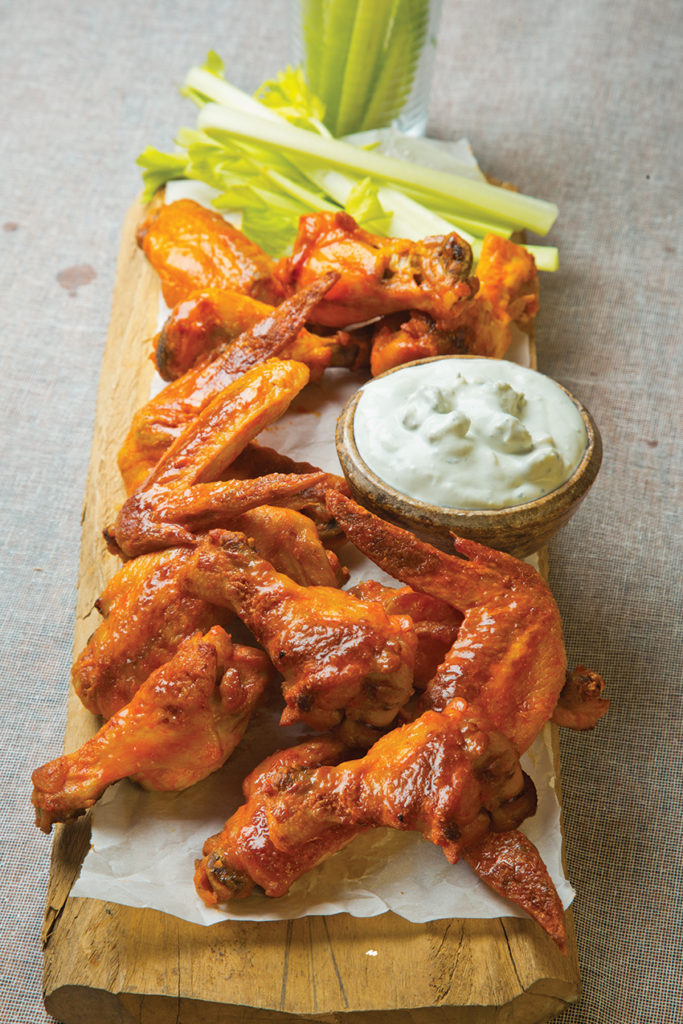 Ingredients
Vegetable oil or nonstick cooking spray, for oiling the baking sheet

4 pounds chicken wings, whole or cut apart at the joints, wing tips discarded, if desired

1 cup crumbled blue cheese

1/2 cup sour cream

1/2 cup heavy (whipping) cream or half-and-half

1 tablespoon white wine vinegar or cider vinegar

Kosher or coarse salt and freshly ground black pepper, to taste

2/3 cup Frank's RedHot pepper sauce, or to taste

Celery sticks for serving (optional, but recommended)
Instructions
1
Preheat the oven to 500°F (if your oven goes to 550°F, all the better, do that). Lightly oil a rimmed baking sheet, or spray it with nonstick spray. If you have an exhaust fan, turn it on.
2
Place the wings on the baking sheet, meaty side down. Bake the wings until quite crispy, 30 minutes, turning them after 15 minutes.
3
Meanwhile, make the blue cheese dressing. Mix together the blue cheese, sour cream, cream, vinegar, and salt and pepper in a small bowl. Set aside.
4
Remove the wings from the oven and sprinkle the hot sauce over them. Toss so the wings are coated with the sauce (use tongs if the wings are too hot). Serve on a platter with the blue cheese dressing for dipping, and the celery sticks, if desired.
Notes
Always Remember and Never Forget: Lots of napkins. Lots of them.
Excerpted from Katie Workman's Dinner Solved (Workman Publishing). Copyright © 2015.