Who doesn't love a grilled quesadilla? And who doesn't love dessert? Quesadilla meets dessert with this inventive dish that blends the flavors of banana, queso fresco, and dulce de leche into a sweet and savory treat.
YIELD:
Serves 2 and can be multiplied as desired.
METHOD:
Direct grilling
PREP TIME:
15 minutes
GRILLING TIME:
4 to 6 minutes
GRILL/GEAR:
Can be grilled over charcoal, wood, or gas. Not that you need one, but there are quesadilla grilling baskets that facilitate turning the quesadillas. Check the store on barbecuebible.com.
INGREDIENTS:
4 flour tortillas (8 inches each)
3 tablespoons unsalted butter, melted
¼ cup cinnamon sugar (optional)
½ cup dulce de leche
1 ripe but firm banana, peeled and thinly sliced crosswise on the diagonal
½ cup coarsely grated or crumbled queso fresco (optional)
Vegetable oil for oiling the grill grate
WHAT TO DO:
1. Set up your grill for direct grilling and heat to medium-high.
2. Brush one of the tortillas with melted butter and lightly sprinkle with cinnamon sugar, if using. Place it, butter and sugar side down, on a rimless baking sheet, inverted sheet pan, or pizza peel. Spread the tortilla with a quarter of the dulce de leche. Arrange half the banana slices on top and sprinkle with half the cheese. Spread a second tortilla with a quarter of the dulce de leche and place it, spread side down, on top of the cheese. Brush the top of the tortilla with melted butter and sprinkle it with cinnamon sugar. Assemble the second quesadilla the same way.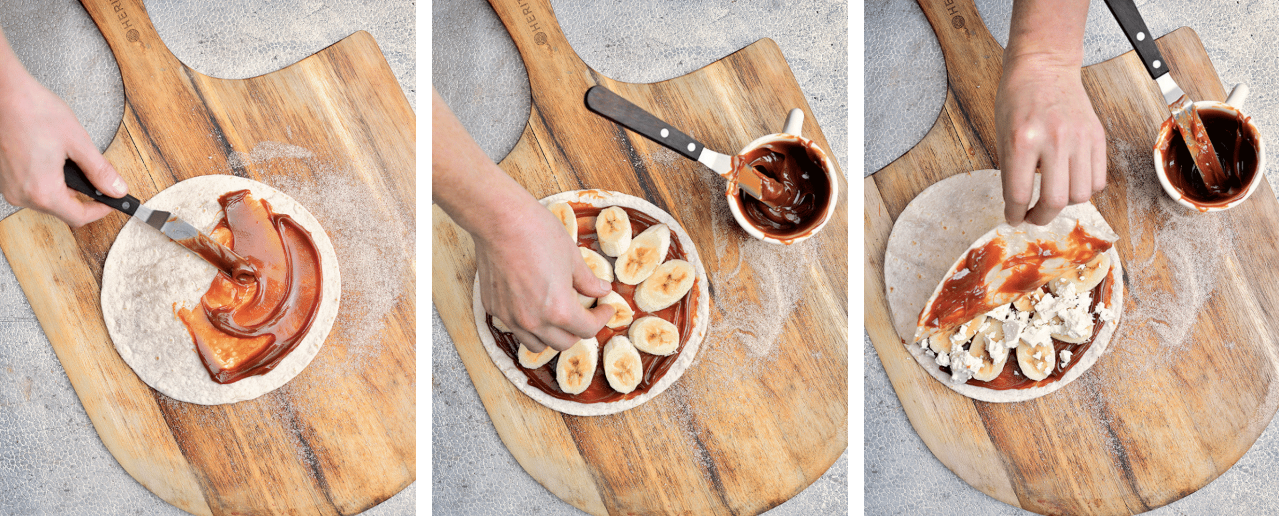 3. Brush or scrape the grill grate clean and oil it well.
4. Pulling from one end, gently slide the quesadilla onto the grill grate. Grill until the bottom is browned and the cheese at the edge starts to melt, 2 to 3 minutes. Keep the grill lid closed to hold in the heat.
5. Slide a large spatula under the quesadilla and flip it over. Continue grilling until the bottom is browned and the cheese is melted, another 2 minutes. If the tortilla starts to burn, slide it to the unlit part of the grill with a spatula. You'll need 4 to 6 minutes of grilling in all.
6. Transfer the quesadilla to a platter or plate and repeat with the second quesadilla. Cut the quesadillas into wedges for serving.
More about Project Fire: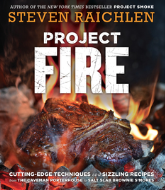 An electrifying new approach by the man who literally wrote the bible on barbecue. Cutting edge techniques meet time-honed traditions in 100 boldly flavored recipes that will help you turbocharge your game at the grill. Here's how to reinvent steak with reverse-seared beef tomahawks, dry-brined filets mignons, ember-charred porterhouses, and T-bones tattooed with grill marks and enriched, the way the pros do it, with melted beef fat. Here's how to spit-roast beer-brined cauliflower on the rotisserie. Blowtorch a rosemary veal chop. Grill mussels in blazing hay, peppery chicken under a salt brick, and herb-crusted salmon steaks on a shovel. From Seven Steps to Grilling Nirvana to recipes for grilled cocktails and desserts, Project Fire proves that live-fire, and understanding how to master it, makes everything taste better.
Buy the Book
Amazon | B&N | Indiebound | Workman