The next time you're about to throw away your kale stems, think again. This often discarded food item can actually prove to be culinary treasure if you're looking to make hummus at home. Despite a tough texture, kale stems blend into hummus with a fair amount of ease—creating a delicious spread with varied depth of color, perfect for accompanying veggies and crackers.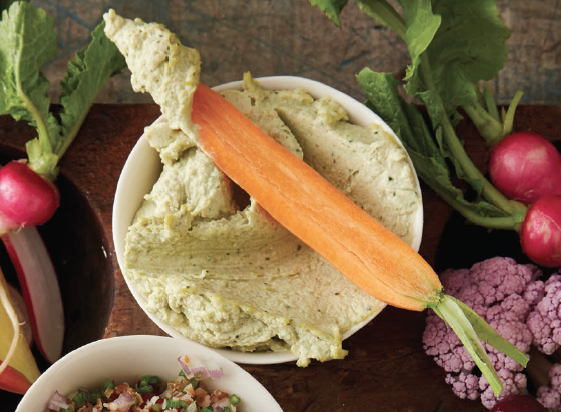 SERVES: 6-8
INGREDIENTS:
1 cup dried chickpeas
1 teaspoon baking soda
Stems from 1 bunch kale (see Note)
3 garlic cloves, minced
2⁄3 cup tahini
1 teaspoon fine-grain sea salt
2⁄3 cup freshly squeezed lemon juice
Ice water
Extra virgin olive oil, for serving
WHAT TO DO:
1. The night before you plan on making the hummus, put the chickpeas in a large bowl, cover them with at least twice their volume of water, and leave them to soak overnight at room temperature.
2. The next day, drain and rinse the chickpeas. Put them along with the baking soda in a medium-size pot over high heat. Stir constantly for about 3 minutes. Add 6 to 8 cups water, until the chickpeas are covered by a few inches, and bring to a boil. Reduce the heat to medium, cover the pot, and simmer until the chickpeas are very tender—45 to 60 minutes— checking on them occasionally to skim off any foam on the surface. Skim off any chickpea skins that float up as well, but there's no need to try to remove the skins if they don't come off. They were softened by the baking soda and will blend smoothly into the hummus.
3. Meanwhile, fill another medium-size pot with water and bring to a boil. Add the kale stems and cook until they are very tender, 30 to 45 minutes. Drain them.
4. Place the kale stems, garlic, and tahini in a food processor and process, scraping down the sides as necessary, until well blended.
5. Once the chickpeas are cooked, drain them, add them to the kale stem mixture in the food processor along with the salt and lemon juice, and process until smooth. Add 2 tablespoons ice water and process until the hummus is very smooth and creamy, about 5 minutes. Add up to 2 additional tablespoons ice water, one at a time, and process again as necessary.
6. To serve, spoon into a shallow bowl and drizzle with olive oil.
7. The hummus can be stored in the refrigerator for 3 to 5 days or frozen for up to 3 months. After thawing frozen hummus, you might need to adjust the seasoning—taste and add salt and lemon juice as necessary.
NOTE: Try this hummus with other scraps too, like Swiss chard stalks or cauliflower cores. Follow the same cooking method as outlined in Step 3, boiling until very tender, 15 to 30 minutes.
More about Cooking with Scraps: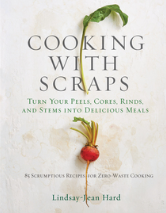 In 85 innovative recipes, Lindsay-Jean Hard—who writes the "Cooking with Scraps" column for Food52—shows just how delicious and surprising the all-too-often-discarded parts of food can be, transforming what might be considered trash into culinary treasure.
Here's how to put those seeds, stems, tops, rinds to good use for more delicious (and more frugal) cooking: Carrot greens—bright, fresh, and packed with flavor—make a zesty pesto. Water from canned beans behaves just like egg whites, perfect for vegan mayonnaise that even non-vegans will love. And serve broccoli stems olive-oil poached on lemony ricotta toast. It's pure food genius, all the while critically reducing waste one dish at a time.
Buy the Book
Amazon | B&N | Indiebound | Workman