Ebook Deals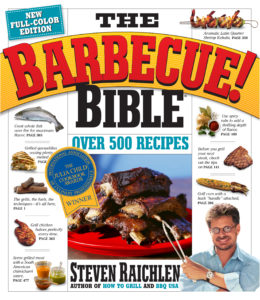 Barbecue! Bible 10th Anniversary Edition
by Steven Raichlen
GRILLING
From "America's master griller" (Esquire), here's the biggest, baddest, best salute to our passion for barbecue, now in a full-color edition. A 500-recipe celebration of sizzle and smoke, Steven Raichlen's award-winning The Barbecue! Bible unlocks the secrets of live-fire cooking with top dishes, the tastiest sauces, and insider techniques and tips.
$1.99 $17.95
Amazon » Barnes & Noble » iBooks » Kobo » Google Play »
Promo ends 6/19/2017
---
The Young Widower's Handbook
by Tom McAllister
FICTION
For Hunter Cady, meeting Kaitlyn is the greatest thing that has ever happened to him. Smart, funny, and one of a kind, Kait is somehow charmed by Hunter's awkwardness and droll humor, and her love gives him reason to want to be a better man. And then, suddenly, Kait is gone, her death as unexpected as the happiness she had brought to Hunter. Numb with grief, he stumbles forward in the only way he knows how: by running away. Written in the spirit of Jonathan Tropper and Matthew Quick, with poignant insight and wry humor, The Young Widower's Handbook is a testament to the enduring power of love.
$1.99 $19.95
Amazon » Barnes & Noble » iBooks » Kobo » Google Play »
Promo Ends 6/24/2017
---
Cooking with Coconut
by Ramin Ganeshram
FOOD & DRINK
With 125 original recipes using coconut in all its forms, Cooking with Coconut offers a tantalizing taste of this tropical superfood's culinary diversity. From breakfast dishes like Savory Coconut Crêpes to dinner and dessert dishes like Coconut Pork Kabobs and Coconut Rum Crème Brûlée, award-winning food journalist, Ramin Ganeshram, dishes up everything home cooks and health-conscious eaters need to know to fully enjoy this delectable powerhouse!
$3.99 $15.95
Amazon » Barnes & Noble » iBooks » Kobo » Google Play »
Promo ends 6/14/2017
---
On the Origin of Sports
by Gary Belsky
GIFTS FOR DAD
Written by ESPN The Magazine's former editor in chief, Gary Belsky, and executive editor, Neil Fine, On the Origins of Sports is an illustrated book built around the original rules of 21 of the world's most popular sports, from football and soccer to wrestling and mixed martial arts. Never before have the original rules for these sports coexisted in one volume. Brimming with history and miscellany, it is the ultimate sports book for the thinking fan.
$1.99 $15.95
Amazon » Barnes & Noble » iBooks » Kobo » Google Play »
Promo ends 6/24/2017