Think you can't freeze a Bloody Mary? Think again. Pop in a dash or two of Worcestershire sauce if you're feeling even more adventurous.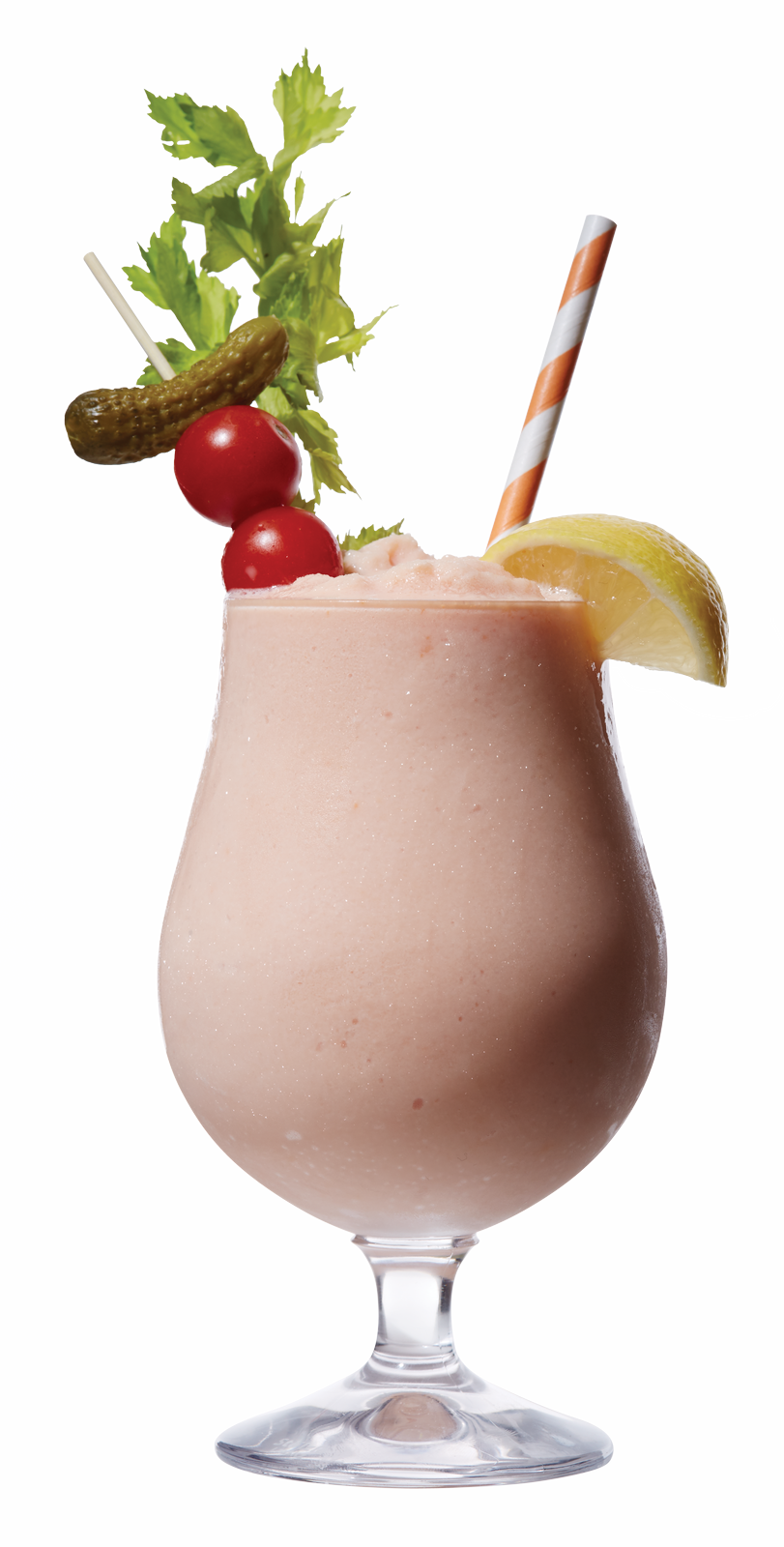 ABV
6.47%
Glass
Round & Round
GarnishCelery and Olive
• 1 1/4 ounces water
• 4 1/4 ounces Simple Syrup (page 18)
• 4 1/4 ounces lemon juice
• 10 ounces tomato juice
• 6 3/4 ounces Jalapeño-Infused Tito's Vodka (page 20)
• 13  1/2 ounces whole milk
Combine Place the water, simple syrup, lemon juice, tomato juice, and vodka in a medium-size metal bowl and stir.
Blend Add the milk to the bowl slowly, using an immersion blender to emulsify the mixture.
Freeze Pour the liquid into a large freezer bag and place it in the freezer until frozen, approximately 4 hours. Alternatively, pour the liquid into an ice cream maker and proceed per the manufacturer's instructions (see page 11).
Serve When you're ready to drink, massage the freezer bag by hand until it's a wet, slushy consistency. If it's not breaking up, run the bag quickly under hot water and massage some more.
Yield Makes at least 4 drinks.
Check out the book for more recipes! 
About the Book:
A "saladish" recipe is like a salad, and yet so much more. It starts with an unexpectedly wide range of ingredients, such as Japanese eggplants, broccoli rabe, shirataki noodles, Bosc pears, and chrysanthemum leaves. It emphasizes contrasting textures—toothsome, fluffy, crunchy, crispy, hefty. And marries contrasting flavors—rich, sharp, sweet, and salty. Toss all together and voilà: an irresistible symphony that's at once healthy and utterly delicious. Cooking the saladish way has been Ilene Rosen's genius since she unveiled the first kale salad at New York's City Bakery almost two decades ago, and now she shares 100 fresh and creative recipes, organized seasonally, from the intoxicatingly aromatic (Toasty Broccoli with Curry Leaves and Coconut) to the colorfully hearty (Red Potatoes with Chorizo and Roasted Grapes). Each chapter includes a fun party menu, a timeline of preparation, and an illustrated tablescape to turn a saladish meal into an impressive dinner party spread.
Buy the Book
Amazon | Barnes & Noble | Indiebound | Books-A-Million | Workman