Sad that Gilmore Girls is all over (again)? With the help of our Workman authors, it doesn't have to be. We've got drinks, dessert, and activities that are oh-so-Gilmore to fuel you through hours of watching and re-watching (come on, admit it).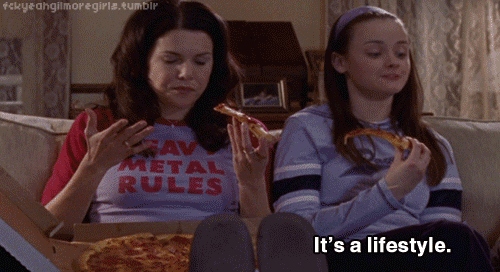 Eat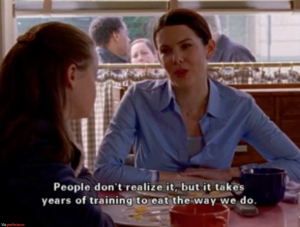 A sweet tooth is a must! While we don't have a recipe for Pop Tart-infused marshmallows with a Twizzler topping, we do have a treat that has Lorelai written all over it, thanks to Christy Jordan's Sweetness:
These intense chocolate muffins are speckled with marshmallows and look just like a muffin version of hot cocoa. The taste is enough to win over any chocolate lover with the first bite
Ingredients
Nonstick cooking spray, for coating the muffin tin (optional)

1 1/2 cup all-purpose flour

2 1⁄4 teaspoons baking powder

3/4 teaspoon salt

1/2 cup dark brown sugar

1/2 cup unsweetened cocoa powder

1/2 cup (1 stick) butter, melted and cooled

1 cup milk

2 large eggs, lightly beaten

1 cup mini marshmallows
Instructions
1
Preheat the oven to 350˚F. Lightly coat a 12-cup muffin tin with cooking spray or line the cups with muffin papers and set aside.
2
Make self-rising flour: stir together the flour, baking powder, and salt
3
Stir together the self-rising flour, brown sugar, and cocoa powder in a medium-size mixing bowl. Add the butter, milk, and eggs and stir until just blended, being careful not to overstir (the batter will be lumpy and that is okay). Fold in the marshmallows.
4
Divide the batter evenly among the muffin cups, stirring as you do, since the marshmallows tend to float to the top. Bake until a toothpick inserted in the center comes out clean, 20 to 25 minutes. Serve warm.
Notes
Hot Cocoa Muffins are best served the day they are made.
Drink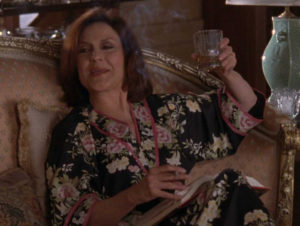 Sure, coffee would be a little more on the nose, but unlike Rory and Lorelai, most of us can't drink coffee at 9 pm. However, that IS that is the perfect time to enjoy an adult beverage to keep warm on these chilly December nights. Check out This Calls for A Drink author Diane McMartin's perfect seasonal pairing for every episode:
Winter. This first episode is all about welcoming us all back to the Gilmore Girls universe. And just as in your ideal life you'd hand guests a flute of bubbly as they walk in the door to your perfectly decorated house, something sparkling is the perfect thing to drink while we get settled back into Stars Hollow. Lately I've been liking sparkling wine from France's Jura region. Called Cremant de Jura, it's dry and refreshing like Champagne, and made in the same way, but it's usually a lot less expensive.  Try one from Domaine de Montbourgeau–this style of bubbly is perfect with the kind of junk food our girls love, especially potato chips, popcorn, or fried chicken. But tacos would be good, too!
Spring. Ladies! Ladies. Get it together. Rory, what are you DOING?! Our favorite golden child is sleeping with her engaged ex AND a wookie? A wookie, Rory? If ever there was a time for something comforting, it's now. How about an Espresso Stout from Japanese Brewery Hitachino Nest? It's dark, it's rich, and it's laced with coffee—the perfect thing to compliment the pastries Lorelai steals from various high-end bakeries in New York, and while it's not coffee at Luke's diner, it's as close as you can get in beer form.
Summer. Leave it to the Gilmore girls to have the most tumultuous plot during the summer episode.  While you might normally think of something chewy and earthy like Syrah for winter, for all the brooding and disapproval in this episode, it fits. Since Lorelai is about to take off for the Pacific Northwest, try a Syrah from an Oregon or Washington State winery. There's a small, family-owned winery in Oregon I love called Amalie Robert, and their Syrah is delicious—all the ripe blackberry fruit and faint bit of smokiness you'd want in a Syrah, but a little less heavy.  But if you can't find that, there are lots of options from Washington state. Wild, Lorelai? I'm disappointed you're becoming such a cliché.
Fall. The miniseries ends on a hopeful note. We get the fairy-tail wedding between Lorelai and Luke we've always wanted, and everyone seems happy. Rory seems to sort of be getting her shit together. But then there's the bombshell. For a hopeful, but apprehensive look toward the future, try a Chablis from the 2015 vintage. One of the best years for white wine in Europe in recent memory, enjoying these gorgeous, citrusy Chardonnays from Burgundy's chilly satellite region is bittersweet, because we don't know what the future holds. The weather in 2016 was so bad that some producers didn't even make wine, and who knows what 2017 will be like. The weather produced by climate change is so fun and unpredictable! So raise a glass (I love Vincent Dampt's Petit 2015 Chablis) to a lovely, golden moment in the present and an uncertain future.
Do
Courtesy of one of our favorite Boss Babes, Michelle Volansky, here are two apropos activity pages to keep you busy, lest the drama on the TV is not enough: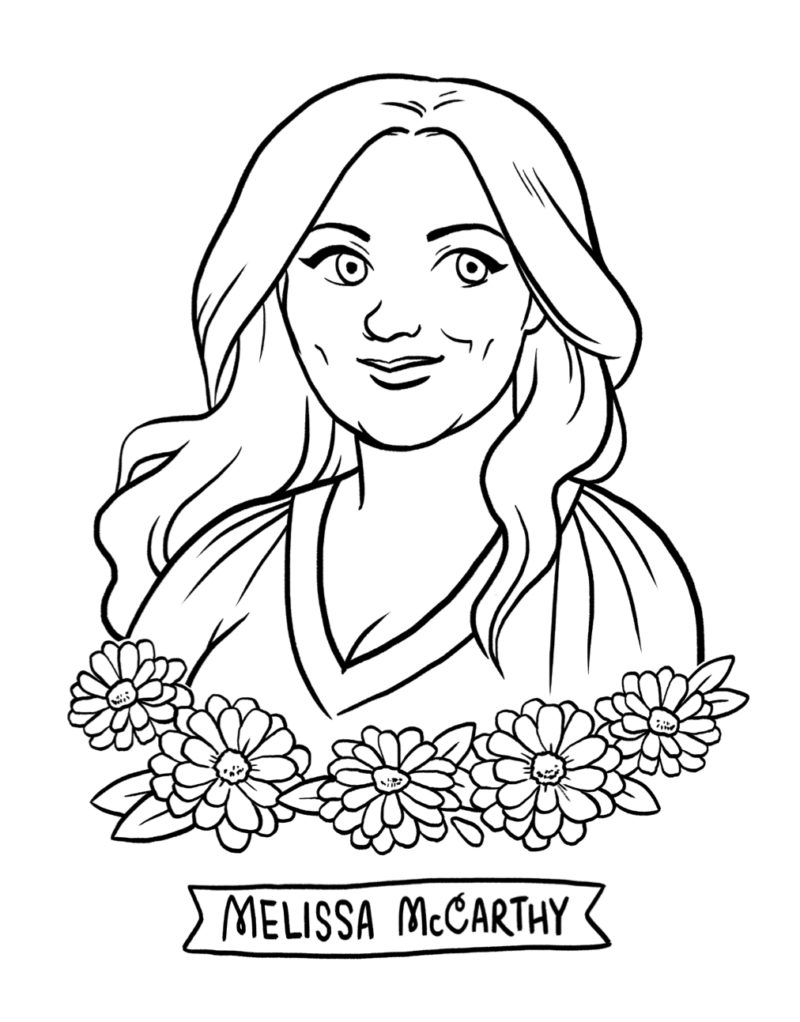 Melissa McCarthy Word Scramble
Melissa McCarthy Coloring Page