F
ull disclosure: I didn't think a Hat calendar would be all that great.
I was so, so, so wrong.
Below are some behind the scenes snaps from our very first 365 Hats Picture-a-Day Calendar photo shoot. Was it a lot of work? Yes. Was it insanely glamorous and high fashion? Double yes. Did it make me wish we lived in an age where hats were an everyday kind of thing? Uh…YEAH. I'm hoping this calendar turns the fashion tide in my favor because today I saw a few chapeaus that are crying to be worn. By me. At work. Every day.
It all starts with a bulletin board and a vision.
Each hat required different hair and make-up. It was amazing to see how something as simple as a change of lip color could transform an entire look.  Below, Gabriella (left) gets a marcel wave while Susie gets prepped for another hat.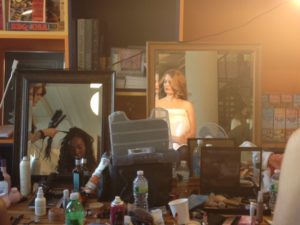 We spent a lot of time pairing the hats with the right model: Not everyone can rock a vintage sequined coolie. Jessica (below) managed it pretty much better than anyone. Actually, she looked so amazing in it, she kind of ruined it for those of us who thought they'd found their new "going out" look.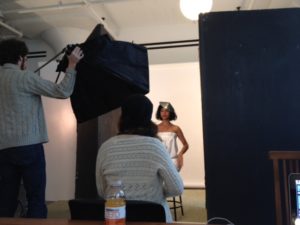 And here's Natalia in a showstopper of a hat.  Those are feathers. REAL feathers. (Superstar stylists Prissy, left, and Amy work their  magic.)

I know 2012 is only 10 days old, but unless Prince Harry surprises me with tickets to the Oscars, this was by far the most glamorous day of my year.
And if I DO go to the Oscars with Prince Harry, be sure to look for me: I'll be the one in the sequined coolie.