Passages excerpted from Mimi Sheraton's 1,000 Foods to Eat Before You Die. 
Buy the Book
Amazon | B&N | Indiebound | Workman
We love our New Year's traditions—from watching the ball drop in Times Square to kissing at midnight—but we wanted to know how cultures across the globe celebrate. Check out 5 culinary New Year's traditions below, from a delicious Mexican drink to a traditional Scottish dish (that's something of an . . . acquired taste). 

Mexican Hot Chocolate
Mexican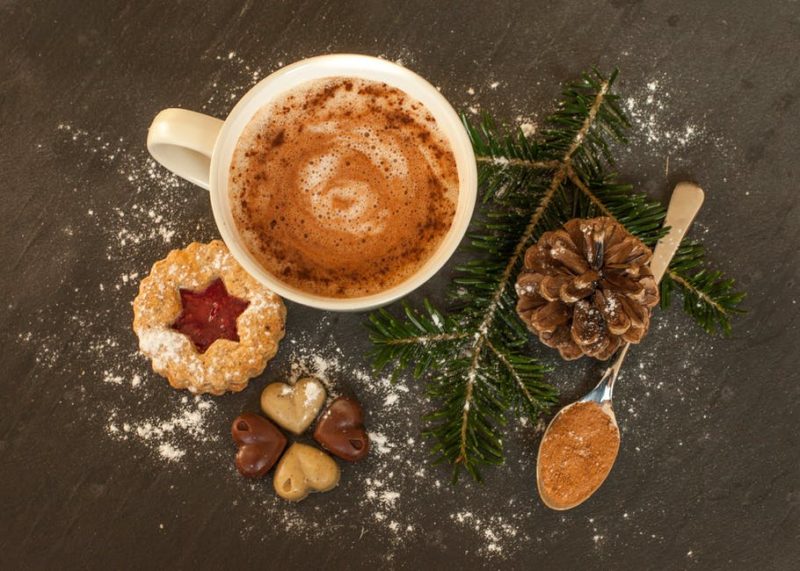 Even when the rich and satiny wonders of France and Belgium are taken into account, Mexico just might have the edge when it comes to hot chocolate—mainly due to the addition of the richly flavored, almost brandylike Mexican vanilla and (most importantly) of cinnamon, added either by stirring the potion with a cinnamon stick or by flavoring it with a cinnamon-sugar mix. That exotic dash of cinnamon, and the way it combines with the sweet, boozy hint of vanilla extract seems to lend sophistication and depth to a drink that becomes decidedly grown-up.
Chocolate, of course, is a treat the world owes to the Aztecs and the Mayans. It is made from cacao, the fruit of a small tree native to the tropical forests of Central and South America that well deserves its botanical name, Theobroma cacao, "food of the gods." The Olmecs were the first to discover the delicious wonders of the cacao bean some three thousand years ago, but it was the Mayans and later the Aztecs who advanced its use and especially revered the bean. By the year 1400, the Aztecs were trading it as a form of currency and enjoying a variety of chocolate drinks, sometimes as a part of rituals, and sometimes just for pleasure. They combined their treasured cacao with honey, nuts, seeds, and various spices, and developed chocolate-based drinks that are enjoyed in Mexico to this day.
Champurrado, which combines chocolate with atole, a creamy, warm, Mexican and Central American drink made with masa (cornmeal) or cornstarch, is especially popular at Christmas and New Year's and is generally served alongside churros (crisp, cinnamon-dusted strips of fried dough) or pan dulce (sweet bread). Tejate is a Oaxacan specialty, a restorative cold drink made of chocolate, masa, and the aromatic tropical flowers known as flor de cacao. But the most delicious of all is the sweet, foamy Mexican hot chocolate, made from solid circular or hexagonal tablets of spiced chocolate (preferably Ibarra brand, from the Chocolatera de Jalisco in Guadalajara) that are dissolved into hot milk or cream, and then blended, using a utensil called a molinillo, a turned wooden whisk that is twirled between the palms. It whips the ingredients together, folding in just enough air to produce a silky texture and a heady froth. Regional variations might include anise or cayenne, but it is the essential trio of sweet chocolate, fragrant vanilla, and aromatic cinnamon that makes this such an enduring favorite.
Where: In Oaxaca City, Mexico, Chocolate Mayordomo, tel 52/951-512-0066; in Chicago, Xoco at two locations; Xocoatl at multiple locations. Mail order: For Ibarra chocolate, hot chocolate kits, and molinillo utensils; If you don't have a molinillo, a whisk or blender will produce appropriately frothy results.
Karpfen, or Carp in Many Ways
German, Austrian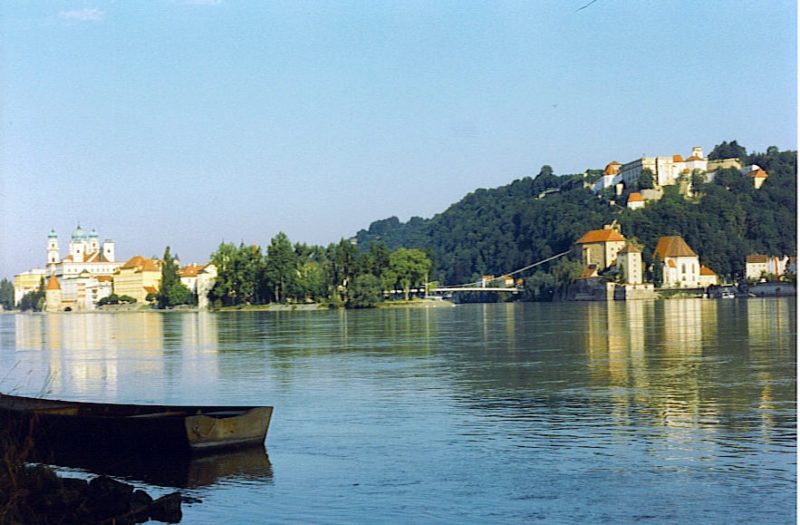 Probably because of its golden color, the carp is considered a lucky fish not only in China and Japan but also throughout much of Eastern Europe. On New Year's Eve, also known in Europe as Sylvester's Eve, it is customary to obtain one golden carp scale and hold onto it for the whole year as a token of good luck; the fish makes an appearance at European Christmas dinners as well.
Gourmands consider it even luckier to eat the extravagantly fatty, meaty Cyprinus carpio so abundant in freshwater lakes and rivers like the Danube—but the wisest know to avoid carp caught during the summer. In those hotter months, the fish tend to swim down to the lake or river floor where the water is colder, taking in the mud that produces the same moldy flavor that turns so many people off of catfish. (The most particular old-time cooks let the live carp swim in a home bathtub for a day or two before cooking it, letting the fish take in fresh water to eliminate musty overtones.) Winter carp is firmer, fresher-tasting, and much preferred, even now when much of the fish is farmed.
Beloved in many intriguing preparations, in blau gekochte karpfen the carp is prepared "blue." It, too, must be gutted live just before being lowered into simmering, vinegar-spiked water. The delicacy is served with melted butter and freshly grated horseradish.
As its name indicates, karpfen in bier is braised in dark, malty beer that cuts the fatty texture of its flesh and creates a sauce enlivened by crushed gingersnaps (lebkuchen), bay leaves, lemon, and cloves for an aromatically hot, pickled effect. In rotweinkarpfen, its red-wine-braised brother, the rich fish meat is mollified by allspice, cloves, thyme, and onions, with wine vinegar and crusts of rye bread adding a yeasty sourness.
Böhmischer karpfen is the Bohemian way of simmering carp with pot vegetables, then finishing it with a sauce of bay leaves, molasses, gingersnaps, almonds, prunes, walnuts, and raisins.
Gebratene karpfen, the Alsatian favorite, which has been readily adopted in the neighboring Schwarzwalder, or Black Forest, is made with a whole fish neatly gutted, rolled in flour, and deep-fried in vegetable oil.
And the list goes on, stretching out to such Eastern European favorites as pickled carp in aspic,withorwithoutgroundwalnuts,andthe gefilte fish mix that includes the ground flesh of carp. In any form, carp proves lucky to the appreciative diner.
Further information and recipes: Gourmet's Old Vienna Cookbook by Lillian Langseth- Christensen (1959); The German Cookbook by Mimi Sheraton (2014); The Oxford Companion to Food by Alan Davidson (1999). Tip: Never taste carp raw to judge the seasonings; like all freshwater fish, it can contain dangerous parasites.
Hoppin' John
American (Southern)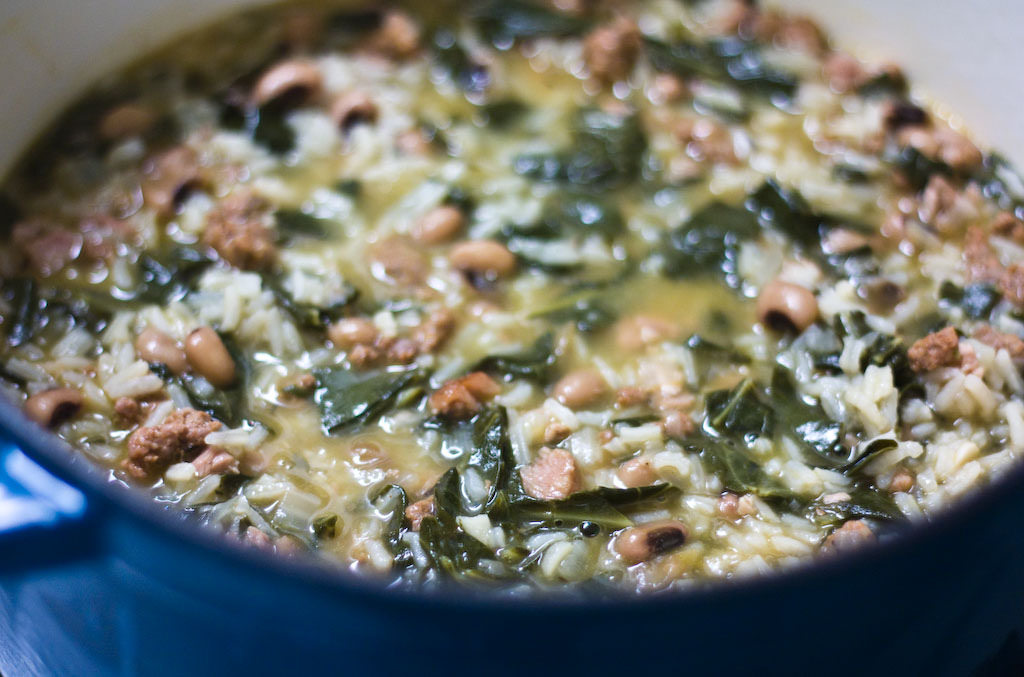 To the uninitiated, it probably looks like a simple plate of rice and legumes. But any southerner can tell you that the concoction of cheerily winking black-eyed peas, simply stewed with savory, meaty hog jowls and served atop a nurturing bed of snowy short-grain rice—the dish known as hoppin' John—is a symbol of the comforts of home, as well as a totem of good luck. 
The dish began as a variation on the nutritious rice-and-beans combination eaten throughout the Caribbean, most probably brought to the American South by West-African slaves. Legends abound as to the origin of its name, but there are references to "Hopping John" (somewhere along the line, the g was dropped) in both the prominent abolitionist Frederick Law Olmsted's book A Journey in the Seaboard Slave States, first published in 1856, and The Carolina Housewife, a collection of recipes by Sarah Rutledge, published in 1847.
As in so many other cultures, in the South sustaining staples such as beans symbolize good luck and renewal, and so are traditionally eaten on New Year's Day. For good measure they are garnished with cooked greens and cornbread, ensuring that the year ahead will be full of coins (the black-eyed peas), cash (the greens), and gold (the cornbread). Some throw in tomatoes, too, thought to symbolize health, if not a cache of rubies.
Where: In Chapel Hill, NC, Crook's Corner, tel 919-929-7643, crookscorner.com. Mail order: For dried peas, nuts.com; amazon.com. Further information and recipes: Hoppin' John's Lowcountry Cooking by John Martin Taylor (2012); Mastering the Art of Southern Cooking by Nathalie Dupree and Cynthia Graubart (2012); The Welcome Table by Jessica B. Harris (1996); epicurious.com. Special event: Hoppin' John Festival, Shakori Hills, Silk Hope, NC, September, with lots of music and a hoppin' John cook-off.
Shortbread
Scottish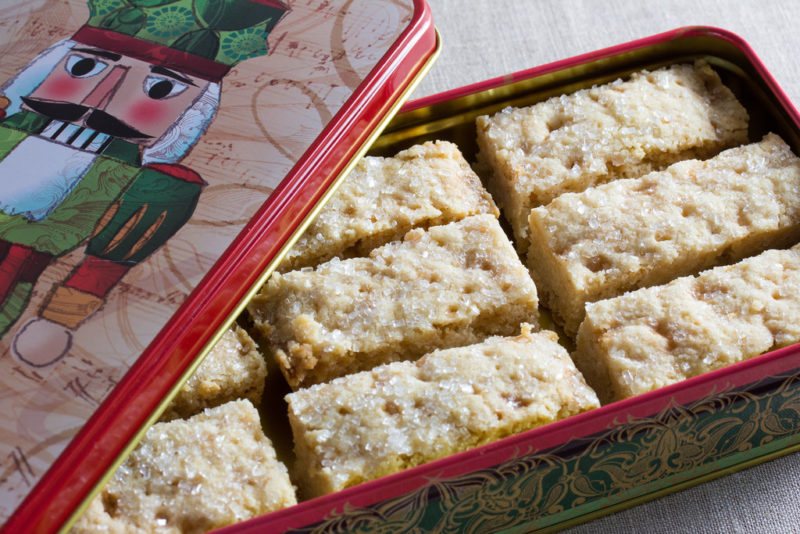 The defining feature of shortbread, or short'ning bread, is a high content of butter or other shortening and the meltingly fragile, crumbly crust that results. A finely gritty cookie-cake, Scottish shortbread is redolent of that pure, sweet butter held together with sugar and a combination of wheat and rice flours. It is the latter that imparts a nicely dry, "short," sandy texture to this pleasurable cake.
Shortbread's popularity is such that the rest of the U.K. bakes it, too, and other countries have created their own versions. American bakers boldly dip their shortbread in melted chocolate, spread icing on its top, or toss sweet extras into its batter; these versions are not to be confused with American shortcake, the leavened biscuity concoction typically served or layered with strawberries and cream.
Among shortbreads, Scotland's are the classic originals, "the jewel in the crown" of that nation's proud baking tradition, as Scottish chef John Quigley described it in 2009. Traditional in Scotland for Christmas and New Year's, shortbread is a descendant of the pagan Yule cake called an oat bannock. When baked in the round, shortbread is scored in wedges (also called petticoat tails) radiating from its center as a symbol of the sun's rays. It's also sometimes baked in rectangular wooden molds whose ridges indicate where portions should be broken off. Why such precision? It all stems from the superstition that to cut bannock with a knife is to invite bad fortune.
Mail order: Walkers Short Bread; amazon.com. Further information and recipes: Visions of Sugarplums by Mimi Sheraton (1981). Special event: Sarasota Shortbread Contest, Sarasota, FL, February. Tip: Unwrap packaged shortbread 20 to 30 minutes before it is to be eaten so any overly intense butter aromas can dissipate. (Do the same for any packaged butter cookie.)