Potato kugel is a regular at most Jewish holiday tables. Different from the usual dish, this Sweet Potato Kugel is dairy-free, bright with flavor, and full of healthy vitamins and minerals. A perfect substitute for traditional Thanksgiving sweet potato dishes, this is one kugel that might become a regular request! Be sure to eat it fresh from the oven.
Gluten-Free Sweet Potato Kugel
Makes one 9-inch square kugel, or 8 to 10 ramekin-size kugels
Baking time: 25 minutes (ramekins) or 45 minutes (9-inch square pan)
Dairy-free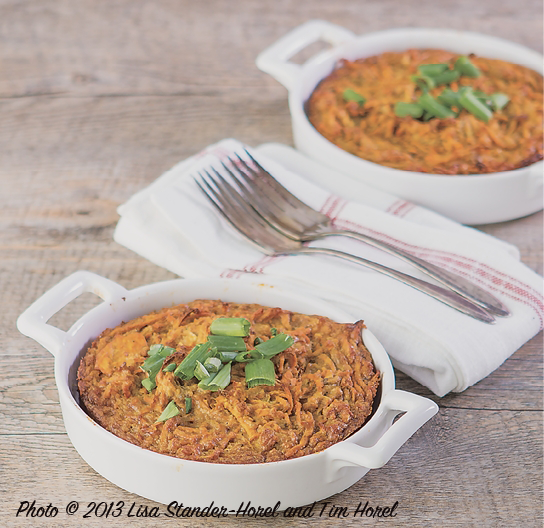 Ingredients
Nonstick spray, for greasing
Sweet potatoes 4 medium | 1,130 grams | 2½ pounds
Red onion 1 medium | 225 grams | ½ pound
Extra virgin olive oil 50 grams | ¼ cup
Kosher salt 2½ teaspoons
Freshly ground black pepper, to taste ¼ to ½ teaspoon
Baking powder ½ teaspoon
Baking soda ¼ teaspoon
Eggs 420 grams | 7 extra-large
1 cup of Nosh GF flour (1/2 cup brown, 1/4 each of white and tapioca)
Green onions, chopped, for garnish 1 to 2 green onions
Instructions
1. Preheat the oven to 350°F. Grease a 9-inch square baking dish or eight to ten ramekins with nonstick spray.
2. Peel the sweet potatoes and cut to fit a food processor chute. Using the grater attachment, grate all the sweet potatoes and the onion together. Transfer the mixture to a large bowl. Place half of the mixture back in the food processor, and using the cutting blade, finely grind the potato mixture. If grating by hand, half of the mixture should be coarse, and the other half fine. Combine the two mixtures in a large bowl. Add the oil and stir. Stir in the salt, pepper, baking powder, and baking soda. Stir in the eggs. Fold in the flour, making sure everything is well mixed.
3. Scoop into the prepared baking dish(es) and smooth the top. For a 9-inch dish, bake for 45 minutes, or until the top is golden and the edges are browned. For ramekins, bake for 25 minutes, until a knife inserted into the center comes out clean. Let cool slightly. Top with the freshly chopped green onions. Serve immediately.
Nosh on This
by Lisa Stander-Horel and Tim Horel
Nosh on This presents more than 100 gluten-free recipes inspired by the classics Lisa Stander-Horel grew up helping her mother make—and the bakery and store-bought favorites she and her family missed the most.
Bring the nosh back into your life with baked goods that have all the textures and tastes you remember and crave!
This month only—save 85%!
GET THE BOOK: Amazon | B&N | ebooks.com | Google Play | iBooks | Kobo
More from our friends at Storey Publishing: