Excerpted from Jennifer Trainer Thompson's Fresh Fish.
Also known as soba, buckwheat noodles (made from buckwheat flour) became popular in Japan during the late 1800s. Fat- and cholesterol-free, they're a good source of magnesium, lean protein, and thiamine.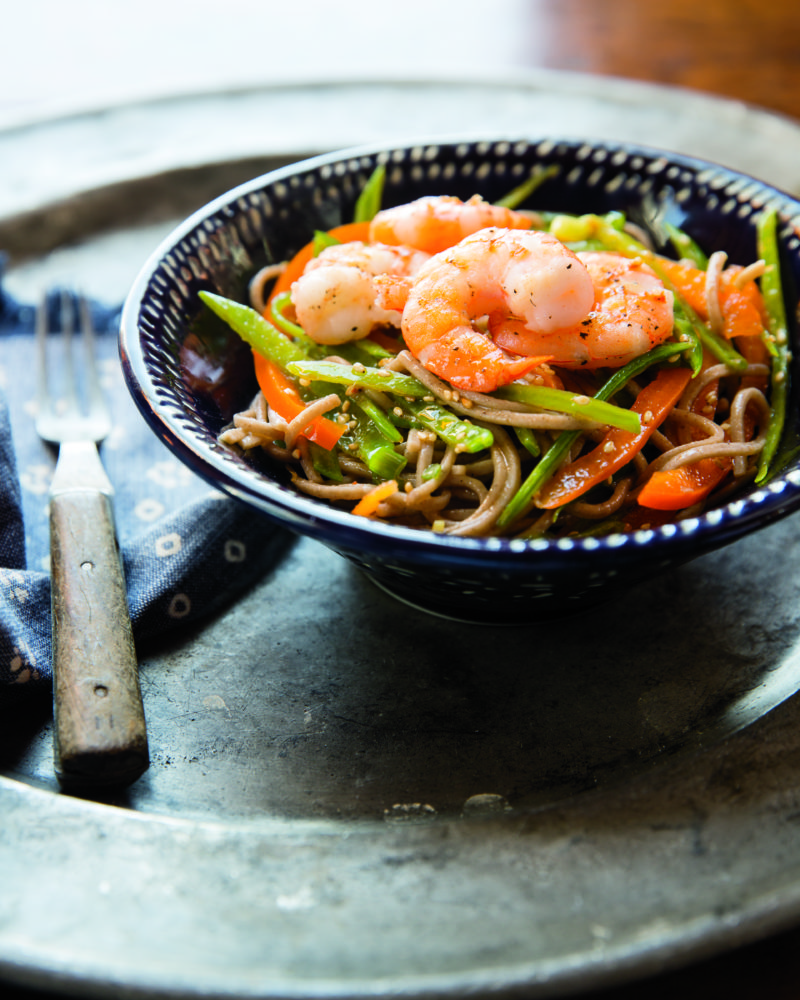 Ingredients
8 ounces soba noodles (buckwheat)

2 teaspoons minced fresh ginger

2 garlic cloves, minced

2 tablespoons rice wine vinegar

2 tablespoons soy sauce

⅓ cup grapeseed oil plus 2 teaspoons

2 teaspoons sriracha sauce

2 ounces snow peas, julienned

4 scallions (green and white), thinly sliced

½ orange bell pepper, seeded and julienned

2 tablespoons toasted sesame seeds

16 medium shrimp, shells removed

Salt and freshly ground black pepper
Instructions
1
Bring a large pot of salted water to a boil. Cook the noodles until al dente, 2 to 3 minutes. Drain and rinse with cold water.
2
In a large bowl, combine the ginger, garlic, vinegar, soy sauce, ⅓ cup grapeseed oil, sriracha, snow peas, scallions, bell pepper, and sesame seeds. Add the noodles, mix well with your hands, and adjust the seasonings.
3
Devein the shrimp by running a sharp knife down the back of the shrimp to remove the black streak, and wash under cold water.
4
Prepare a cast-iron skillet by putting it over medium-high heat until it is very hot. Toss the shrimp with the 2 teaspoons grapeseed oil and salt and pepper to taste, and sear on both sides until cooked through, about 1 minute per side.
5
Divide the noodles among four bowls or plates, and top with the shrimp.
About the Book:
Cooking fish and other seafood at home is much easier than you think! Fresh Fish offers simple step-by-step instructions for all of the essential cooking methods, including baking, pan-frying, braising, broiling, steaming, poaching, roasting, marinating, and grilling—along with 175 mouthwatering recipes that bring out the best in everything from fish fillets and whole fish to shrimp, mussels, lobster, clams, calamari, and more. You'll also learn how to buy fish (even whole fish) with confidence, how to serve fish raw, how to clean freshly dug clams, and much more. Beautiful photography celebrates both the food and the lazy charm of summers at the beach; this is a delightful read as well as the cookbook you need to easily enjoy your favorite seafood at home.
Buy the Book
Amazon | B&N | Indiebound | Workman