You're going to need to do something with all that Halloween candy. We recommend this genius recipe, excerpted from Molly Gilbert's Sheet Pan Suppers.
Buy the Book
Amazon | B&N | Indiebound | Workman
S'mores meet Halloween! Purists may scoff, but that's cool because more for us. Besides, it's hard to argue when your mouth is full of sweet, salty, peanut-butter-cup-marshmallow-graham gooeyness. I just love how the broiler steps up to let us have this classic summertime staple even in the colder months, or when we need to please a s'more-hungry crowd.
You can use your favorite chocolate candy for this special treat—"fun-size" Halloween candy definitely fits the bill (I'm into mini Kit Kats and Almond Joys, or regular-size Reese's cups), but luckily, leftover candy from Easter, Valentine's Day, and Christmas make it possible for us to have creative holiday-themed s'mores year round.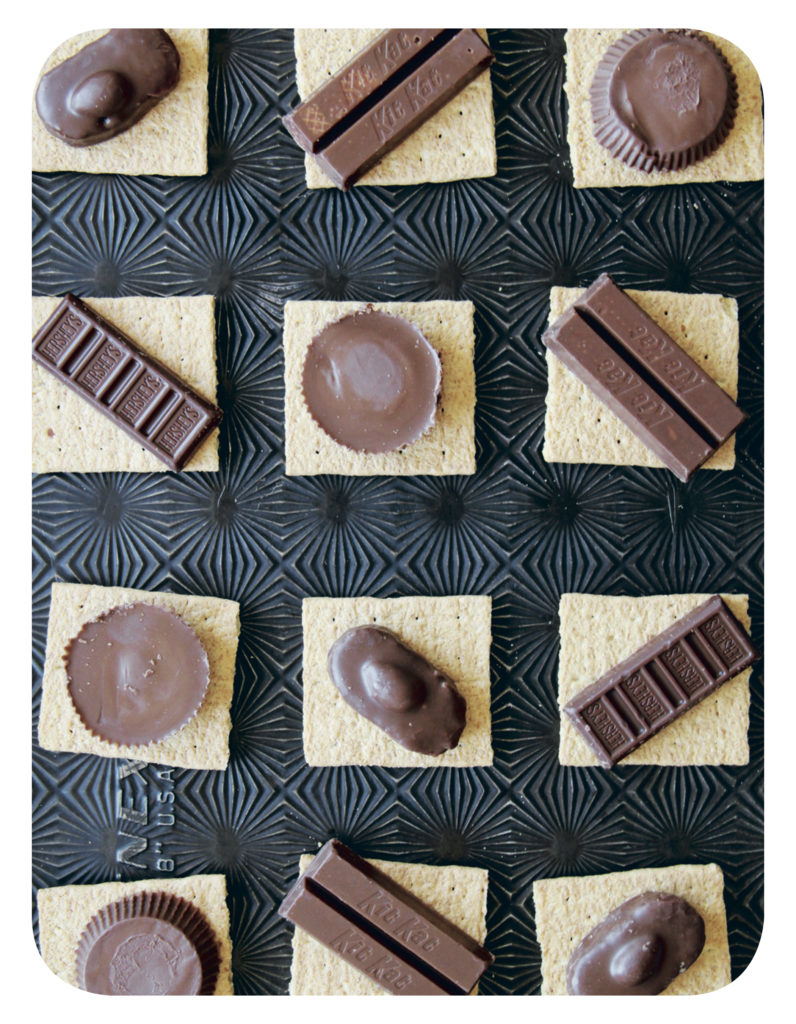 Halloween Candy S'mores
Serves 12
Ingredients
12 graham crackers, broken into 24 squares
12 pieces "fun-size" chocolate candy
12 marshmallows
Instructions
Preheat the broiler with a rack about 4 inches from the heat. Line a sheet pan with aluminum foil (not essential but it makes cleanup easier).
Lay half of the graham cracker squares on the prepared pan and top each with a piece of candy. Place a marshmallow on top of each piece of candy.
Place the pan on the rack under the broiler. Watch carefully for the marshmallows to brown on top— it can take as little as 20 seconds, depending on your oven.
Remove the pan from the oven and carefully use a pair of kitchen tongs to ip each marshmallow over so the uncooked side now faces up. Broil the s'mores, again watching carefully, until the second side of each marshmallow is good and toasty, another 20 seconds or so.
Remove the pan from the oven and top each of the marshmallows with one of the remaining graham crackers, smushing them together gently. Enjoy immediately!