Excerpted from Sheila Lukins and Peter Kaminsky's Celebrate!.
Buy the Book
Amazon | B&N | Indiebound | Workman
The short rib, a humble cut of beef, has come into favor in fancy restaurants because you can braise the dickens out of it and it just develops more and more flavor. It seems there is no sauce that it can't stand up to. Equally popular in recent years is good old-fashioned peppery heat. The two are combined in this Halloween entree. The hot sauce is the trick, and the ribs are the treat.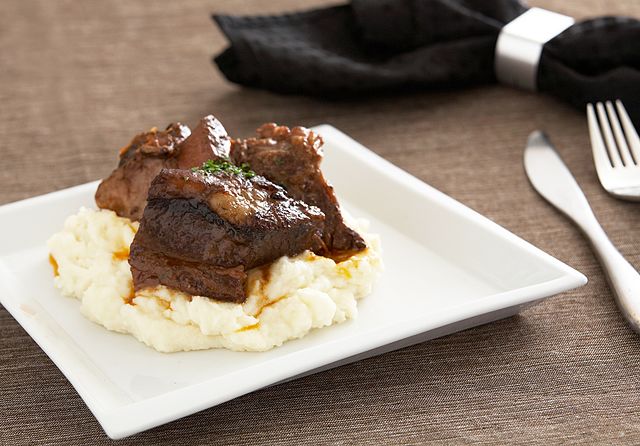 Ingredients
6 pounds meaty beef short ribs, cut into 6-inch-long pieces

Salt and freshly ground black pepper, to taste

2 tablespoons olive oil

2 onions, slivered lengthwise

2 tablespoons finely minced garlic

2 tablespoons Dijon mustard

3 tablespoons fresh lemon juice

2 teaspoons Tabasco sauce

1 teaspoon chili powder

1 teaspoon light or dark brown sugar

1 cup beef broth

Tabasco, or another hot sauce, for serving
Instructions
1
Preheat the oven to 425°F.
2
Season the ribs well with salt and pepper.
3
Heat the olive oil in a flameproof casserole over medium-high heat. Add the ribs (you'll have to do this in batches) and brown them well, about 8 minutes per batch. Transfer the ribs to a plate.
4
Remove all but 1 to 2 tablespoons of the fat from the casserole. Add the onions and cook over low heat, stirring occasionally, for 7 minutes. Add the garlic and cook until the onions and garlic are well softened, about 3 minutes more.
5
Return the ribs to the casserole, arranging them on top of the onions.
6
Combine the mustard, lemon juice, 2 teaspoons Tabasco sauce, the chili powder, brown sugar, and broth in a small bowl and pour over the ribs and onions. Reduce the oven temperature to 350°F and immediately place the casserole, covered, in the oven. Bake the ribs, basting and stirring them around occasionally, until they are tender, about 2½ hours.
7
Remove the casserole from the oven and transfer the ribs to a plate. Strain the gravy through a sieve, discarding the onions and garlic. Then pour the gravy through a gravy separator to remove the fat (or skim off as much as possible with a spoon). Return the ribs to the casserole, cover with the defatted gravy, and reheat before serving. (If you like, remove the meat from the bones and discard the bones before reheating.) Serve the ribs with plenty of gravy, and pass the Tabasco sauce for spicing up if desired.
Notes
You can prepare the ribs up to 1 day in advance. Cover the ribs with aluminum foil and pour the gravy into a covered container. Refrigerate both until ready to reheat. Before reheating, remove the solidified fat from the gravy. Then combine the gravy with the ribs in a large pot and cook over medium-low heat until heated through, 20 to 25 minutes.