Welcome to another installment of Inside the Author's Studio, where we give you a peek into the minds and studios of your favorite Workman authors.
In honor of springtime (playtime!), we're celebrating with a visit to the studio of Bobbi Conner, author of Unplugged Play: No Batteries. No Plugs. Pure Fun., which includes 710 Games and Activities for Ages 12 months to 10 years. Here, we ask her a few questions, speed round style.
Recent book you loved/learned from:
The Nature Principle by Richard Louv
Favorite bookstore:
Powell's Books in Portland, Oregon
Hidden talent:
drawing and painting
Bookmark, dog-ear, or virtuality?:
bookmark
Book you are most ashamed never to have read:
I can't say I'm ashamed of not reading any particular book since picking and choosing books to read over a long lifetime is all part of the fun.  Right now, I'm discovering a few classic books that I missed in my earlier years (thanks to the book club I'm in) and I've enjoyed them immensely.
Most frequent form of writerly procrastination:
Walking along the South Carolina beaches (with a tiny pencil and paper in my back pocket), brainstorming and refining ideas for a book.  It's a perfect excuse for sunshine and exercise and I have worked out many ideas or challenges related to a book in exactly this way.
Favorite childhood book:
Blueberries for Sal by Robert McCloskey
Alternate ambition (i.e. If you weren't a writer, you'd be…):
An art teacher for children
Your perfect meal:
A summer meal from my childhood, prepared by my grandmother—homemade chicken and dumplings (the dumplings were light as a feather) and sweet corn, green beans and melons harvested that day from my grandparents' garden. Yum!
Big dream:
A grass-roots active-playtime movement—with children rediscovering the joys of inventing their own creative, active, happy playtime outdoors for a part of each day.
Super power of choice:
Waving a magical wand and granting good and worthy wishes to others.
Speaking of super powers, what 5 "tools" should every parent have on hand to provide spontaneous play anytime, anywhere?
Hula hoop, beanbags, assorted balls, drawing paper, and markers.
What's the top unplugged activity you like to do with your (grownup) children?
For family get-togethers we love to play Taboo or Guesstures.  Lots of laughs and good family fun.
What Workman book would you like to receive as compensation for your involvement?:
The Dock Manual (re: building a dock on water!) by Max Burns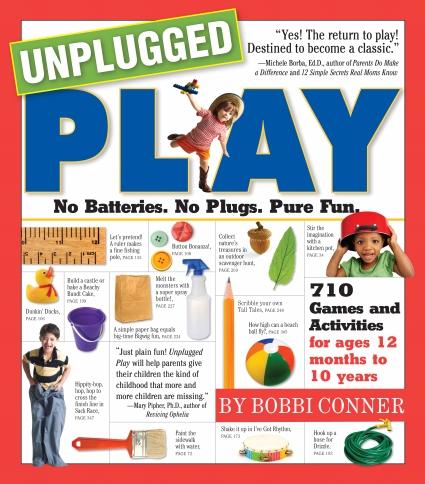 —
Bobbi Conner is the creator and host of the award-winning national radio program The Parent's Journal. She is the author of Everyday Opportunities for Extraordinary Parenting and Unplugged Play: No Batteries. No Plugs. Pure Fun. She is also the mother of three kids, now in college.