Day-old, cold noodles have their charm, but after a while, leftovers can get pretty boring. We're always trying to think of new and innovative way to use up the contents of our fridge, but we've run out of ideas lately. So we asked our family of cookbook authors for their most ingenious (and easy) 2-sentence leftover recipes. Enjoy!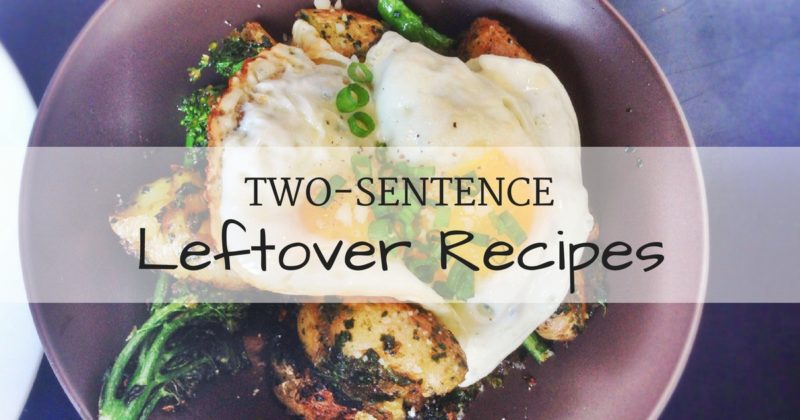 Brisket Quesadillas
Spread a buttered flour tortilla with sour cream, sliced jalapeños, shredded smoked brisket, grated pepperjack cheese, and, why not, a diced tomato. Top with a second buttered tortilla and direct grill over a moderate fire until the tortillas brown and cheese melts—a minute or two per side will do it.
—Steven Raichlen, author of Barbecue Sauces, Rubs, and Marinades
Anything Goes Pizza
I'm a fan of putting just about anything on a pizza, which really works if you break away from the sauce-and-cheese mentality. There can be something slightly magical about the word "pizza" that makes it totally okay to be eating last night's broccoli and beef stir-fry on a slab of dough.
—Daniel Shumski, author of Will It Skillet? and Will It Waffle?
"Ruebenize it!"
This is going to sound weird, but you would be surprised how many leftovers respond to ferments and bubbly, melted cheese—think "Ruebenize it!" Place a layer of sauerkraut or kimchi on top of your leftover (soup, casserole, fried rice, chicken meat…) top that with cheese (sharp cheddar, Swiss, mozzarella…) and bake to warm and melt the whole thing together (you can even put it all in a sandwich.)
—Kirsten K. Shockey, author of Fermented Vegetables and forthcoming Fiery Ferments
Roast Veggies and Eggs
Sauté spinach in a little butter, add leftover roasted veggies, and heat them through. In a separate pan, poach or fry 2-3 eggs and serve them over the veggies. This dish is so easy and delicious that I now make it a habit to roast extra veggies to save as leftovers.
—Dr. Frank Lipman, co-author of The New Health Rules 
Fried "Rice"
Use leftover grains—rice, farro, quinoa—to make fried "rice." Heat a pan, add oil, minced ginger and garlic, stir in leftover chicken or veggies you might have in your fridge, add rice, and even an egg if you've got it. Stir and top with chopped scallions, cilantro, and peanuts.
—Alison Cayne, author of The Haven's Kitchen Cooking School
Herb Cheese Dip
Finely chop all of the bits and pieces of assorted cheese in your refrigerator to make about a cup, then combine with 1/4 cup cream cheese, some citrus zest and a hearty pinch of minced fresh herbs. Season with pepper and serve with flatbread or crackers.
—Rachael Narins, author of Cast-Iron Cooking
The Ultimate Leftover Omelet
Make an omelet. Chicken fingers, last night's leftover veggies, even that fancy cheese from last week's book group meeting can all be diced small and added to your regular omelet or scrambled egg recipe.
—John Holl, author of Dishing Up New Jersey and The American Craft Beer Cookbook