Welcome to Inside the Author's Studio, where we give you a peek into the minds of your favorite Workman authors.
Today we bust right into BUST magazine headquarters, to step inside the mind and studio of Debbie Stoller, author of the Stitch 'N Bitch knitting and crochet series (and publisher of  BUST magazine).
Recent book you loved/learned from
It was a book that isn't published yet, about the history of a building in the East Village that the author lived in and was evacuated from. She traces the history of that plot of land from the early Native American days, through the colonialists, revolutions, wave after wave of immigrant, all while pursuing thought-provoking tangents about topics such as the nature and origins of home. The book is called The Archeology of Home and it's by Katherine Grieder.
Favorite bookstore
St. Marks Bookshop in the East Village.
Hidden talent
I know how to write computer code and have been doing it for the past 30 years! In fact, my full-time role here at BUST is web developer.
Bookmark, dog-ear, or virtuality?
Dog-ear, although my boyfriend insists that that is wrong, wrong, wrong.
Book you are most ashamed never to have read
Oh my, just about every classic ever. But I'll go with a Tale of Two Cities. Because I read the Cliffs notes instead, and that's shameful.
Most frequent form of writerly procrastination
Napping!
Favorite childhood book
Are You There God? It's Me, Margaret
Alternate ambition (i.e. If you weren't a writer/publisher, you'd be…)
Historian researching private life, in particular women's domestic duties through the ages.
Your perfect meal
A bag of Doritos and a can of cream soda!
Big dream
Well, I just fulfilled one: I bought a house in Brooklyn. I have my own house, and it makes everything else better. So right now my big dream is to get a kitchen built in it!
Super power of choice
Being invisible, of course.
So which one is it, knit or crochet?
Both; I'm bi-craftual. Always have been, always will be.
What are you knitting/crocheting right now?
Actually hooking up some skull booties from a pattern from my own yarn line, using my own yarn. I know that's corny, but it's true.
What Workman book would you like to receive as compensation for your involvement?
The one about how to shoot video. I would really like to know some of the rules so we don't have to keep re-inventing them.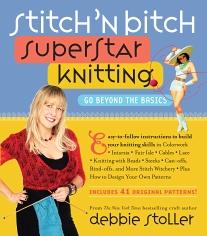 —
Debbie is the author of, most recently, Stitch 'N Bitch Superstar Knitting.