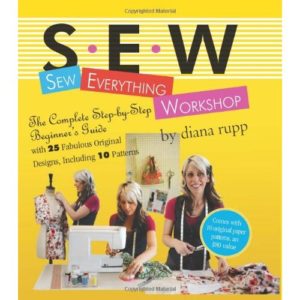 My perfectionism stepped boldly out into the limelight these past two weekends. You see, I was busy constructing the aptly named "tote-ally awesome tote bag" from Sew Everything Workshop by Diana Rupp, because, as you may have noticed, this month is National Craft Month. As it turns out, I am not really a burgeoning fashion designer (sob!). Being an excellent seamstress is apparently not a genetic trait waiting to be manifested at the mere sight of a needle and thread. But, despite my utter lack of experience, and any negative monologue I might have had, I now have proof that a perfectly functional and adorable tote bag can be made (very easily, I might add) with a few cuts, snips, and perhaps a stray stitch here and there. Now, I know my grandmother would have ripped out every seam until each one was perfectly straight, and I defintitely had the urge (still do, actually) to undo all of my hard work and start again until every stitch was exactly in line, every millimeter flawless. But I do not have five years to make this tote bag. It does not need to be perfect. Tim Gunn is not going to stop me on the street and scold me because the handle is a little wider over here than it is over there. This bag just needs to hold things. So, I set about to make the cutest bag I could, that, while still functional and sturdy, was allowed to have some awkward stitching.
Of course, no craft project is complete without an initial mini-crisis of equipment. Sewing machines draw thread from above and below the fabric, and as soon as I started to feed material through the machine (a spellbinding moment of OMG, I'M SEWING), I noticed that the lower thread was actually producing big loops where tight, concise stitches should be. Urgh! My sewing machine does not have a tension adjustment for the lower thread. And if you've ever tried to read the manual of a sewing machine, you'll know that no one really edits those things, so it took a bit of floundering to figure out what exactly would correct the problem.
However, once my accomplice* and I figured out how to waggle the bottom thread into the magical, invisible tension spring, the tote bag started to come together. I attached one side of fabric to the other (right sides together!). I ironed interfacing onto the lining to add sturdiness. (I learned never again to use the steam function on my iron because it is, in fact, broken, and will leak water all over your feet as well as the thing you were trying to flatten.) Corners were clipped, seams were pressed, a handle was attached, and voila! The polka dots you see on the outside of the bag are complemented by clusters of artful cartoon-ish trees on the lining. I imagine that those trees are waving happily at me, begging to use them to carry home a manuscript, or basking peacefully in an eternal sunshine, without judging that one spot where I kind of had to start over because the zigzags began to clamber off the fabric, or because I zoomed over the edge a little too quickly, a bit eager with the foot pedal.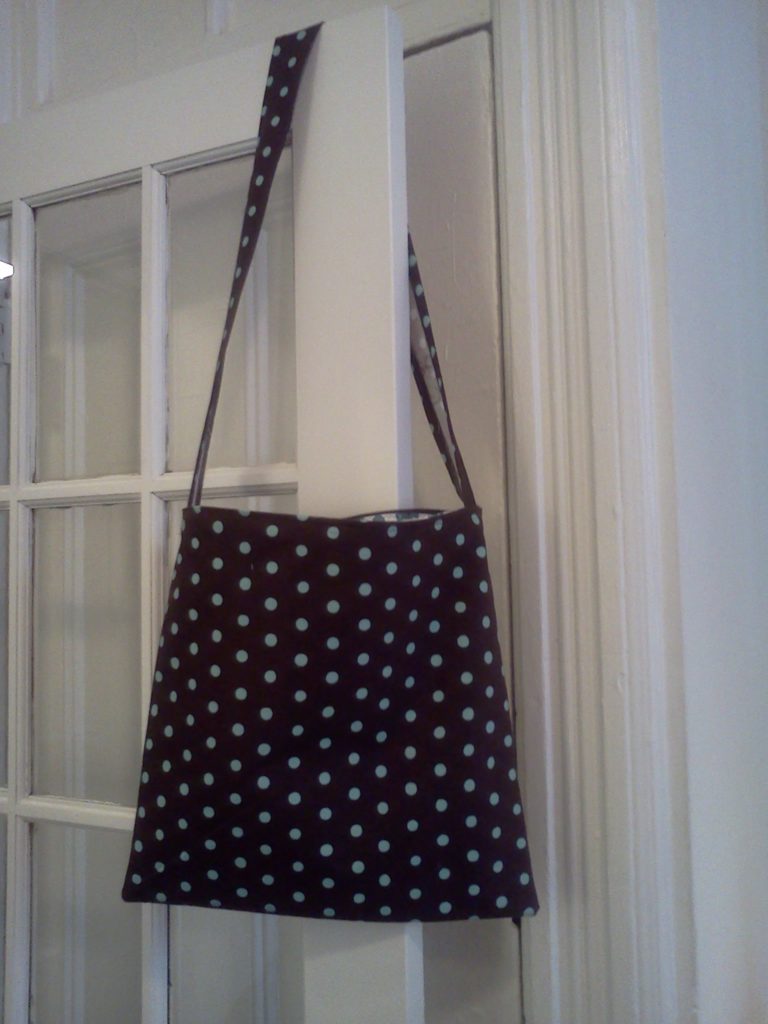 In related news, I am definitely going to procure a rotary cutter and some more patience before I embark on any projects that actually need to be well-made, and um, at least, almost perfect.
* So, the cutest part of this story is that my boyfriend's mom, a woman famous for making several wedding dresses for friends and family, and, perhaps most notably, a five-year-old's dwarf costume complete with fabric ears and long robes, came over to help me finagle my new machine and just for general fun purposes. I'm thankful for her expertise!