Welcome to another installment of Inside the Author's Studio, where we give you a peek into the minds and studios of your favorite Workman authors.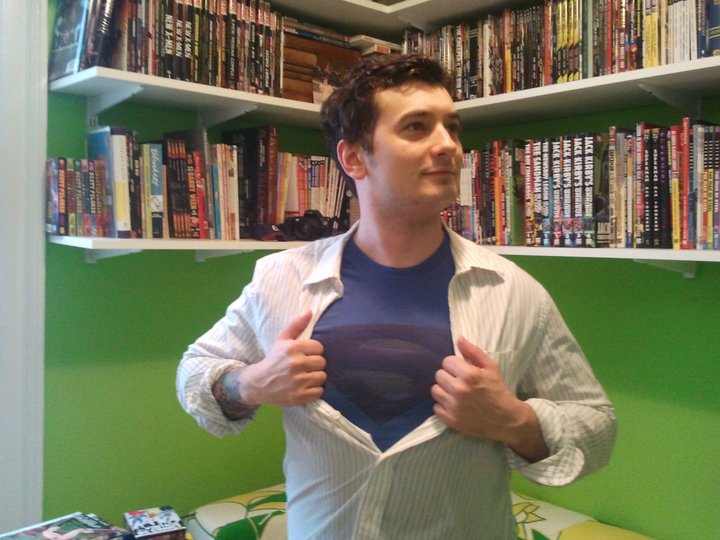 Today, in anticipation of the release of Green Lantern: The Movie tomorrow (or tonight at midnight, in select locations, for the truly committed)–we venture into the studio of Randall Lotowycz, author of DC Comics Super Heroes and Villains Fandex for a little Q&A, speed-round err…speeding bullet-style.
Recent book you loved/learned from
So you're going to throw me some softball questions? I think I'll be able to cut and paste these answers directly from my OkCupid profile. So let's begin. Recent book: Never Let Me Go by Kazuo Ishiguro. I know I'm about six years late to the party, but, wow, that book was amazing and devastating, as well as infuriating in the best way possible. It's a particularly wonderful thing when a book about people who (sorta spoiler alert) may not have souls can remind you that you still have one. You know your soul is there because it hurts so much after you've read the book.
Favorite bookstore
I'd never want to play favorites, but Harleysville Books in Harleysville, PA, did host a great little event for me, so perhaps I should go with them (yes, I'm susceptible to bribes). Given the reason I'm doing this Q&A, I should also point out comic book shops. My childhood store, J.C. Comics in North Plainfield, NJ, is a fantastic family-run shop. And though it's no longer around in its original form, the Brooklyn Monster Factory in Park Slope, Brooklyn was one of the best kinds of comic stores around.
Hidden talent
It's not modesty, I'll tell you that. I'm fairly good at measuring time without a watch. I'm not reading the sun or anything, but I can usually give a pretty close estimate of the time without having to refer to my cell phone. And I have an impressive memory when it comes to the year a film was released. Test me.
Bookmark, dog-ear, or virtuality?
Dog-ear, all the way. I also like to underline favorite passages, and if I'm without a pen, I'll scratch a line under the words with my fingernail. I don't think that would be smart with an e-reader. But I still maintain that when all my favorite novels are available for download, I'll pick one up, because it would be great to carry them all with me.
Book you are most ashamed never to have read
Where do I begin? Madame Bovary, Infinite Jest, Ulysses, Oliver Twist, Anna Karenina, Brideshead Revisited, What is the What. I can go on. Maybe I've spent too much time reading issues of the Legion of Super-Heroes. But for every traditional classic, I can cite some lesser known book that has left an indelible impression on me, so I'd like to think it all balances out.
Most frequent form of writerly procrastination
I'd say taking photos of myself with the laptop's camera. It doesn't require moving from the work I should be doing. I wouldn't call myself vain, as I'm usually making weird and ugly contorted faces for the photos. It's amusing and helps pass the time. Next to that, Facebook is probably the most frequent form of procrastination. And sometimes I upload those ugly photos.
Favorite childhood book
Very tough one, but I'm not going to give multiple titles. I'm confident in saying There's a Boy in the Girls' Bathroom by Louis Sachar. It has so much going on, and its impact on young me isn't all that different than the impact of Never Let Me Go. It introduced me to emotions I hadn't yet experienced and forced me to process them, shaping how I'd react when I did experience them in my own life.
Alternate ambition (i.e. If you weren't a writer/sales director, you'd be…)
Oh, I'd want to be a small business owner. Number one choice would be to own a bar (those places seem recession proof). But I also entertain the thought of having a restaurant or some type of retail shop. I'd like my own niche in a community that would in turn foster others' interest in the community. I know that sounds weird to say after claiming my first choice is a bar, but it's the truth. And the right sort of bar can do a lot of good for people in the community.
Your perfect meal
Lamb vindaloo with garlic naan and ka-chori, followed by rice pudding for dessert. Just perfection. I particularly like ordering it from the same place multiple times and never having it be exactly the same twice. And I know it's not Indian, but if you could throw some fried pickles in to start, I'd be in a state of bliss.
Big dream
I go back and forth between getting tattooed while skydiving and being punched in the face by a grizzly bear wearing a boxing glove. It's going to be tough to make either of those happen, but you never know. Other than that, I'd like to create something that would affect someone the same way books like Never Let Me Go and There's a Boy in the Girls' Bathroom affected me. Who knows, maybe I've already written it and that person just hasn't read it yet. But my dream is to create something of substance and worthy of praise, even if it's just from one person.
Super power of choice
I'm going with invisibility, and not just for its seedier perks. Observation is powerful tool for an author, but as soon as you're present to observe, your presence is already affecting the moment. To be invisible, to take yourself out of a moment, you can experience things you never would otherwise.
If you could leap into any single DC Comic book issue for a day, what would it be?
I'd want to leap into All-Star Superman #10 by Grant Morrison and Frank Quitely. It's one of my favorite single issues ever, capturing everything that makes Superman so great. The issue is inspiring, offering hope and encouragement to anyone who reads it. I could go on for pages and pages on this comic. Put as briefly as possible, this issue of Superman challenges readers to step back and see the great strength that is in each and everyone of us. We don't need superpowers or to be from a distant planet in order to do good. We're all strong enough to do good in our own way.
How many DC Comics characters do you have tattooed on your body?
Ha! Just two, Superman and Lois Lane in an airborne embrace. Though it lacks word balloons, it invokes the scene in Superman: The Movie, when Superman catches Lois and says, "Easy, miss, I've got you," to which Lois replies, "You've got me? Who's got you?!?"
I've considered a Green Lantern tattoo over the years, but never pulled the trigger. I love the character and the mythology in the stories, but I've never been able to narrow it down to one concrete image. I've also thought about a tattoo of the latest Robin, Damian Wayne, the illegimate son of Batman and Talia Al Ghul, the daughter of one of Batman's greatest foes. Damian is a fairly new character, created in 2006, but he's made a great impression. He was introduced as such an arrogant little brat, but has since grown into being an arrogant little hero. The image of him on the cover of Batman & Robin #1 perfectly captures his nature and I could see getting that image on my leg.
What Workman book would you like to receive as compensation for your involvement?
Well, it's out of print and I think only one person in the office has a copy, but I'd really like Touch Me: The Poems of Suzanne Somers.  Yes, Workman published it and I want it. I'd also take a copy of True Grits: The Southern Foods Mail-Order Catalog.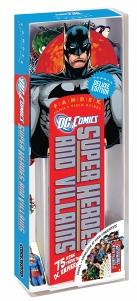 So I guess that's it! Thanks so much for having me on the blog!
—
Randall Lotowycz, not to be confused with a bird or a plane,  is the author of DC Comics Super Heroes and Villains Fandex. He will be attending a midnight showing of Green Lantern.