Welcome to Inside the Author's Studio, where we give you a peek into the minds of your favorite Workman authors.
Today we step inside the mind and studio of Randy Sarafan, author of 62 Projects to Make with a Dead Computer, and Community Manager at Instructables.com, where he's hosting a computer hacking contest called Keyboard vs. Mouse. Don't forget to enter!

Recent book you loved/learned from
Everything Flows by Vasily Grossman.
Favorite bookstore
Hidden talent
Baking.
Bookmark, dog-ear, or virtuality?
Bookmark.

Book you are most ashamed never to have read
Creativity: Theory, History, Practice by Rob Pope. I keep reading the first half of the book, getting sidetracked and then starting over.
Most frequent form of writerly procrastination
I am constantly starting new things at the expense of everything else that I am working on.
Favorite childhood book
Anything with Curious George.
Alternate ambition
Musician.

Your perfect meal
Authentic NY-style cheese pizza.
Big dream
I'd like to take over a ghost town in the New Mexico / Colorado high-desert and turn it into a community for new media artists, hackers, and pizza chefs.
Super power of choice
Invisibility.
So, Keyboard or mouse?
In light of being a judge for the upcoming Keyboard vs. Mouse Speed Challenge, I can't yet pick sides.
Mac or PC?
Mac all the way.
What Workman book would you like to receive as compensation for your involvement?
Cooking Jewish seems like it could come in handy in my household. (I currently make chicken parmigiana for every Jewish holiday.)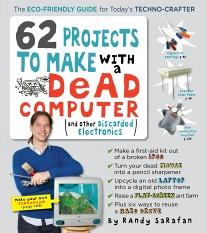 —
Randy Sarafan is the author of 62 Projects to Make with a Dead Computer.