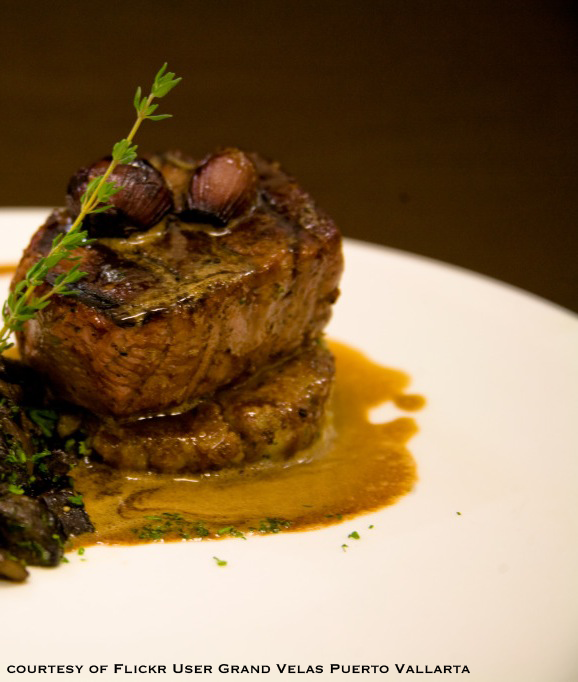 Pair this with a creamy, light tomato risotto for a complete meal that comes together beautifully.
The tenderloin is split open, spread with Dijon-style mustard and blended peppercorns, and then tied back together so that it slices like a beef roulade. The quick roasting ensures moistness and tenderness, and you need serve with nothing more than the pan juices.
Tenderloin of Beef with Five Peppercorns
Makes 6 to 8 portions
INGREDIENTS
1 beef tenderloin (3 to 4 pounds), fat trimmed
3 tablespoons Dijon-style mustard
1 tablespoons green peppercorns (packed in water), drained
3 tablespoons coarsely ground 5-peppercorn blend (see Note)
8 fresh large sage leaves
2 tablespoons unsalted butter, room temperature Salt, to taste
4 bay leaves
INSTRUCTIONS
Preheat oven to 425°F.
Using a sharp knife, make a cut lengthwise down the center of the tenderloin through two-thirds of the thickness. Spread the meat open and flatten slightly with a meat pounder.
Spread the mustard in a thin layer over the opened tenderloin. Scatter the green peppercorns evenly over the opened meat and press into the meat lightly with your hands. Sprinkle 1 tablespoon of the peppercorn blend evenly over the opened meat. Place the sage leaves in a row down the center.
Shape the tenderloin back to its original shape and tie closed at several places. Rub the outside of the tenderloin with the butter. Press the remaining peppercorn blend onto the outside surface of the tenderloin and sprinkle with salt to taste. Place seam side down in a shallow roasting pan and slip the bay leaves underneath the strings on the top of the roast.
Roast the meat for 45 to 55 minutes for rare meat. Let stand 10 minutes before carving. Cut away the strings and slice the meat. Serve with a bit of the pan juices spooned over the slices.
NOTE
Mix equal parts of green, black, white, and pink peppercorns and whole allspice in a peppermill, and coarsely grind.
The Silver Palate Good Times Cookbook
by Sheila Lukins, Julee Rosso and Sarah Leah Chase
The authors of the national bestseller The Silver Palate Cookbook bring their acclaimed gourmet style to graceful entertaining at home. In The Silver Palate Good Times Cookbook, Julee Rosso and Sheila Lukins make the entire year a celebration of good food, good friends, and good times, as they offer menus, suggestions, and strategies, including more than 450 new recipes developed especially for this collection. The good times are here, with the compliments of The Silver Palate.
GET THE BOOK: Amazon | B&N | ebooks.com | Google Play | iBooks | Kobo