Excerpted from Daniel Shumski's bestselling Will it Waffle?
Whether from scratch or from a box, all roads lead to stuffles.
Perhaps this isn't really stuffing, because it's not cooked inside the bird. Dressing, maybe? Either way, cooking the stuffing inside the bird has fallen out of favor because of food safety concerns. By the same token, I do not recommend putting a waffle iron inside your turkey.
Lisa Futterman gets credit for this idea. We met early on in my waffling experiments, and she became a waffle iron devotee. (Next to my mother, she might be the person most excited about this cookbook.) Her version used a bit of waffle batter as a binder for the stuffing ingredients. But I am nothing if not a purist. Okay. That's not true. I am a lot of things, if not a purist. But I am also a purist. And so I was determined to find a way to make it work with just the stuffing ingredients.
You do have to make peace with the idea that the stuffles may not come out completely intact. Some will. Many, even! But if you go into it with the idea that they will all emerge camera-ready, you will come out of it with tears (and perfectly good although perhaps cosmetically imperfect stuffles). They will still be perfectly good—and can be deliciously disguised with a topping of turkey, gravy, and cranberry sauce.
If you don't have poultry seasoning on hand, substitute equal parts of dried marjoram, thyme, and savory. And if you'd rather go the instant stuffle route, mix 3 cups stuffing mix (from a 1 ounce package) with 1½ cups water and 3 tablespoons melted butter, stir, and let hydrate for ten minutes. For this method, start the recipe in Step 6. Instant stuffles will cook more quickly than the scratch variety, so check them after 3 minutes. If you're making them from scratch, the size of the bread cubes is a rough guide. Don't spend too much time with a ruler on the bread cubes. That's time you could spend waffling.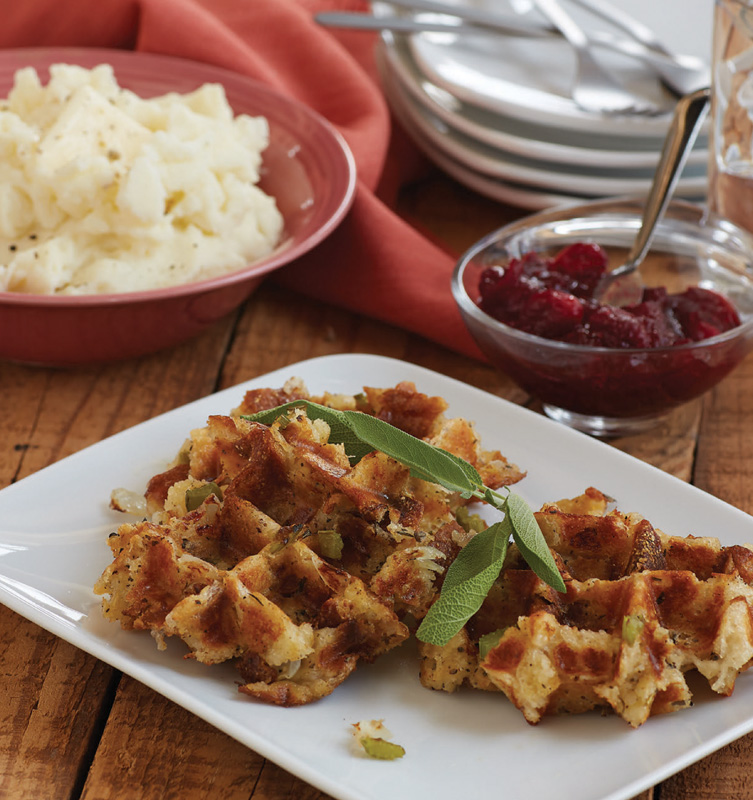 Ingredients
1 tablespoon extra-virgin olive oil

½ cup chopped onion

½ cup chopped celery

¾ teaspoon salt

½ teaspoon freshly ground black pepper

½ teaspoon poultry seasoning

¼ teaspoon dried sage

6 cup dry bread cubes (about ½-inch)

½ cup unsalted butter

1 cup reduced-sodium chicken broth

Nonstick cooking spray
Instructions
1
Place the olive oil in a large skillet over medium heat. Add the onion and celery and sauté until the onion is soft and the celery is beginning to soften, about 5 minutes. Add the salt, pepper, poultry seasoning, and dried sage and cook for 1 minute more to heat through. Remove the pan from the heat.
2
Place the bread cubes in a large bowl. In a small bowl, whisk together the butter and chicken broth, then pour that mixture over the bread. Add the vegetable mixture and stir.
3
Preheat the waffle iron on medium. Preheat the oven on its lowest setting.
4
Allow the stuffing mixture to sit for 5 minutes to absorb the liquid completely, stirring it once or twice.
5
Coat both sides of the waffle iron grid with nonstick spray. Measure about 1/2 cup of the stuffing mix and place it on one section of the waffle iron. (This measure is approximate. Use enough of the mixture to slightly overstuff each section of the waffle iron. Waffle irons with deeper grooves may need a bit more stuffing.)
6
Close the lid and press down to compress the stuffing.
7
After 4 minutes, open the lid to check on the stuffle. It should be golden brown and cohesive. Use a silicone spatula to loosen the edges before sliding the spatula underneath the stuffle and lifting it out. (If you're worried about the stuffle holding together, it may be easier to use two spatulas — one for the top and one for the bottom.)
8
Repeat Steps 6 through 8 for the remaining stuffing mixture. Keep completed stuffles warm in the oven.