We're thrilled to bring you an awesome National Poetry Month post from our resident poetry expert, Lauren Moseley. Lauren is a Marketing Manager at Algonquin in Chapel Hill, and she will be publishing her first book of poetry, Big Windows, in February 2018. We're so excited for her to make a splash with her book, and even more excited to have her point us literary lovers in the right direction when it comes to picking a book of poetry.
Enjoy!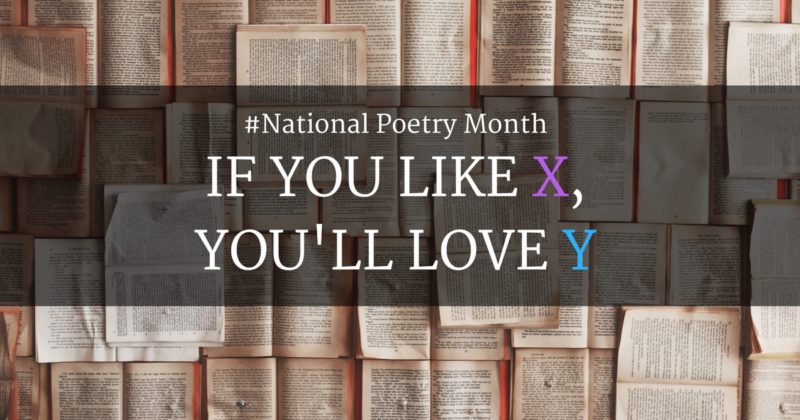 National Poetry Month is the perfect time to discover new poets or revisit old favorites. However, if you're like most modern readers, you're much more likely to reach for a novel or work of nonfiction than a slim volume of verse. This lack of comfort with poetry might result from the fact that in school, we're often taught that a poem is like a code that needs to be cracked. I couldn't disagree with that more: poems are meant to be enjoyed. Today, the genre is incredibly vibrant, and there are so many excellent books of poetry available that sometimes it's hard to know where to start. But have no fear, I have some recommendations for you! Accessible, gripping, and brilliantly written, these five poetry collections bring all the satisfaction of a compelling novel or memoir.
If You Like: The Sellout by Paul Beatty
You'll Love: In the Language of My Captor by Shane McCrae
McCrae's latest explores oppression, race, freedom, and various iterations of captivity through creative use of personae and extraordinarily powerful language. One series of poems in the book is written from the point of view of Jim Limber, the adopted, mixed-race son of Confederate President Jefferson Davis, while another series is from the point of view of a man in a human zoo. Check out these lines from the poem "Privacy," in which the speaker considers the zookeeper:
. . . If he would listen I would tell him
Where privacy
Must be defended
There is no privacy
I have become an // Expert on the subject
But I have also learned
The keeper will not trust me    / To understand
even what he has taught me
In the Language of My Captor just came out in February, and if it isn't a finalist for the National Book Award, I will be shocked. 
If You Like: The Glass Castle by Jeannette Walls
You'll Love: Hemming Flames by Patricia Colleen Murphy
Like Jeannette Walls's unforgettable memoir, I couldn't put Hemming Flames down. Winner of the May Swenson Poetry Award, Murphy's debut presents a portrait of a dysfunctional family. As in The Glass Castle, we witness struggles with mental illness, addiction, and grief, but despite their dark themes, these poems shine with vivid imagery and crackle with astounding metaphors and surprising turns of phrase, as in these lines from "XVIII Arrondissement": "I have spent so long apprenticed / to the drunk and insane // that I know terror dressing / up in anger's hat and coat. // Terror wearing anger's / fake mustache."
If You Like: What Belongs to You by Garth Greenwell
You'll Love: Crush by Richard Siken
Sexy and obsessive, Richard Siken's seductive debut, Crush, won the Yale Series of Younger Poets Award. Like What Belongs to You, Crush is a deep dive into desire and its consequences. Every moment of this book vibrates with tension, and it is thrilling. If you enjoy Crush, be sure to check out Siken's second book as well, War of the Foxes (2015).
If You Like: Moby-Dick by Herman Melville
You'll Love: Hundred-Year Wave by Rachel Richardson
In her second collection of poems, Rachel Richardson takes the reader on a maritime journey through marriage, motherhood, and Moby-Dick. Tender, intelligent, and deeply moving, Hundred-Year Wave is as cohesive as the sea, whether the speaker is "swallowed whole" by a whalebone-lined wedding dress, navigating the family vehicle through "humpbacked traffic," or invoking Melville, who asks, "Who are hearsed / that die on the sea?" It is a delight to be rocked by Richardson's lyrical, multilayered poems.
If You Like: Hallelujah Anyway by Anne Lamott
You'll Love: The Soul Is Here for Its Own Joy, edited by Robert Bly
The Soul Is Here for Its Own Joy is an anthology of sacred poems from many cultures. With poems by Sufi, Christian, Muslim, Jewish, Hindu, Buddhist, and agnostic poets, the book highlights humanity's shared struggles and joys across millennia and continents. Each of the book's ten sections (such as "The Question of Greed and Constant Hunger" or "God in the Feminine") begins with an engaging introduction by Robert Bly. My copy is heavily marked and dog-eared, and I can't recommend this indispensable anthology enough.
Happy National Poetry Month!
***
Lauren Moseley is the Marketing Manager at Algonquin Books. She is also a poet, and her first book of poems, Big Windows, will be published in February 2018 by Carnegie Mellon University Press. Lauren's poems have appeared in the anthologies Best New Poets and Women Write Resistance and in such magazines as FIELD, Narrative, Copper Nickel, West Branch Wired, and Pleiades. She has been a fellow at Yaddo and the Virginia Center for the Creative Arts and lives in Durham, North Carolina.