COMING 02.05.2019
John Gottman, PhD and Julie Schwartz Gottman, PhD
Doug Abrams and Rachel Carlton Abrams, MD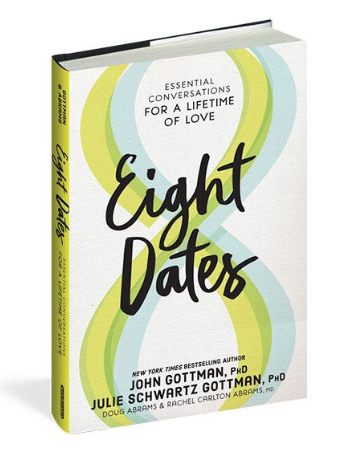 From the country's leading relationship experts, authors of the million-copy bestseller The Seven Principles for Making Marriage Work, and founders of the world-renowned Love Lab, comes Eight Dates: Essential Conversations for a Lifetime of Love by John Gottman and Julie Schwartz Gottman.
This program of eight lively, conversation-based dates will result in a lifetime of understanding and commitment, whether you're newly in love or have been together for decades.
Eight Dates is like having two of the world's leading relationship scientists at your table coaching you on how to address the topics—from trust to money to dreams—that make or break relationships.
Welcome to date night.
Live on Tour:
                                                            An Intimate Conversation with John and Julie Gottman
Feb 6 2019
Seattle, WA
Elliot Bay Book Company and Town Hall Seattle at Temple de Hirsch Sinai
In conversation with Bill Radke
TICKETS
Feb 10 2019
Portland, OR
Powell's Books
In conversation with Michael Fulwiler
TICKETS
Feb 11 2019
Los Angeles, CA
Vroman's Bookstore
In conversation with Doug Abrams
TICKETS
Mar 2 2019
San Francisco, CA
Wisdom 2.0 Summit
In conversation with Logan Ury
TICKETS
Mar 2 2019
Scotts Valley, CA
Multiversity 1440
In conversation with Doug and Rachel Abrams
TICKETS
Mar 6 2019
Atlanta, GA
Gwinnett Public Library
In conversation with Dr. Joy Harden Bradford
TICKETS
Mar 7 2019
Richmond, VA
Fountain Books
In conversation with TBD
TICKETS
Mar 9 2019
Boston, MA
Porter Square Books at Temple Beth Shalom
In conversation with Susan David
TICKETS
Mar 11 2019
New York, NY
92nd Street Y
In conversation with Faye Brennan
TICKETS
Mar 13 2019
Chicago, IL
Family Action Network
In conversation with Eli Finkel
TICKETS