Excerpted from Teeny Lamothe's Teeny's Tour of Pie.
You could say that this whole Tour of Pie vagabond baker journey began with a pumpkin pie. The fall of 2010 found Aaron and me peeking into our CSA box to discover the cutest of pie pumpkins nestled among the rest of our vibrant veggies, which of course sparked the question, "Do you know how to make pie?" I did, in fact, know how to make pie, and while I know a whole lot more now, it's awfully nice to think back to the little pumpkin that unwittingly changed the rest of my life, and remember the simplicity with which this whole crazy adventure started.
This recipe is based on the one provided by our CSA. For a long time I kept trying to add a few more "Thanksgiving-ish" spices, but Aaron refused to enjoy it as much as he enjoys this simply spiced version, which truly lets the pumpkin shine. This recipe yields just over three and a half cups of filling, so if you're making the Teeny Pie version, it's best to use two disks of the dough because it will line six 5-inch pans(you'll have a bit of crust left over).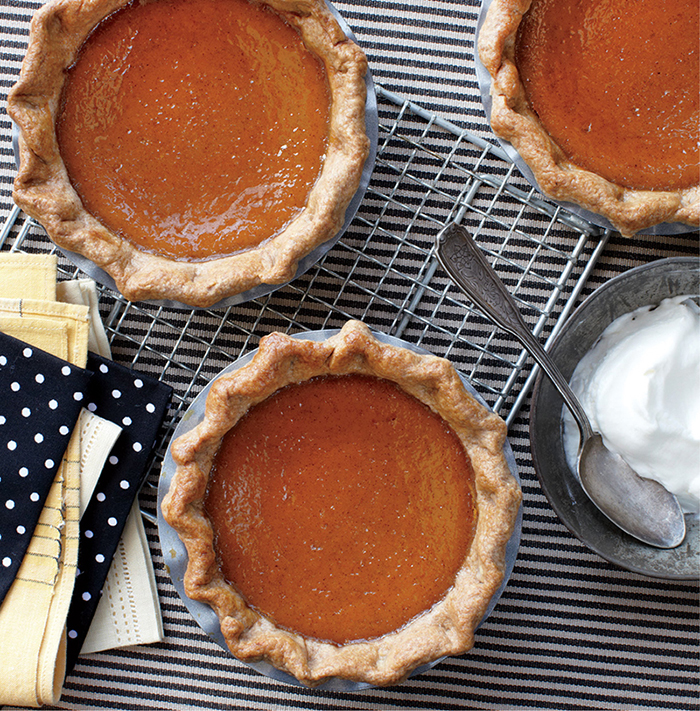 Pumpkin Pie
Ingredients
1 small pie pumpkin (1½ to 2 pounds)½ teaspoon ground cinnamon
½ teaspoon salt
½ teaspoon ground ginger
4 large eggs
1 cup honey (local if you have it)
½ cup heavy (whipping) cream
1 disk dough from Whole Wheat Crust (see recipe below)
Up to 3 tablespoons all-purpose flour, for rolling out the crust
Steps
Preheat the oven to 350°F with a rack in the middle position.
Break the stem off the pumpkin and, using a large, sharp chef's knife, cut it in half through the stem end. Scoop out the seeds with a metal spoon, lightly oil the cut surface, and place the halves cut side down on a rimmed baking sheet. Bake the pumpkin until it's tender and a fork pierces the flesh easily, 45 minutes to 1 hour. Remove the pumpkin from the oven and let it cool for 15 minutes. Turn the oven up to 375°F.
Using your fingers, remove the pumpkin peel, which will have pulled away from the flesh and should be very easy to take off. Place the flesh in a food processor, and puree until smooth.
Place 2 cups of the pumpkin puree in a large bowl, add the cinnamon, salt, and ginger, and stir until everything is combined.
Whisk together the eggs in a separate small bowl. Add the eggs to the pumpkin mixture along with the honey and heavy cream, and stir with a spoon until smooth. Set aside.
Prepare the crust: Place the dough disk on a floured work surface and with a floured rolling pin roll it into a rough 11-inch circle about ⅛ inch thick. Lay the crust into a 9-inch pie dish, gently press it in, and trim any excess dough from the edge with a paring knife, being sure to leave a ¾-inch overhang. Tuck the overhanging dough under itself and crimp.
Set the crust on a rimmed baking sheet before giving the filling one final stir and pouring it into the crust. Bake until a knife inserted 1 inch from the edge comes out clean, 45 to 55 minutes. Let cool at room temperature for at least 30 minutes before serving.
Whole Wheat Crust
Whole wheat crust is my go-to for nearly every pie I bake. Whole wheat flour is slightly more challenging to work with because of its low gluten content, but adding vodka to the mix makes for a wonderful, workable dough. I keep my (cheap) vodka in the freezer and the chill of it serves to cool down the rest of my ingredients as I mix the dough together. If you have made pie crust before, you might wonder about the amount of liquid I call for here; I have found that whole wheat flour requires a little more liquid to come together into a ball of dough.
This recipe makes enough dough for a nine-inch top and a bottom crust. If you need only a bottom crust, you can freeze half of this recipe for up to 3 months and save it for later.
Ingredients
1½ cups all-purpose flour
1 cup white whole wheat or whole wheat flour
2 teaspoons salt
2 tablespoons granulated sugar
¾ cup (1½ sticks) cold unsalted butter, cut into small pieces
¼ cup (4 tablespoons) cold vegetable shortening
¼ cup (4 tablespoons) cold vodka
½ cup (8 tablespoons) cold water, plus extra as needed
Steps
In a large bowl, stir together the flour, salt, and sugar until everything is thoroughly combined. Add the butter and shortening and cut the mixture together using a pastry cutter until it forms small pea-size crumbs coated in flour.
Pour the vodka evenly over the dry ingredients, a few tablespoons at a time, using a rubber spatula to press the dough together. Similarly, add the water, and continue to press the dough together to form a large ball. The dough should be fairly wet and sticky; if for some reason it seems particularly dry, add a little extra ice water a tablespoon at a time until everything comes together easily. (Be careful to work the dough as little as possible; otherwise the crust may be tough.)
Divide the dough into two equal balls, press each into a disk, wrap each in plastic, and refrigerate for at least an hour or up to 2 days before rolling out.