Excerpted from Katie Workman's The Mom 100 Cookbook.
Kind of like a club sandwich in a wrap.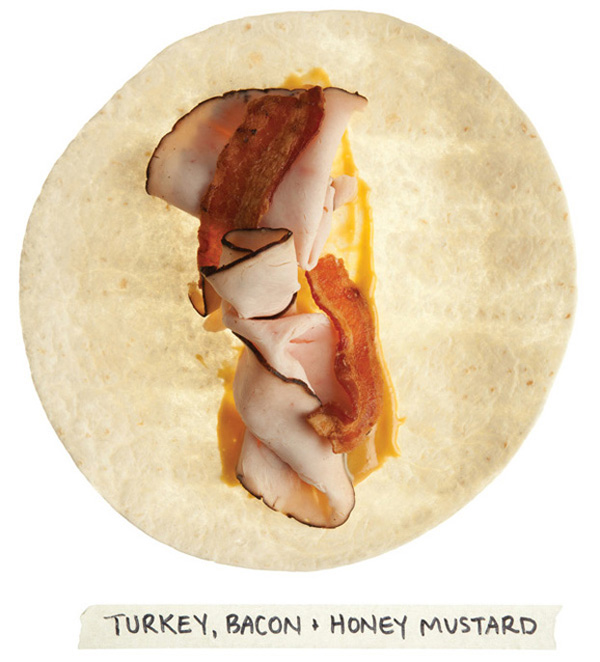 Ingredients
2 large (10-inch) wraps or tortillas
4 to 6 thin slices honey or maple roasted turkey breast
2 slices cooked bacon
4 slices avocado (optional)
2 slices Swiss or cheddar cheese
2 large leaves romaine lettuce, torn into pieces
Honey mustard
Instructions
Place the wraps or tortillas on a work surface. Layer half of the slices of turkey on top of each, leaving bare about one quarter of the wrap on the side farthest away from you. Arrange 1 slice of bacon and 2 slices of avocado, if using, on top of the turkey, parallel to the bare quarter of each wrap. Cover each with a slice of cheese and top the cheese with the lettuce. Drizzle a bit of honey mustard over the lettuce, making sure to put a smear of the mustard right at the edge of the bare portion of the wraps.
Roll each wrap up toward the bare portion, using the mustard to seal the wraps. Cut the wraps as desired before serving.
About the Book:
Introducing the lifesaving cookbook for every mother with kids at home—the book that solves the 20 most common cooking dilemmas. What's your predicament: breakfast on a harried school morning? The Mom 100's got it—Personalized Pizzas are not only fast but are nutritious, and hey, it doesn't get any better than pizza for breakfast. Kids making noise about the same old lunch? The Mom 100's got it—three different Turkey Wraps, plus a Wrap Blueprint delivers enough variety to last for years.
Katie Workman, founding editor in chief of Cookstr.com and mother of two school-age kids, offers recipes, tips, techniques, attitude, and wisdom for staying happy in the kitchen while proudly keeping it homemade—because homemade not only tastes best, but is also better (and most economical) for you. The Mom 100 is 20 dilemmas every mom faces, with 5 solutions for each: including terrific recipes for the vegetable-averse, the salad-rejector, for the fish-o-phobe, or the overnight vegetarian convert. "Fork-in-the-Road" variations make it easy to adjust a recipe to appeal to different eaters (i.e., the kids who want bland and the adults who don't). "What the Kids Can Do" sidebars suggest ways for kids to help make each dish.
Buy the Book
Amazon | B&N | Indiebound | Workman