Will It Skillet? is officially on sale! Get Daniel Shumski's Ricotta, Spinach & Mushroom Lasagna recipe below, and buy the book to get 52 more unexpected recipes to make in a cast iron skillet.
Buy the Book
Indiebound | B&N | Amazon | Workman
For more great food & drink content, sign up for our newsletter here.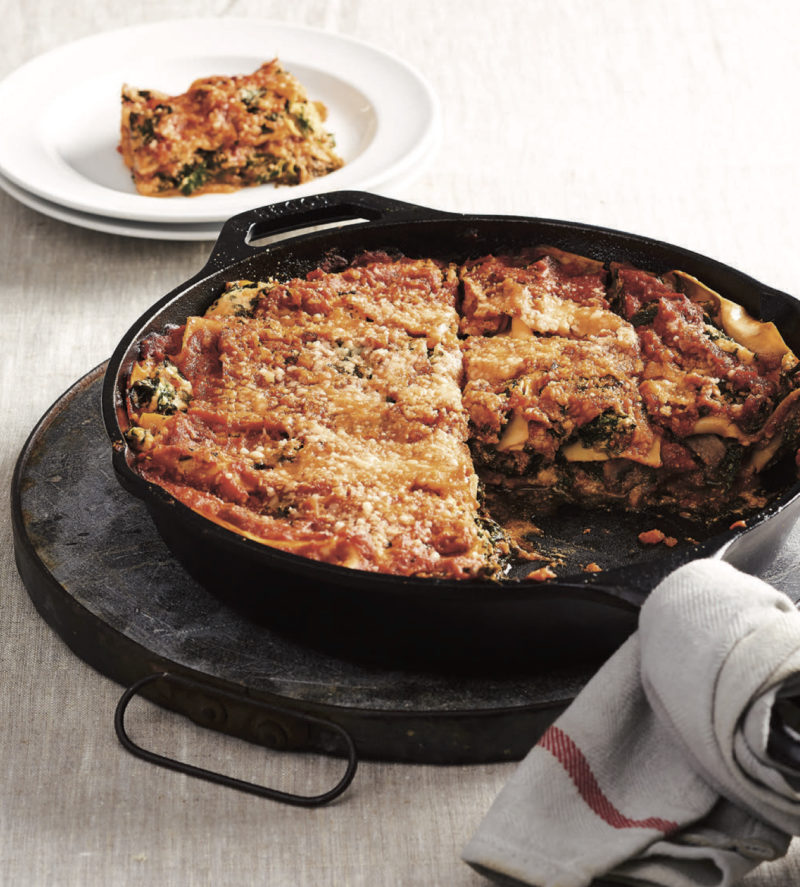 Ricotta, Spinach & Mushroom Lasagna
Until they make lasagna noodles shaped for the skillet—hey, that day could come!—making lasagna in the skillet is a bit of a "square peg in a round hole" situation. But you can solve this by making the lasagna noodles bend to your will—well, break to your will is more like it. The bottom line is that no one will be checking to see if your lasagna noodles are perfectly arranged. As long as you fit them into the skillet, you're good.
Many recipes call for frozen spinach to be drained, but in this case the liquid from the spinach is all part of the plan. It helps to hydrate and cook the noodles.
Ingredients
1 tablespoon olive oil, plus more for greasing the skillet
8 ounces white mushrooms, sliced
1 clove garlic, cut in half and crushed
1 teaspoon fresh thyme leaves, chopped, or ¼ teaspoon dried thyme
Salt and freshly ground black pepper
1 (10-ounce) package frozen chopped spinach, thawed
1 cup ricotta
1 large egg
3 cups marinara sauce (Store-bought or homemade)
4 ounces no-boil lasagna noodles
2 tablespoons freshly grated Parmesan cheese
Instructions
Preheat the oven to 350°F with one rack in the middle. Preheat the skillet over medium heat for 2 minutes.
Add the olive oil to the skillet, allow it to heat 1 minute, then add the mushrooms, garlic, thyme, ¼ teaspoon salt, and ¼ teaspoon pepper. Cook, stirring occasionally, until the mushrooms soften, about 10 minutes. Taste to check for seasoning and add salt and pepper as necessary. Remove and discard the garlic. Pour the mushrooms and any liquid into a bowl and set aside.
In a medium-size bowl, combine the spinach with the ricotta, egg, ¼ teaspoon salt, and ¼ teaspoon pepper.
Rub a coating of olive oil on the skillet and then layer the ingredients in this order:
¾ cup of the ricotta mixture
1 cup of the marinara sauce
half of the mushrooms and their liquid
half of the noodles (break the noodles if necessary to cover the whole skillet)
¾ cup of the ricotta mixture
1 cup of the marinara sauce
the remaining mushrooms and any liquid
the remaining noodles
the remaining ricotta mixture
the remaining marinara sauce
Sprinkle the Parmesan evenly across the top of the lasagna. Cover the skillet tightly with aluminum foil and place in the oven.
Bake until the mixture is bubbling and the lasagna noodles are tender, about 45 minutes.
Remove the skillet from the oven and transfer it to a rack to cool slightly, about 10 minutes, before serving hot. Leftovers can be refrigerated in a covered container for up to 2 days.