From Bacon Nation by Peter Kaminsky and Marie Rama, here's a deliciously brunch-worthy take on eggs and bacon.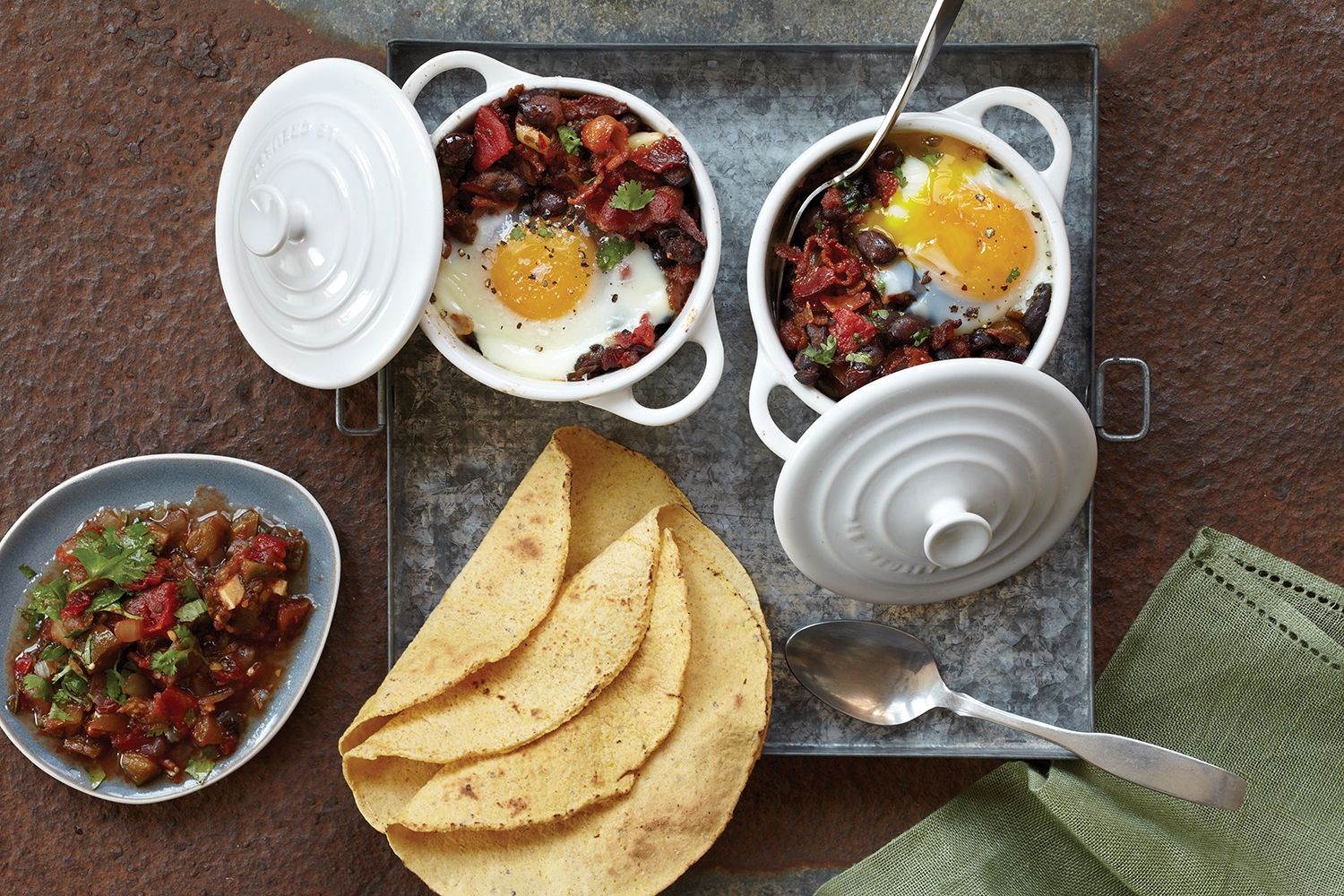 "From the American Southwest down to the highlands of Chiapas, Mexico, huevos rancheros are as common a breakfast item as waffles or bacon and eggs are in the United States. Ours adds bacon to the traditional ingredients and, rather than frying the eggs, we poach them in the hot, bacony, bean and salsa mixture. For a fancier serving idea, divide the salsa among four half cup lightly greased ramekins, add an egg to each, sprinkle on the salt, pepper, and remaining bacon, and bake on a baking sheet in a 400 ° oven for about 20 minutes.  Garnish with cilantro and serve."   6 slices thick-cut bacon, coarsely chopped 1 can (about 15 ounces) black beans, rinsed and drained 1/2 teaspoon ground cumin Roasted Tomato and Pepper Salsa (recipe follows), or 1 1/2 cups store-bought salsa 4 large eggs Salt and freshly ground pepper 1 to 2 tablespoons chopped fresh cilantro leaves, for garnish 4 small flour or corn tortillas, warmed
1. Cook the bacon in a large skillet over medium heat until lightly browned and most of the fat is rendered, 6 to 9 minutes, stirring often and adjusting the heat as necessary. Using a slotted spoon, transfer the bacon to a paper towel-lined plate to drain. Remove and discard all but 4 1/2 teaspoons of bacon fat from skillet.
2. Reheat the bacon fat in the skillet over medium heat until it shimmers, about 1 minute, then add the black beans, cumin, and two thirds of the cooked bacon. Cook until the mixture is heated through, 3 to 4 minutes, stirring occasionally and scraping up any brown bits from the bottom of the skillet. Add the salsa and let the mixture come to a simmer.
3. Using the back of a spoon, make 4 wells in the salsa, about 2 inches across. Crack an egg into a small bowl and slide it gently in to one of the wells without breaking the yolk (don't be concerned if some of the egg white runs out of the well). Repeat with the remaining eggs. Season the eggs with salt and pepper to taste. Sprinkle the remaining bacon around the eggs. Cover the skillet and cook over medium heat, 4 to 6 minutes for slightly runny yolks, or as desired. Sprinkle cilantro over the huevos rancheros, divide it among 4 small bowls, and serve with warm tortillas.
___________________________________________________________________________________________________________
Everything tastes better with bacon, the full-flavored, umami-rich ingredient that's become the home chef's new secret weapon of choice. With over 100 smoky, savory, crispy, meaty, salty, and sweetly sensuous recipes, Peter Kaminsky and Marie Rama's 
Bacon Nation
 is pure heaven for bacon lovers everywhere.          To learn more about Workman's Blue Place special, go to 
www.workman.com/ecookbook-club/
.