In celebration of National Wine Day, we've got a primer on a Workman favorite: Rosé!
Not sure how to choose a good rosé? Karen MacNeil, author of The Wine Bible, expounds on some of the most popular varieties.
Tavel
Tavel—one of France's most famous rosés—is precisely the kind of wine you fall in love with on vacation. What better color than pink when you're on a beach in St.-Tropez?
Despite their pretty pink colors, most Tavels are rugged wines with robust, spicy berry flavors. Bone dry, they have an appealing roughness, an edge that makes them perfect for washing down southern French dishes laden with garlic, olive oil, and fresh, wild herbs.
Tavel rosés are made in the tiny, sleepy village of the same name, less than 10 miles (16 kilometers) southwest and across the river from Châteauneuf-de-Pape. No red or white wines come from here—just rosé. Nine Rhône grapes, both red and white, can be used, but grenache is generally the leader. Interestingly, the wine is usually made by putting whole red and white grapes together in a single tank. The weight of the grapes on top begins to crush the ones below. The pink color comes as the juice sits in contact with the red skins. As seemingly straightforward as Tavel rosé is, it is not easy to make a good one—one that has freshness and bright flavors.
Tavel should be drunk young and chilled, so that its exuberant flavors explode in your mouth. A delicious one to try: the rosé from Prieuré de Montézargues, a former abbey founded by monks in the twelfth century.
The rosés of Anjou
Just over half the wine produced in the Anjou-Samur part of the middle Loire is not white, but delicious rosé—the kind of rosé meant to be chilled cold and then disappear quickly over a family meals. Rosé d'Anjou is usually low in alcohol (often no more than 11.5 percent) and ever so slightly "tender," at the locals say (meaning it has 1 to 1.5 percent residual sugar). It's usually made primarily from the local red grolleau grape, although five other red grapes can be part of the blend: gamay, cabernet franc, cabernet sauvignon, côt (aka malbec), and pineau d'Aunis.
A curious version of rosé d'Anjou is rosé Cabernet d'Anjou—made solely from cabernet franc or cabernet sauvignon. Although the thought of cabernet is appealing, a rosé with green flavors (a characteristic of cabernet) is something of an acquired taste. To counterbalance the "gherkin" effect, more residual sugar is left in rosé cabernet d'Anjou than rosé d'Anjou.
Provençal rosés
If there's a lesson to learn from Provence in matching wine and food, it's the amazing versatility of snappy fruity rosés in complemen
ting countless Mediterranean dishes. In particular, Provençal rosés are delicious with the region's seafood dishes, seasoned as they usually are with generous amounts of olive oil, garlic, herbs, and spices. The supreme example is bouillabaisse, the traditional Provençal fish stew flavored with 
olive oil, saffron, and dried orange peel, and then usually served with croutons and rouille, a super-garlicky, pepper-spiked mayonnaise. The flavor of many wines would disappear or be distorted by such dramatic ingredients. Not so with Provençal rosés. Boldly fruity and substantial in body, they are tailor-made for bouillabaisse and other hearty seafood dishes.
Rosados
French rosés may be more famous, but the best Spanish rosés (rosados) are usually better—lighter, fresher, more elegant. Fu
ll of wild strawberry, ripe watermelon, and juniper berry flavors, they are like a cool shower on a hot day. Spanish rosés can be made from a number of different grapes, but most are made from either garnacha or tempranillo. Often they are made by saignée—sangrado in Spanish—the process of "bleeding" pink juice off a red wine-to-be. With the possible exception of the coastal northwest, they are made all over Spain, although many of the best known come from Rioja and Navarra. Garlicky seafood dishes and paella are especially good partners, but the wine is so delicious, all it really needs is a summer evening.
Rosé Champagne
Among wine drinkers who know their Champagne, rosé Champagnes, which are richer and fuller-bodied than goldens, are considered the crème de la crème. They are usually significantly more expensive than golden Champagnes, a reflection of the fact that they are more difficult to produce, and they're more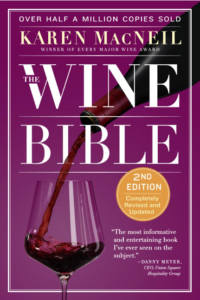 rare, forming just over 6 percent of all exports. There are two methods for making them. The first—and historical—method (called saignée) involves letting some of the base wine sit in contact with pinot noir skins until it picks up enough color to tint the wine pink. The other method, more modern and more common, involves adding a small amount of still pinot noir wine into each Champagne bottle before the second fermentation. Both processes are complex, and achieving a certain exact coloration is difficult, as a lineup of rosé Champagnes will attest.
A rosé Champagne needn't be made mostly from red grapes. The assemblage (blend of base wines) might be a blend of 80 percent pinot noir and 20 percent chardonnay—or just t
he opposite, 80 percent chardonnay and only 20 percent pinot noir. A rosé can be made either way, but when you drink them the impressions the two wines make will be quite different.
Learn more about wine! Get the book:  Amazon | B&N | Indiebound | Workman
And here's a delicious rosé spritzer: a fancy, pool-perfect version from Day Drinking by Kat Odell and a bubbly, trashy version for when you want to spice up some cheap wine from This Calls For A Drink by Diane McMartin.
Rosé All Day from
Day Drinking
by Kat Odell 
from Devon Espinosa of The Church Key, Los Angeles
''Summer in a cup." That's what one of my friends calls this drink. It is the ultimate pool-perfect libation to sip on a hot day. Strawberries, rosé, and mild carbonation yield a refreshing, barely sweet tipple. The hit of Aperol adds complexity to the drink thanks to the liqueur's bittersweet orange flavor.
This recipe also scales up easily, making it an awesome party option served in a pitcher or punch bowl. Just multiply each ingredient by the number of guests. If making a large batch, skip muddling the strawberries and instead cut them up and macerate them in the rosé, which can be kept chilled in the fridge for a few hours. You can strain out the strawberries or leave them in (I like to keep them as a snack and for visual appeal), then stir in the remaining ingredients. Add the ice to each glass when serving. 
Makes 1
2 strawberries, hulled

4 ounces rosé wine, chilled

1 ounce Aperol

½ ounce fresh lemon juice

Soda water, chilled
Muddle the strawberries in a mixing glass or cocktail shaker. Add the rosé, Aperol, and lemon juice, and stir to incorporate. Pour into a wineglass, add a handful of ice cubes, and top with a splash of soda water.
Get the book: Amazon | B&N | Indiebound | Workman